Third U.S. City Goes 100% Renewable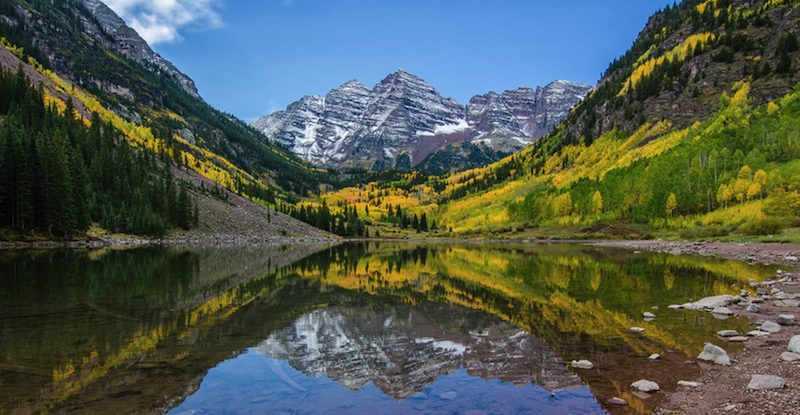 Aspen is one of three U.S. cities to run on 100 percent renewable energy as of today, according to city officials. The Colorado mountain town is best known for its posh ski resorts, but this beautiful town also has established itself as a leader in environmental stewardship.
The city had been using about 75 to 80 percent renewable energy until Thursday when it signed a contract with wholesale electric energy provider Municipal Energy Agency of Nebraska, in order "to achieve this final leg of our goal," David Hornbacher, utilities and environmental initiatives director, told The Aspen Times.
The goal was proposed 10 years ago as part of the city's Canary Initiative, which "identifies Aspen and other mountain communities as canaries in the coal mine with respect to their sensitivity to the effects of climate change."
The city's "100 percent" goal is just one component of its larger strategy to reduce both operational and community-wide greenhouse gas emissions 30 percent below 2004 levels by 2020 and 80 percent below 2004 levels by 2050, said Chris Menges and Will Dolan from Aspen's sustainability and utility departments. As of February, the city has reduced its operational emissions by 42 percent, while (as of July) community-wide emissions have been reduced by 7 percent (from 2004 levels).
"It was a very forward-thinking goal and truly remarkable achievement," Hornbacher said. "This means we are powered by the forces of nature, predominately water and wind with a touch of solar and landfill gas."
"We've demonstrated that it is possible" and that a small, progressive community can work together to be a pathway for others, he said. "Realistically, we hope we can inspire others to achieve these higher goals." The first two U.S. cities to reach the goal were Burlington, Vermont and Greensburg, Kansas, which decided to make the move after it was devastated by a powerful tornado in 2007.
Aspen plans to celebrate with an "electric-pride party" and also wants to "launch a big national campaign" to show other cities that running a city on 100 percent renewable energy is possible.
See also:
Boston: America's Most Energy Efficient City
Solar Energy Now Cost Competitive With The Grid