This Indian Village Plants Over 100 Trees Every Time A Girl Is Born!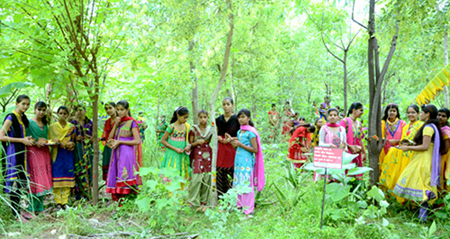 To ensure that an increase in population will never come at the expense of the environment, this Piplantri village in Rajasthan will plant 111 trees every time a girl is born.
This is in a country where males are widely favoured over females, but this village is determined to change this and to make sure that the environment remains nourished and cared for, just as their children are.
According to True Activist, "Village residents collect 21,000 Rupees between themselves and 10,000 Rupees from the girl's parent's. The total sum of 31,000 Rupees (equivalent to $497.51 USD) is made into a 20-year fixed deposit for the girl."
The parents sign a document stating that their daughter will receive proper education and should only be married after legal age. The trees planted are looked after correctly and as the girl grows into a woman, the tree's grow taller and taller.
The trees are surrounded with aloe vera plants, and are protected from termites. These trees, including and especially the aloe vera has become a source of livelihood for several residents.
This is so inspiring, it's a beautiful initiative caring for the environment and womens' rights simultaneously.
What You Can Do
Plant trees to absorb CO2 from the atmosphere for everyone. Planting trees is a great way to restore the landscape, whether its 1 tree or thousands, and trees 'breathe' CO2 from the atmosphere. Our core calculation is that each tree will absorb 200kg of CO2 from the atmosphere over its main growing lifetime (we've allowed 30 years).
See also:
EarthTalk: The Great Green Wall of China
Publishers Invent New Book That Grows Into A Tree When Planted