Tips For Nourishing Your Mental Wellbeing When Working From Home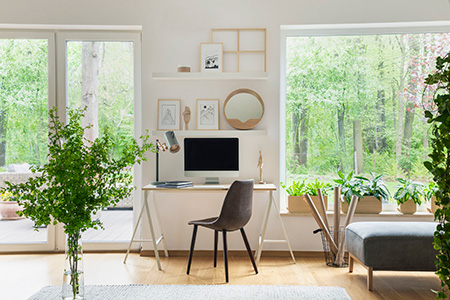 With the COVID-19 pandemic still raging, millions of people have been forced to work from home. While many people have effortlessly adapted to working this way, others are struggling. For some of us, the isolation of working at home has turned into a mental health nightmare. Working from home can be an extremely isolating experience and can lead to problems with substance abuse, depression, anxiety, and even claustrophobia. 
If you're one of these people then read on. You can learn how to nourish your mental wellbeing when working from home with these tips to help you get through the day. And even if you're someone who already enjoys working from home, you may find useful information to create an even better work space for greater enjoyment, productivity and creativity. 
Get Dressed 
One of the biggest mistakes made by people who are new to working at home is simply not bothering to get dressed. Shower and get dressed as if you were actually going into work. This doesn't mean you have to wear formal work clothing. On the other hand, you should avoid spending the day in pajamas or underwear, which can eventually become a problem. For example, it may make you feel like a slob and can negatively affect your productivity or creativity. 
Move Around And Take Frequent Breaks 
Spending hours in front of a computer can be extremely bad for both your mental and physical health, especially staring at a screen for hours on end. It may lead to feelings of isolation and depression. Doing this can also lead to headaches, eyestrain, back pain, and even problems like deep vein thrombosis. 
Strive to get up and move for 10 minutes of every hour, and completely disengage from work.  Take care of small chores around the house, have a bite to eat or prep a future meal, do some stretches or other quick exercise. For maximum benefit, go outside for some fresh air and become re-inspired and invigorated with a quick nature break.
Something else you may want to try is working for 25 minutes and then taking a 5-minute break. This is an extremely efficient way to work and will also help to boost your productivity. 
Connect With Co-workers And Friends 
Just because you're working from home doesn't mean you have to isolate yourself. There's no reason why you should go through the day without communicating with people. Technology makes this easy. You can set up video calls or virtual coffee dates with co-workers and talk to them. Remember, you don't necessarily have to talk about business. It may also help to talk to other people on the phone. If possible, call up your friends and family and talk about how your day is going. Even something like emailing people can be a great way to lighten your mood. 
Eat Healthy 
Many people use working from home as an excuse to pig out. After all, there's nothing stopping you from ordering take out, is there? Or glugging down sodas or energy drinks all day. Not only will this make you feel bad about yourself and gain weight, it's also an incredible waste of money. Instead, choose to nourish your body with foods that will boost productivity. Take this opportunity to make your new work-at-home routine a time to create new healthy habits such as drinking water and eating healthy food. Being home gives you more time to think about the food you eat and flexibility to cook more nutritious food on your own schedule. 
Create And Maintain An Inviting Workspace 
A messy workspace will affect your mental health. Piles of clutter and rubbish on your desk create a negative effect on your ability to concentrate and work. Keep your desk and surrounding workspace as neat and tidy as possible. 
Personalize your work area to make it your own. Photos, potted plants, candles, motivational artwork or special, personal mementos can help to break the monotony of working from home. You may also want to move your desk near a window to give your eyes and brain a healthy way to move away from the screen frequently throughout the day.  
Clean Up Your Computer Desktop
Keep your desktop screen free of non-essential files and folders.  Organize your files and folders to help you locate what you need quickly to help boost productivity and avoid frustration.  
Leave Your House When Work Is Done
Once you've finished work for the day or for an extended period, leave your house to help you decompress from work. This helps you avoid the cycle of sitting in your house day after day. Go to the post office, garden, do errands, take a walk, go for a drive, volunteer to help others. 
Seek Help 
If you're really struggling to work from home, then it's a good idea to seek help. Seek online therapy or meditation groups that can help you avoid depression and get through this difficult period. By connecting with others and expressing your feelings you will discover you are not alone, and can gain confidence, learn new skills and perhaps meet new friends. Also remember that this will eventually come to an end. No matter how bad it may seem right now, this too shall pass. 
Vince Tint is an entrepreneur, creative thinker, and mental health advocate. He regularly contributes his byline to outlets including Entrepreneur, AdWeek, Inc., FastCompany, and many more.