Traveling in a Group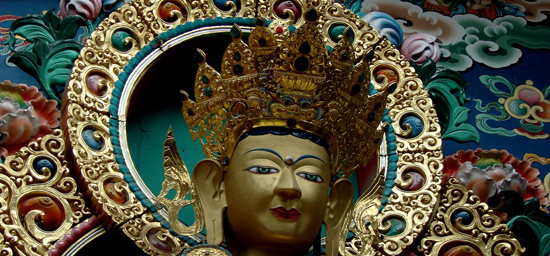 Rajesh had a special relationship with his grandfather. He learned from him how to fight. Rajesh is a devotee of Kâlarippayat, an ancient martial art that developed in southern India. A demonstration is all flash and fire and looks as much like dance as combat.
There is a lot of kicking, slashing and flying through the air, and unless you knew that Kâlarippayat is the ancestor of karate and kung fu, you'd actually believe the fighters had been inspired by Hong Kong's latest martial arts films and American professional wrestling.
Rajesh's art is usually just called kalari from the Malayalam word meaning a "gymnasium", because it is practiced in a three-foot deep pit, the earth from which is placed around the 40 by 20 foot circumference to form railings. In addition to hand-to-hand combat, kalari practitioners gain skill in staffs, swords, shields, maces, clubs, daggers, knives, and spears.
"There are 108 vital marma points in kalari," Rajesh explained, "and you need to learn them so well you can recite them in your sleep, because in the heat of battle, a blow to twelve of them immobilize your opponent. Or vice-versa. Anatomy, yoga, meditation, massage and other healing arts, control of the breath, and the use of mantras to empower your weapon. All these sciences are part of kalari. We need to develop the eyes, because some blows may come faster than the average eye can see. And we need to develop the inner eye to see blows that have not yet come."
I received a kalari massage called pada-uzhichil from a muscular technician who balanced himself from a rope suspended from the ceiling while he massaged me firmly with one or the other foot. The technique allows warriors to give each other the frequent firm massaging needed for flexibility without themselves being drained, just the kind of massage a solid body like mine craves and finds only rarely. I felt properly thrashed; it's not a massage for someone frail. These massages are combined with maippayat or sequences (called kata or forms in other martial arts) that progressively create strength, suppleness and lightness so the warrior is able to feint or duck in a fluid rapid attack.
We were on a trip to India with 20 of my patients, with the purpose of visiting sites of Ayurvedic importance. My wife has sometimes said my patients would follow me to the ends of the earth, and in March 2003 and again in 2004, they literally did. Our group had survived two weeks of adventure: whitewater rafting on the upper reaches of the Ganges where it flows clear and cool out of the Himalayas; discussions with a hermit in his cave about the merits of the life of a recluse; a chance encounter with a yogin in the holy city of Benares, who after stopping his pulse, led the group in an internal cleansing to make their colons "white like the inside of a conch;" tours of the Ayurvedic medical colleges, herb factories and gardens; a flight into the jungle temples whose sensual sculptures evoking the Kama Sutra had been preserved from destruction for a thousand years by being covered in vines. Knowing that adventures in India are demanding, we had decided to fly south to Kerala and plop the group on the perfect beach for their last week and let them do whatever they pleased.
The hotel was poised on a cliff overlooking a broad expanse of a surfer's dream. Every guestroom was an intricately carved 120-year-old teakwood bungalow that had been dismantled and reassembled on site. The main building was a reassembled palace, beautifully appointed. Even the bathrooms were special, elegantly crafted and open to the air via a courtyard in which are growing bushes and flowers, so even a trip to the loo was an excursion to nature.
My wife and I had planned for the group to visit Mother Divine at the southernmost tip of India, a temple to the consort of Shiva a few hours south and visited by pilgrims as a site for insights and powerful meditations. Part of the group went with us. The others couldn't be budged and were content to just hang out and enjoy paradise.
Flying back to Delhi I took an inventory to see what the group's experiences had been. Cynthia and Mary had signed up for every possible spa treatment the hotel offered. At about ten dollars for a couple hours of being smeared and wrapped in every herb and paste imaginable, they couldn't resist spending their whole day being basted. Dina and Margie discovered the backwaters leading into the interior villages and hired gondoliers to take them in dugout canoes. Jerry and Donn are cook and manager of a high-end restaurant. They learned to grill fish a dozen different ways as well as a dozen new yoga asanas. Sean was adopted by the village of fisherman at the base of the cliff below the hotel. He went out with them in their boats at dawn to set the nets and helped them pull in the seins full of fish a few hours later. A little sunburned, he admitted the fishermen were disappointed with the catch the past few days. Lillian came with us to the temple and fell in love with our guide. It would be a torrid but short fling, although I've heard they still write. For me, I met Rajesh and the healing science of kalari. My wife met Mother Divine.
Like the fable of the five blind men feeling a different part of an elephant in the Shiva Purana, each soul had a glimpse of what the beast was like. But their sharing also gave them an insight into the greater whole. We were fortunate to have the company of spiritual travelers, like-minded seekers with an open-minded interest in nature, health, meditation and yoga.
In general, my wife and I prefer taking off alone without an itinerary and seeing where chance will take us. Throw the surfboards and bikes on top of the wagon and head toward the coast with time to waste. With our patients, however, we have learned that flocking together with birds of a feather, if done right, can be just as spontaneous and liberating.
Jay Glaser, MD is a board certified internist in Massachusetts.