United Plant Savers' Botanical Sanctuary Network
A group of plant enthusiasts is safeguarding the future of North American wild medicinal plants.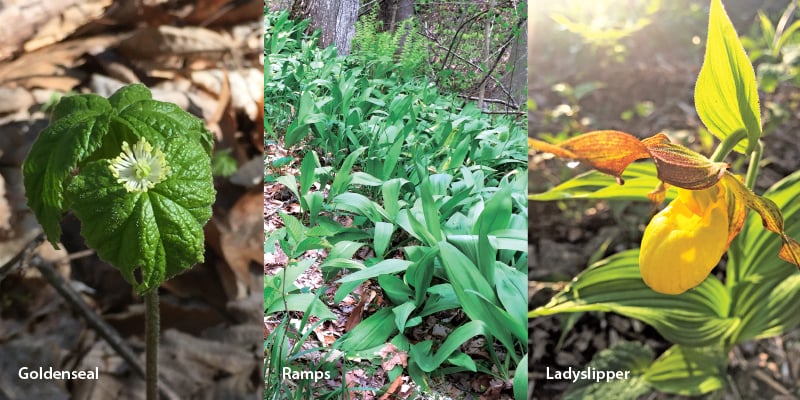 These are exciting times for herbalists. We are witnessing the art of herbalism rapidly regaining its rightful place in the American tradition of health and healing. However, as herbalism flourishes and winds its way into the mainstream of America, it is eliciting a unique set of problems and concerns.
Where once herbal enterprises were few and far between, it is now a competitive marketplace that has increased the demand on wild medicinal plant resources. Furthermore, other countries with an uninterrupted tradition of herbalism are experiencing a severe shortage of medicinal plants and look to the North American continent for supplying these herbs. This increased usage along with habitat destruction is causing an ever-increasing shortage of wild plant resources, including some of our most treasured medicinal species.
United Plant Savers' (UpS) mission is to protect native medicinal plants of the United States and Canada and their native habitat, while ensuring an abundant renewable supply of medicinal plants for generations to come.
For the benefit of the plant communities, wild animals, harvesters, farmers, consumers, manufacturers, retailers and practitioners, we offer a list of wild medicinal plants which we feel are currently most sensitive to the impact of human activities. Our intent is to ensure the increasing abundance of the medicinal plants that are currently in decline due to expanding popularity and shrinking habitat and range. UpS is not asking for a moratorium on the use of these herbs. Rather, we are initiating programs designed to preserve these important wild medicinal plants.
Botanical Sanctuary Network
United Plant Savers' vision is to see botanical sanctuaries established in people's backyards, farms and woodlands, creating a living greenway of native medicinal plants across America. A sanctuary isn't defined by size or magnitude, but as sacred space, a place where one can find protection and the peace and renewal of nature. Backyard sanctuaries can be created in small backyards as well as on large plots of wilderness, in towns as well as in the country.
If we want to preserve wilderness and the wild populations that thrive there, we can't look to others to do it for us. We need to be willing to actively participate in the preservation and restoration effort, and as good a place to start as any is in our backyards.
Currently over 90 sanctuaries are included in the UpS Botanical Sanctuary Network, including 19 in New England. Here are some of their stories.
Sweetwater Sanctuary at Partner Earth Education Center
Danby, Vermont
Sanctuary Stewards: Pam Montgomery and Mark Carlin
Sweetwater Sanctuary sits at the base of Marble Mountain and the Dorset Peaks, some of the highest mountains in southern Vermont. This is home to black bear, coyote, bobcat, moose, raven, wild turkey, porcupine, ermine, beaver, red-tail hawk and the extremely rare catamount. We are surrounded by thousands of acres of protected woodlands and meadows with a rushing brook that cascades down the mountain and flows centrally through the property. There are many natural springs on the mountain and right at our doorstep is Heart Spring, generously providing our drinking and washing needs. This constantly flowing water filters through the mountain's abundantly natural marble (calcium carbonate) base creating a very high PH, literally making it sweet. It is this pure, sweet water that is the ever present reminder of the dynamic life force that nourishes not only our bodies and soil but our spirits as well. For centuries the rich alluvial deposits have found their way to the base of Marble Mountain, giving us deep rich soil that makes for good gardening.
Sweetwater is a natural sanctuary with many of UpS's identified at-risk and to-watch plants growing wild such as blue cohosh, trillium, bloodroot, eyebright, goldthread, maidenhair fern, lobelia, partridge berry and mayapple. Others we grow in our organic gardens or woodland setting such as goldenseal, echinacea, black cohosh, butterfly weed and arnica. The treasure trove of plants here at Sweetwater includes many others as we continually expand our gardens.
Sweetwater Sanctuary is the home for Partner Earth Education Center where herbal, earth-centered and plant spirit healing classes are held.
It is the plants and their intelligent spirits that have guided me to create a sanctuary where plants and people can be in sacred space together. When plants are in sanctuary they know they are being kept safe with life-giving intent. It is our intent here at Sweetwater Sanctuary to create a container of sacred space for the ongoing communication between plants and people to guide us in the raising of our consciousness — an evolutionary imperative.
Avena Botanicals Medicinal Herb Garden
Rockport, ME
Garden Stewards: Deb Soule, Denise DeSpirito, Kate Miller, Anna Goff
Avena Botanicals' three-acre medicinal herb garden is situated on 32 acres of field and forest that borders 6000 acres of undeveloped woods and wetlands. We are on a south-facing slope, 400 feet above sea level, only 4 miles from the ocean. Being in a rural area, we are blessed with a diverse bird population, and on occasion we see deer, moose and signs of coyote and fox. Adjacent to the garden is an old 1800's farmhouse in which Avena Botanicals herbal apothecary creates various medicinal remedies. Nearly 70% of the herbs used in our products are grown in our organic and biodynamic gardens or wild-harvested in nearby fields or islands. All of our work, from the planting of seeds, to the tending and harvesting of our herbs, to the making of our remedies is done by hand. We strive to live and do business in a way that honors and respects the natural world, traditional plant knowledge and our community at large. We offer a variety of herbal classes, plant walks and workshops year round through our Herbal Classroom.
Over 150 types of medicinal herbs and flowers grow in our certified organic and biodynamic gardens. Every plant, shrub and tree in the garden is grown for medicine, food or to feed the pollinators. Clearly marked labels and a colorful garden map assist visitors and students to recognize the plants. Along with our garden map is a 25-page Plant Guide to Avena Botanicals Medicinal Herb Garden available at the entrance to the garden. The plant guide alphabetically lists 135 of the garden plants by Latin and family name, place of origin, parts used and something about their medicinal uses. Stone and wooden benches, 2 arbors, meandering stone paths, 3 tiny hand-made ponds and our new woodland garden offer visitors and the pollinators a peaceful place to find refuge and healing.
Being near the coast and on a ledge, our soil is shallow and a bit acidic (not ideal for native woodland herbs). Homemade compost, cover crops, leaf mulch and biodynamic preparations have benefited our soil fertility and plants enormously. In the main garden — arnica chamissonis, black cohosh, butterfly weed and different echinacea species have been growing successfully for years along with other more common native plants: bee balm, black-eyed Susan, blue vervain, boneset, cramp bark, elder, evening primrose, hawthorn, Joe-pye weed, milk weed, Solomon's seal, staghorn sumac, white ash, wild geranium, willow and witch hazel. Julia Yelton, a permaculturist, helped us build four terraced beds on a northwestern, partially shaded slope, where we have created a beautiful woodland garden that contains black cohosh, blue cohosh, bloodroot, goldenseal, spikenard, trillium and violets. A lovely old New England stone wall, still in good condition, is the backdrop for this garden. We are also planning an experimental garden bed of false unicorn plants and are eager to hear and learn from other gardeners who are cultivating false unicorn or from people who have plant pollinator information to share.
Singing Brook Farm
Worthington, MA
Sanctuary Steward: Mariam Massaro
Singing Brook Farm is land richly endowed with native species including black cohosh, bloodroot, partridge berry, ladies slipper, goldthread, maidenhair fern, spikenard, as well as others on the UpS At Risk and To Watch lists. Open to the public one day per week in the summer months for tours, the farm also offers workshops, classes and ceremonial events, water garden tours, apprenticeships for Wise Ways Herbals, organic planting and harvesting throughout the year.
Certified Organic by NOFA/Mass in 1996, the farm is nestled in a tiny valley in the Berkshire hills of western Massachusetts. Singing Brook Farm is already a sanctuary for plants, people and animals with a primary purpose to provide a public place for people to see medicinal herbs growing in their wild, natural settings, to help foster awareness of their value and show the ease in which they can be grown. Trails for herb and forest walks, as well as working organic herb gardens, add to the educational value of this farm.
Sage Mountain Herbal Retreat Center and Botanical Sanctuary
East Barre, VT
Sanctuary Steward: Rosemary Gladstar
We currently own six hundred acres — 550 plus in wilderness forest and 50 in fields with two homes and a retreat center. This land has a long history of logging; 100 acres is old growth. 450 is recovering from logging activity of previous owners and heavy damage from ice storms.
Plants already growing here include blue cohosh, bloodroot, ginger, angelica, sarsparilla, goldenseal, ginseng, lady's slipper and several other rare plants. This land is part of a large greenbelt of wilderness. You have to go fourteen miles before hitting a fence, road or other house. The woodlands, in spite of ice damage and previous logging history, is relatively healthy, supporting a nice variety of wildlife and habitat, home to bear, moose, deer, bobcat, fish, otter and more. We are in the process of putting the land in conservation easements that will protect it as wildlands forever. The bog is magnificent and holds a large population of ladies slipper and other rare plants. Amen, it is holy land!
We have created a quarter-mile medicine trail open to the public and offer courses throughout the spring, summer, and fall that emphasize native plant conservation. We are in the process of building a viewers ramp into the bog that will be open to the public. We have done many woodland planting projects with native at-risk medicinals. We are working with the Wildlife Habitat Incentive Program and with Stewardship Incentive Program.
Native Earth Teaching Farm
Chilmark, MA
Sanctuary Steward: Rebecca Gilbert
Native Earth Teaching Farm is located in Chilmark on the island of Martha's Vineyard. My grandmother bought this farm in the 1920's from the estate of a whaling captain's wife. 150 years ago it was mostly naked of cover, sheep were everywhere and the walls were being built by African slaves and Indians. The only trees were by the brook and in the woodlots. Now it is mostly woods and swamp with about five acres of the thirty under cultivation and inhabited. Our habitat is very diverse for its size, with lots of edges. It includes pine-oak succession uplands, swamp pockets, swamp along brook, blueberry thickets, cotton grass, and the largest patch of inkberry bushes the state biologists and Audubon people had ever seen!
Plants we have established are bloodroot, echinacea, ginseng, lady's slipper, calamus, and pipsissewa. Plants we want to grow include: black and blue cohosh, goldenseal, osha, arnica and slippery elm. There is a publicly deeded walking path, a conservation restriction is being negotiated, and the fledgling teaching farm is set to open to the public this spring. Recently, we have given farm tours or provided half-day activities for the following: Island Head Start, neighbors, day care groups, a pre-school co-op and all the parents, eighth graders and two church groups. We display our rare breed poultry at fairs and festivals and talk about sustainability. I have also given occasional herbal walks and workshops. These will only increase with time, as our vision is to be a cooperative teaching farm, encouraging people to practice fulfilling and sustainable relationships with the land.
The Manitou Project
Williamsville, Vermont
Sanctuary Stewards: The Manitou Project staff
The Manitou Project is a nonprofit organization that was formed in 1993 by Pamela Mayer to steward and celebrate 235 of mostly forested acres of land she owned in Williamsville, Vermont. We are very happy to be new members of the Botanical Sanctuary Network.
We have an extensive trail system, maintained by volunteer members. Along the trails are many sites such as "Grandmother White Pine," "Grandmother Black Birch," a large labyrinth, a winding stream, a fen, and several high-energy areas dowsed out by Pamela. At the entry area, several small gardens have been started. One has examples of local woodland wildflowers and medicinals. Another is an observation garden that is fenced off but will not be touched so that the changes over time can be observed without interference. Another is a seedbed so that visitors can bring seeds down from the trails for germination and protection and later replanting.
In 2007 we added ten species of native plants to the entranceway gardens. We also received a community grant from United Plant Savers to plant ginseng, goldenseal, bloodroot, and black cohosh on the upland wooded slopes. Growing naturally on the property are blueberry, sundew, yellow lady's slipper, goldthread, partridgeberry, wintergreen and other herbs yet to be discovered. Our problems with invasives are minimal at this point.
Also in keeping with its mission, Manitou creates events for the community. Examples run the gamut from seasonal celebrations, children's Wilderness and Art camps, to plant identification and bird walks. We have had t'ai chi on the land, dowsing, sweat lodges, and blessing ceremonies. All events are open to the public.
Susan Leopold is the Executive Director of United Plant Savers. The work of UpS involves research, education and conservation of native medicinal plants and their habitats. We hope that you will join us in this worthwhile and important mission. UpS is a 501 (C)3 non-profit organization. Call (740) 742-3455 or visit unitedplantsavers.org.
See also:
Musings: The Original Healing Tradition
The Roots of Southern Folk Medicine