Wanderlust? You May Not Have To Wander Far.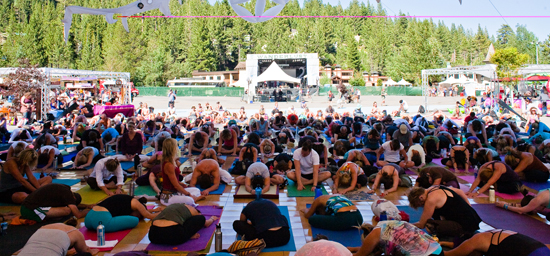 "There was something missing. You could be a yogi, you could be a rocker, but there was nowhere to be both, as though losing yourself in your yoga practice and losing yourself in music were mutually exclusive lifestyles," say Jeff Krasno and Sean Hoess, co-founders of Wanderlust Festival.
"We weren't buying it. So we started a festival knowing that there were more people like us out there. Now in our third year doing Wanderlust, we know there are a lot more people like us out there!"
Wanderlust is a rapidly-growing phenomenon of a festival that combines yoga, music and art with some of the nation's most spectacular natural settings in the U.S. A celebration of conscious living, Wanderlust provides teachers, speakers, performers and programming for a community of like-minded, progressive people. For the first time this year, the festival is branching out from their Lake Tahoe, California beginnings and coming east for a landmark summer festival at Stratton Mountain, Vermont, home to many childhood memories made during summertime visits by Krasno and Hoess.
Wanderlust Vermont is blessed to be able to draw heavily from what is local — great food, an incredible arts and wellness community, micro-brews and more — and combine it with some of the top yoga, music and wellness leaders in the country. Against an epic New England summer-green backdrop, festival music stages will see performances from Michael Franti and Spearhead, indie king Andrew Bird, kirtan yogi Krishna Das, Western Mass' own singer-songwriter Sonya Kitchell and highlighted speaker Deepak Chopra. Instruction from world renowned yoga teachers will be offered, including Rodney Yee, Seane Corn and Anusara founder John Friend, who will bring his celebration of creative expression — Village Anusara — to the festival grounds. Enjoy a Vermont farmer's market, some favorite tasty microbrews, and gourmet farm-to-table dining at this green-to-the-brim event. Additional entertainment includes Vermont's favorite Bread & Puppet Theatre Group and audience-participation burlesque — all family-friendly!
In the truest sense of the word, Wanderlust is a festival, a celebration of human experience. Part art, part yoga, part vaudeville, and all heart. Festivities kick off in June at Stratton Mountain Ski Resort. For tickets and information, please visit http://stratton.wanderlustfestival.com/.