'We Do Not Need A Militia Of Toddlers': Handguns For Kids Law Advances In Iowa
If approved, bill would allow children of all ages to use handguns as long as they are under adult supervision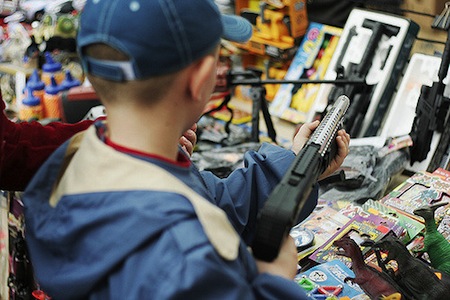 A bill allowing children of all ages to handle real guns passed the Iowa House of Representatives on Tuesday and is on the way to the state Senate, where lawmakers will consider making it legal for minors under 14 to have "a pistol, revolver or the ammunition" under parental supervision.
The bill passed 62-36 in the state House. Rep. Kirsten Running-Marquardt, a Democrat who voted against the bill, told local media that the bill "allows for one-year-olds, two-year-olds, three-year-olds, four-year-olds to operate handguns."
"We do not need a militia of toddlers," Running-Marquardt said.
Currently, children in Iowa can use shotguns and long guns while under adult supervision, but not handguns. The bill would allow them to do so as long as the parents are at least 21 years old and maintain "visual and verbal contact at all times with the supervised person."
Rev. Cheryl Thomas, policy director at Iowans for Gun Safety, said the bill was designed to weaken the state's gun laws. The advocacy group petitioned the House on Monday, urging lawmakers to reject the bill.
Last week, the gun control advocacy group Violence Policy Center released a report that found the firearms industry is advertising to children as young as grade-school age "for financial and political gain."
"As household gun ownership has steadily declined and the primary gun market of white males continues to age, the firearms industry has set its sights on America's children," the report states. "Much like the tobacco industry's search for replacement smokers, the gun industry is seeking replacement shooters."
See also:
Six Things Americans Should Know About Mass Shootings
Mandatory Gun Insurance – A Practical Plan To Make America Safer