We're All Just Walking Each Other Home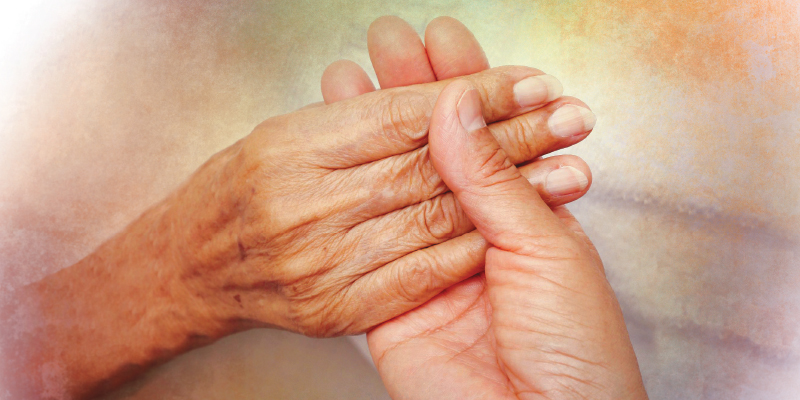 That night — her last night — as I sat quietly in her room, I thought about the woman my mother had been.
She had raised a family of seven children born seventeen years apart. At age 53, she set out to fulfill her lifelong dream of obtaining a college degree. She worked while attending Massasoit Community College and then Bridgewater State College. She graduated, at age 59, magna cum laude, with a B.A. in English. She then studied for her master's degree at Bridgewater and completed her degree at Oxford University's Trinity College in England at age 61. Yes, she was a woman of determination and many accomplishments.
These past few years had not been easy for her. Illness had stolen her independence, forcing her into a wheelchair. She had moved into a long-term care facility where her care providers said she had the most visitors of any resident there. Books, plants and paintings adorned her little room. She always enjoyed a lively conversation and special little tidbits of food that her guests would bring.
She began to fail in increments. It was difficult for her to adjust to her limitations. It was difficult for us, her children who visited daily, desiring to provide some sense of normalcy for her. Her breathing became more difficult, requiring oxygen 24/7. Tethered to the tank, her world was reduced to labored attempts to manage her most basic of personal needs. And then came one health crisis after another.
*********
In the days and hours leading to her passing, several of my siblings and I took turns sitting with her. When I was alone with her, I massaged her hands with lavender essential oil, putting drops on a cold compress for her forehead and gently rubbing it into her temples and the crown of her head where it could quickly be absorbed transdermally. Lavender is a very calming and soothing oil, so I carry a lavender inhaler in my purse. It was very helpful for my own state of mind those last few days. I also used Bach Flower Rescue Remedy, an energetic calming remedy for trauma and stress. I massaged it on her temples and wrists and used it multiple times a day on myself.
Hospice had provided a bottle of frankincense essential oil, blended with several other oils. We were encouraged to apply it to my mother's chest to help the gurgling. Frankincense is also known to be a sacred essential oil for the transformation of consciousness. The blend was named, fittingly, "Passages."
I did Reiki on Mum with the intention that the energy enter through her soles, travel through her body and out through the top of her head, paving the way for her spirit to follow. I read some anglicized passages from the Tibetan Book of the Dead, encouraging her to leave the dense body and move to the light.
When my father passed a few years earlier, some of my siblings had "sung him out" with a particularly meaningful song after he received the last rites. The melody I chose for my mother was Loreena McKennitt's, "Skellig." Light the candle, John, daylight has almost gone. I sat by her bedside, softly humming, holding a place of safety and certainty for her.
On a practical level, hospice had provided foam lollipops that are dipped in water and swabbed inside the mouth. In her unconscious state, Mum's lower jaw had dropped open and she was breathing through her mouth. I periodically swabbed her mouth to keep it moist and to help stimulate the swallowing reflex after the nurse squirted morphine into her mouth, rather than inject it.
*********
On my mother's last day, one of my sisters had gone to her bedside. She called me in the morning and said Mum's condition had deteriorated and it was very difficult to be there. She had seen that Mum's tongue was black and it scared her. I assured her that when I saw Mum yesterday her tongue was fine and it may have been black in the morning from just having had the morphine squirted onto it.
It was excruciating to wait on that last day. I went to the beach. Being near the water, feeling the breezes, watching the clouds was so healing and therapeutic for me. At about 3:30, I got a tremendously strong urge to go to Mum. I screwed up my courage and drove to her, not knowing what kind of physical state she would be in.
When I got to her room, I felt so sad to see her lying there all alone, making that final journey all alone. I know we all have to, but still….
It was a huge relief to see that her body and breathing had calmed down. The previous two days had seen her twitching, sometimes flailing, and the gurgling/drowning sound of her breathing had been horrendous for me to hear. So it was easy to sit down and just observe her and be with her, quiet, not talking or touching.
That's when I became aware of the profound softness and enveloping feel of serenity. The energy in her room had a different feel from all previous visits and I was able to enter a meditative state very quickly and connect heart-to-heart with her.
She began making the sound "ah" with every fourth or fifth exhalation. In some traditions, ah is considered to be the sound of creation, so I began toning "ah" along with her. My voice became something different; it began making its own beautiful sounds. Soon, her breath began expressing "ah" with every exhalation. It wasn't a sound of pleasure, just a reflexive sound her body made, as she was unconscious.
Gradually, her sounds became silent, her lips became pale and she gently stopped breathing. I was holding her hand. It was 6:30 pm. I had the opportunity to anoint her with the frankincense oil that hospice had provided, feeling like I was partaking in an ancient sacred tradition. I was glad for her and for our family that her long arduous journey had ended.
When I finally went to bed that night, in the dark and quiet I received a revelation: that soft feeling was the presence of many angels present with her. I knew in my heart the truth of what had been silently revealed to me. I felt so blessed to have experienced her passing, alone, in private, with the angels. I might even call it spiritual awe. I had never planned nor expected to be alone with her at the end. However, I am so grateful that I was and that I was able to share my gifts with her. I was the first of seven children who came in to be with her in this life and I was honored to be the last with her when she left.
As Ram Das says, "We are all just walking each other back home."
Kathryn McGlynn is a certified hypnotist and success coach. Her interest in the world of metaphysics extends back to the second grade when she had her first near-death experience. A facilitator of past life regression and life before life regression, she is known as "The Time Traveler." For more information, visit www.hypnosis.ws or call (781) 340-2146.
See also:
On Cats, Mothers and Death
When A Loved One Is Lost
Find local, holistic Reiki Practitioners in the Spirit of Change online directory.