"You're The Lady Who Brings Me Spirit:" Lessons of a Reiki Hospice Volunteer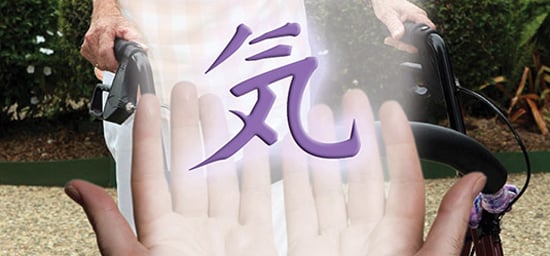 Like many Reiki practitioners, I discovered that Reiki facilitates the realization of enduring life lessons. What I never quite expected was that I would learn these lessons in a nursing home. Before I became a Reiki hospice volunteer, I was unsettlingly familiar with nursing homes, and never imagined I would volunteer to spend more time in one. However, when the opportunity arose to become a Reiki hospice volunteer, it seemed like the most natural thing in the world for me to do in a nursing home setting. From the first moment I crossed the threshold of the nursing facility wearing my official volunteer badge, the sights, the smells, and the sounds that used to alarm and distress me were neutralized and balanced by my trust that Reiki healing energy had a home here as well.
Lesson One: The privilege of not having to be attached to an outcome.
One day, upon entering the room of Agnes, one of the hospice patients who suffers from dementia, I found her engaged in a mini-battle with a care attendant. The latter was determined to finish getting Agnes dressed, while Agnes was equally determined not to be dressed. There was waving of arms and bitter complaints from Agnes. The care attendant valiantly pursued her goal, despite the ongoing protests, and ultimately Agnes was successfully clothed. Each was unhappy when it was over. I commented that Agnes' hair was getting long as I began to brush it. Unexpectedly, the care attendant told me that the hairdresser had tried to cut it twice, but that Agnes had tried to bite her so Agnes' hair had remained uncut. I took Agnes in her wheelchair to a quiet spot to begin Reiki.
Agnes calmed down from her agitated state, but not first without a few biting comments about her recent struggle over getting dressed. As we sat together with the Reiki healing energy flowing, I was overcome by a sweeping thought. Unlike the care attendant and the hairdresser, I had the privilege of not being attached to the outcome of my interactions with Agnes. It was both a liberating and a humbling realization.
Like many people, I was brought up believe that if one takes a decisive action it will lead to a clearly conceived result. It was as simple as that for much of my life; I was, I fully believed, in control of every step along life's journey. If control slipped away, that was okay because I would simply take appropriate counter-measures and reassert control. Reiki has taught me that while such a stance on life may have its place at tunes, it is also misguided in many of life's circumstances.
Because Reiki has its own intelligence, and the recipient's body has its own intelligence, my intelligence and action have no effect on how Reiki will work on the recipient. It would, therefore, be rather silly of me to be firmly attached to a specific outcome, since I do not control the outcome. What a revelation! Could it be possible, I pondered, that accepting this lack of control in the context of Reiki is a lesson in accepting a lack of control in larger arenas of life as well? Could I, the master of all control freaks, accept this? If I did, would my world come crashing down?
Well, it hasn't yet. Indeed, bowing out of the control freak role has been an uplifting (albeit uphill) experience for me. And, I am quite certain, it has been liberating for those closest to me as well (most notably, my children). Since this is a life lesson, I see it as a process that will forever unfold for me, as long as I invite the process in and welcome it with open arms. I continue to work on recognizing situations that truly demand and require that I take control (immediate safety, for instance) and circumstances that require quite the opposite reaction — namely, receptiveness and acceptance.
Lesson Two: Acceptance (and everything that comes with it).
"I don't know why I have lived so long. No one else [in my family] lived so long…uh-uh. What can you do?"
I have listened to Clara say those words many times during every Reiki visit for several months now. Being with Clara and giving her Reiki has been an honor for me. Sometimes she is asleep and stays asleep during my visits, while at other times she is quite talkative and we even laugh together. But it is always those last four words I return to.
At first, I considered her "What can you do?" to be a lament of sorts, reflecting grief, bemoaning her situation and giving up. At the same time, I did not detect any agitation or distress while she uttered these words.
As I got to know Clara better, however, and came to discover that she was engaged in some serious internal work, I drew a very different conclusion to the "What can you do?" question. I began to consider Clara's words as her acquiescence to a truth. After a life of raising children, constant work and activity, being a goer and a doer, Clara has the inner strength to accept the fact that she can no longer be a goer and a doer in this final task of hers. Clara has not been expressing a lament over the fact that she is powerless to do anything. Rather, Clara is making a statement of acceptance of the reality that if she is to be truly at peace, some realities must simply be accepted.
Most of us are not very good at the surrender thing. Perhaps it took Clara all her life to reach this state of mind. Having done so, it looks to me like it has brought her peace of mind as she faces the end of her days.
Being with Clara taught me another aspect of acceptance as well. I came to Clara as a complete stranger. I told her I would be doing Reiki with her and that the Reiki would help her feel better and relax. With only that brief explanation, Clara allowed me to place my hands on her body. She accepted every hand position I could manage to use, given her confinement to the hospital bed. She didn't question me or complain about my presence. Sometimes we talked, sometimes we didn't.
One day, after three months of weekly visits, I wasn't sure she was fully aware of who I was. I told her that it was Elise, the one who does Reiki with her. Finally, her eyes lit up with recognition, and she said, "Oh, yes, you are the lady who comes to bring me spirit." On all levels, Clara accepted my presence and the Reiki I brought.
What life lessons did I take from Clara's ability to reach acceptance? That's easy: the lessons of humility and patience. Humility, for me, entails the quality of being respectful. I had not spent my life giving automatic respect to everyone I met. Respect, I thought, was something to be earned. I no longer feel that way. Doing Reiki with hospice patients suffering from dementia has taught me to simply respect all others, many of whom are not in the position to be earning anything in particular, and, indeed, why should they? They merit my respect simply by being, as do all others.
Patience — the capacity to maintain calm in trying circumstances — has not been one of my strengths. Giving Reiki in the nursing home has been a great teacher of patience for me, requiring me to be calmly in the moment and let everything else gently melt into the background. There is simply no space for impatience, hastiness or frustration when doing Reiki. What's more, once a Reiki treatment is over, the positive energy remains, allowing me to transcend any reactive return to an attitude of impatience. This is not a life lesson I had been able to will myself to learn; the lesson of patience simply began to drift through me after I began practicing Reiki.
Lesson Three: Silence can't hurt you.
"So, Jay, I hear you are a huge Red Sox fan!"
No response.
"Oh, I see your family has put together this beautiful photo album. Let's take a look at it."
No response.
"So, Jay, how was breakfast today?"
No response.
By the way, Jay's hearing and comprehension are fine. Jay's speech is fine as well. Jay may be tolerating my questions as I do Reiki with him, but Jay is choosing silence.
In a nursing facility, one often feels compelled to chat with patients who often appear to be bored, lonely or in need of companionship and stimulation. In light of Jay's silence, though, I felt like an idle chatterer. It was a new thought to me that someone might choose silence. His was not a silence born of anger or annoyance or displeasure. It was simply silence, stillness.
Once I recognized that Jay's silence and stillness were deeply based within him, our Reiki sessions proceeded in silence. I found the silence comforting. Perhaps Jay did as well, for in a few short weeks Jay passed away. I feel his silence embodied Mahatma Gandhi's words: "In the attitude of silence the soul finds the path in a clearer light, and what is elusive and deceptive resolves itself into crystal clearness."
The life lesson I was taught from doing Reiki in silence with Jay is to embrace silence and not fear it for, as Mother Teresa noted, "we need silence to be able to touch souls." Most Reiki treatments are done in silence, which allows us to listen to and feel the energy in our hands, and listen to the recipient's body. This is a healing silence during which we listen and learn.
Lesson Four: Letting go.
Little by little, Clara was shifting her focus into an increasingly internal space. It was markedly noticeable week to week. Her relationship with the external world and those around her was slipping away as Clara's attention turned toward the non-material world.
Of course I had become quite attached to Clara through the nine months I had the privilege of bringing Reiki to her. So it was a great shock to visit Clara one Tuesday and see a more drastic change than usual in her demeanor. When I began to put my hands on her to do Reiki, Clara began speaking aloud for the first time in a few weeks. She spoke one word over and over during the entire Reiki treatment: "Mama." It was painful to hear. I felt immediately that Clara was going to leave this world the very next day. I am not usually one who gets intuitive feelings of this sort, however I felt a certain about Clara's death being quite imminent.
A social worker came into the room while I was doing Reiki with Clara. I shared my feeling that Clara was at the very end. I also expressed my fear that I would not be notified since there was a change of personnel in the volunteer organization. The social worker reassured me on both counts; she was certain Clara's death was not imminent and I need not worry about being notified. The social worker left the room, but my feeling that this would be my last visit with Clara did not leave me. I used the mental-emotional Reiki symbol and whispered to Clara my prayers for her serenity and peace of mind. I left Clara that day with a deep sadness.
When I returned home I contacted my new supervisor and relayed my feeling that Clara was probably going to die within 24 hours. The very next morning I received an email from my supervisor that, indeed, Clara had died. My sorrow intensified when I learned the funeral was to be private. It seemed I had no formal way to say good-bye.
I carried this sadness on the edges of my consciousness for a few weeks until I happened to have a meeting with my Reiki teacher and I was able to express it. As if gifts simply poured out of her effortlessly and naturally, she shared with me a gift that touched and healed my heart: the Tibetan tradition called phowa. This practice gives the dying person, or the person who has died, as well as the living, a deep sense of serenity and peacefulness.
Reiki is simple. Bringing Reiki into a hospice setting is a simple act. From this simplicity emerges a veritable tidal wave of healing for the recipients and learning opportunities for the Reiki practitioner, who is touched in unexpected and life-enhancing ways.
Elise Brenner, PhD, is a Reiki Master teacher in Auburndale, MA. She can be reached at (617) 244-8856 or visit www.brennerreikihealing.com.