10 Innovative Projects From Around The World That Reduce Loneliness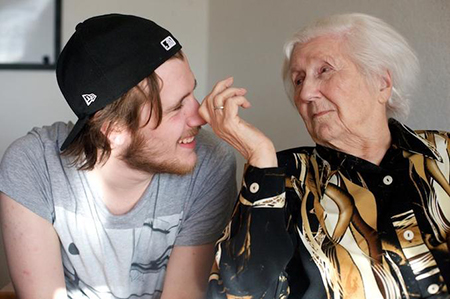 Our April 10th event at SFSU, Community Solutions to the Loneliness Epidemic, coincides with the one year publishing anniversary of our latest book, "Sharing Cities: Activating the Urban Commons." The book, which you can download for free here, includes numerous case studies of projects from around the world that help people share in everyday life. Sharing is a great remedy for social isolation, naturally. The case studies from "Sharing Cities" show how people are coming together while meeting other vital needs. Below are our favorite loneliness reducing case studies with the author of each included.
​In a country like Japan, where people over the age of 65 make up more than a quarter of the population, a pressing question is how the elderly can be provided with quality care without it becoming a major strain on the rest of the tax-paying population. Since the 1970s, time banking approaches have been developed there to address this problem. In Japanese, these practices are collectively called "fureai kippu." People who help the elderly earn time credits, which they can redeem themselves when they grow old, or gift to older family members living in other cities. Such credits can be supplemented with cash payments. Those who commit their time are generally not professional caregivers. Therefore, most of the care work includes basic services such as cleaning, yard work, and general companionship. Some of the time banks are run by local governments or quasi-governmental organizations. The largest number of them belong to a nonprofit network called Nippon Active Life Club. The club operates a time bank supported by member dues, and members pay for care work in both time credits and cash. As of early 2016, it had nearly 18,000 members and 124 offices across the country. Learn more at Sawayaka Welfare Foundation (Japanese). — Ryan T. Conway
Humanitas Retirement Village, a long-term care facility in the city Deventer in the Netherlands, offers free accommodation to students in exchange for 30 hours of their time per month to help the older residents. Currently, six students are residents in the village. This arrangement provides a mutual benefit: rent-free accommodation for students and a younger demographic to help support the care of, and foster interactions with, older residents.
As part of their volunteer agreement, students teach residents various skills — such as using email and social media — and provide companionship. While these exchanges are important, it is living in such proximity that helps relationships and connections develop, eases loneliness, and makes a positive contribution to the mental health of the seniors. — Sharon Ede
Young urban professionals frequently face high housing costs, social isolation, and career-building challenges. Embassy Network, one of the pioneers of the global coliving movement, addresses all three in a new shared-housing model. Properties in the network house from five to 20 people each. They include converted mansions, retreat centers, and small hotels. Residents share food expenses, regular communal meals, commons space, cars, and most importantly, career support. They are typically social entrepreneurs, freelancers, and young professionals seeking to make a positive impact through their work. Embassy Network creates an encouraging environment for personal and career development through peer support, regular public events, short-term visitors who share knowledge, and access to all nine Embassy Network properties located in North America, Central America, and Europe. Find a coliving community here. — Neal Gorenflo
Many single mothers work tirelessly to ensure they have good, affordable housing, while they hold down a job and take care of their children on their own. With around 40 percent of single parents in the U.S. employed in low-wage jobs, single mothers experience high rates of poverty even as they work long hours. Sharing the financial and practical responsibilities of housing, rather than struggling alone, can help make life easier. CoAbode is a service that matches compatible single mothers for shared housing, as well as services and support to make parenting less challenging. Cohousing can result in the mothers sharing their food and child care; it reduces financial costs, frees up time, and enables mutual support. Membership is free, and with 120,000 members registered, there are CoAbode members in many U.S. cities including Brooklyn, San Diego, and Washington DC. — Sharon Ede
Seva Cafe launched in 2006 in Ahmedabad, India, as an experiment in peer-to-peer generosity and the family model of sharing food. The whole organization is run on a daily basis by seven to eight volunteers who make and serve meals to guests. Based on the model of gift economy, the meals are served as an unconditional gift, with no price. Guests may choose to pay or volunteer with the organization, but they aren't required to do either. The bill at Seva cafe reads "0/-" with only this footnote, "Your meal was a gift from someone who came before you. To keep the chain of gifts alive, we invite you to pay it forward for those who dine after you." The entire financial process and operation is completely transparent and run by the energy of giving. Seva Cafe is also famously known as "Karma Kitchen" in many countries. It is part of a larger trend of pay-it-forward restaurants. — Khushboo Balwani
In big cities, people of many different cultures live in close proximity. However, there often aren't enough chances for them to intermingle and experience the diverse traditions within their city. In an effort to bring people together and foster cross cultural interaction, local organizers in Helsinki, Finland, created "Ravintolapäivä," or Restaurant Day. Initiated in 2011, it began as a food carnival where anyone with a passion for food was encouraged to run a "restaurant" in their private home or in public spaces for a single day. Even though the pop-up restaurants charge money for the meals, the emphasis is not on profit, but rather on community teamwork and cultural exchange. During the event, Helsinki is transformed by hundreds of these informal restaurants serving a wide range of cuisines in this city-wide street festival. The event is put on through distributed organization — individual volunteer restaurateurs are responsible for finding a location, managing the menu and invitations, and setting the meal prices. Now, Restaurant Day has become a global movement, with over 27,000 pop-up restaurants having served over 3 million community members across 75 countries. — Khushboo Balwani
Kitchen appliances can be superfluous uses of money and cupboard space, especially for city residents with tight budgets and small homes. Yet interest in healthy eating is growing. More people are trying out unusual food preparation techniques, which can require unique appliances. Kitchen Share, launched in 2012, is a kitchen tool-lending library for home cooks in Portland, Oregon. It enables community members to borrow a wide variety of kitchen appliances such as dehydrators, mixers, and juicers. Members can check out over 400 items online using affordable lending library software from myTurn. With two locations in Portland, Kitchen Share helps residents save money, learn new skills from neighbors, and reduce their environmental footprint. As a nonprofit community resource for home cooks, Kitchen Share only asks for a one-time donation upon joining, providing affordable access to otherwise expensive and bulky items while building a more resource-efficient city. Learn about starting a lending library with this toolkit. — Marion Weymes
Enspiral, a decentralized entrepreneurial collective based in Wellington, New Zealand, began in 2010 with a goal of creating communities of workers who are deeply committed to social issues. Sometimes described as an "open-value network," Enspiral is a global coalition of enterprises that enables people to allocate their time and skills to social-impact projects by offering spaces and platforms that promote collaboration. The hub of the network is the Enspiral Foundation Limited, which holds common assets and facilitates interactions between members and related companies. Enspiral is an ongoing experiment in distributed leadership that includes more than 300 people and 22 different ventures in multiple countries. More than half the people involved in Enspiral are based in Wellington, with the rest dispersed across Australia, North America, Asia, and Europe.
While effective, Enspiral is not a simple cut-and-paste model that can easily be replicated. It is a shared set of tools and practices that demonstrates the potential for organically growing organizations from the bottom-up through an aligned sense of purpose. Enspiral includes a focus on activities that are hyperlocal in order to leverage situated strengths, a collaborative emphasis on sharing stories of best practices so that communities can learn together, and a platform for building open source tools that can be used and adapted by others. Perhaps most importantly, Enspiral demonstrates the way in which values-aligned organizations can build and share resources in the context of social solidarity, and with a "reciprocity-first" ethos. — Darren Sharp
A neglected plot of triangular land once lay in the city of Chisinau in Moldova. Cars regularly drove over it. Some used it to dump their garbage and construction rubble. Now, the site is a lively public space, known as the Chisinau Civic Center. The transformation was initiated by the local nongovernmental organization the Oberliht Association, and was created together with local officials as well as artists, architects, scientists, students, and community members. In the very beginning, they held a public picnic at the park as a way to invite nearby residents to get involved in the park's restoration. The organizers then built a wooden platform in the center of the park with support of the nearby residents. This eventually led to the Civic Center becoming a play area for children, as well as a place for community gatherings, film screenings, games, exhibits, and performances. — Cat Johnson
In 2009, Martine Postma organized the very first Repair Café in Amsterdam, Netherlands, to do something good for the environment and build social contacts within local communities. The Repair Café connected people who were skilled in fixing things with community members who needed items to be fixed once a month at a convenient neighborhood location. The repair experts shared their knowledge with the community members, who learned that repair is possible, and often not that difficult, with a little bit of community support. People got to experience firsthand the value of repairing things instead of buying new stuff to replace them. — Darren Sharp
These case studies and policy pieces were adapted from our latest book, "Sharing Cities: Activating the Urban Commons." Download your free pdf copy today.
This article was republished from Shareable.
See also:
Why Community-Based Senior Villages Are Growing In The US
Aging In Community: Inside The Senior Cohousing Movement