11 Kitchen Hacks To Cut Down On Food Waste In The Tastiest Way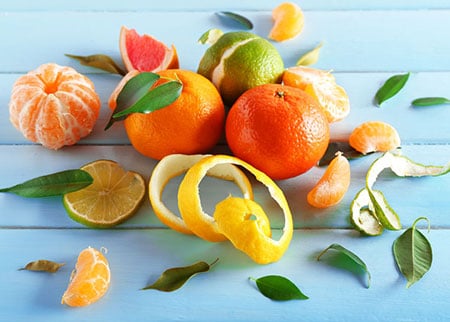 With growing awareness of how food waste affects the environment, many conscious eaters are looking for ways to reduce their impact. According to the U.N. Food and Agriculture Organization, the global greenhouse gas emissions from food waste are larger than those of all countries except for China and the United States. Part of curbing those emissions may take many revolutionary changes in the food system, but individuals can also reduce their own foodprint by using every part of their grocery store haul.
What might be viewed as waste, or even the traditionally less-valued part of an ingredient, can have big flavor and nutrition that home cooks may be ignoring. Preventable food waste also carries a hefty price tag. Data from the Natural Resources Defense Council shows that it costs the average United States household of four US$1,800 per year. According to the Australian Government, food waste costs its economy roughly US$14 billion per year while adding millions of tons of carbon dioxide into the atmosphere.
Considering a nose-to-tail, fin-to-fin, and leaf-to-root approach may not only help lower the environmental burden from food waste, but can also add new and exciting flavors to everyday meals without breaking the bank­—or the trash bin. Below is a list of 11 underrated parts of foods to help get the most out of your grocery shop.
1. Vegetable Leaves
Carrot tops are often discarded, but they can actually deliver a flavorful and nutritional punch. Chop the leaves finely for this tabbouleh salad, or use them in this waste-free pesto recipe. The same techniques can be used for many other forgotten leaves, such as beet and radish greens, even if they're no longer firm. Steven Satterfield, head chef of Miller Union and mindful eating advocate, states in an interview with Arts ATL, "I see it as a cook's duty to honor the farmer's hard work [from seeding, irrigation, pruning and harvesting, to bringing a product to market] by making the most of what might be considered scraps." Try this recipe for radish green quiche from Satterfield's cookbook, Root to Leaf.
2. Herb Stems
Cilantro leaves can add great flavor and color to many Mexican and Thai dishes, but don't forget about the stems and roots! Most of the flavor is packed into them, and they are a staple in Thai curry pastes. Waste-conscious chefs interchange leaves with the thinly sliced stems in practically any dish. Parsley stems can also be used in the same way, or left whole to add flavor to a vegetable stock.
3. Bones and Fat
The low price and convenience of vegetable oils may be partly to blame for forgetting the value of rendered animal fats. Follow this guide from the permaculture blog, Milkwood, for creating a cooking oil that is full of flavor and made from the parts of meat that are often trimmed away and discarded. After you've trimmed the fat and meat, leftover bones can be used to make stock. This recipe calls for roasting chicken bones and vegetables before simmering in a pot of water. Stock freezes well, and can be used to elevate soups and sauces.
4. Root Vegetable Peels
Peeling potatoes for a smooth mash? Save those skins by turning them into a crispy garnish, similar to the classic potato chip. Rinse the starch off of the peels, dry, add salt and olive oil, and bake until lightly browned. Find a more detailed recipe from the Framed Cooks blog here.
5. Stale Bread
According to food rescue organization OzHarvest, bread is one of the top five wasted foods in Australia. The North London Waste Authority estimates that 254 million edible bread crusts are thrown away across London each year, but considering its versatility, there are many ways to keep bread from landfills. Bread that's been dried out won't make for the best sandwich, but it will make for a much better French toast. Have a food processor? Pulse stale bread to make breadcrumbs, and then use it to coat chicken or eggplant for a waste-free schnitzel. Also, croutons can be made with just about any type of stale bread and can add a hearty crunch to salads.
6. Fish
Western palates have often shied away from any part of the fish that isn't the fillet, but to do so may be a missed opportunity. Fish heads and collars are considered by many top chefs as the very best parts. Follow this guide for getting the most out of your fresh catch or out of what's available at your favorite fish monger. Fish head curry is an iconic dish in many parts of Asia for its great flavor and low cost. If the sight of a fish head is not for you, they can still be used to make seafood stocks and sauces by following this guide. One chef based in Sydney, Australia has been making waves in seafood by showing how to use scales and even eyes in decadent and refined dishes.
7. Bruised Fruit
An apple with a brown spot shouldn't spoil the bunch. Blenders don't mind how imperfect your fruit looks, so smoothies are always a great option for cutting down on waste while getting in some great nutrition. Have more than you can deal with? Follow this guide for making jam, and you'll have a delicious condiment that will keep for months.
8. Cheese and Cheese Rinds
The rind is a terrible thing to waste. The leftover end of a parmesan or pecorino wedge may not be great to grate over a salad or pasta, but it still has flavor locked away. Bring it out by simmering in a pot of soup or broth for a delicious savory, umami boost, or try out these other great applications.
9. Wine
According to a recent scientific review of viticulture in the Douro region published by Intech Open, wine can take a surprisingly large amount of fresh water to produce. Don't send it down the drain if it's been opened for too long. When oxidized, wine takes on a vinegar-like acidity, which may be a bad idea for pouring a glass, but an excellent choice for adding a zing to sauces. Deglazing a pan with a cup of even an older wine can still bring delicious results. Have more leftover wine than you need to make a bolognese sauce? Try this recipe for poached pears with red wine caramel.
10. Broccoli and Cauliflower Stalks
After cutting florets from a head of broccoli or cauliflower, remember that the stalks and stems are just as tasty and nutritious with only a little extra attention. Slice the stems and stalks thinly and add them to the rest of the vegetables for more volume and texture diversity, without emptying your wallet or filling your bin. Otherwise, check out these other great uses for vegetable stalks.
11. Citrus Peels
Before squeezing limes, lemons, oranges, or other citrus fruits, consider the many uses of their peels. Full of vitamin C and flavor, the zest can add brightness to desserts, marinades, and sauces. If you find you'll have way more peel than can be used in a sitting, try this recipe for your own homemade lemon pepper seasoning. Another option would be to dehydrate the peels, keep them in the cupboard, and sprinkle in place of a squeeze of the same fruit. See how with this guide.
Danielle Nierenberg is President of Food Tank and an expert on sustainable agriculture and food issues. She has written extensively on gender and population, the spread of factory farming in the developing world and innovations in sustainable agriculture.
This article was republished from Food Tank.
See also:
How To Meal Plan: 23 Helpful Tips
Earthtalk: "Zero Waste" Grocery Stores