15 Ways To Stay Sane On Black Friday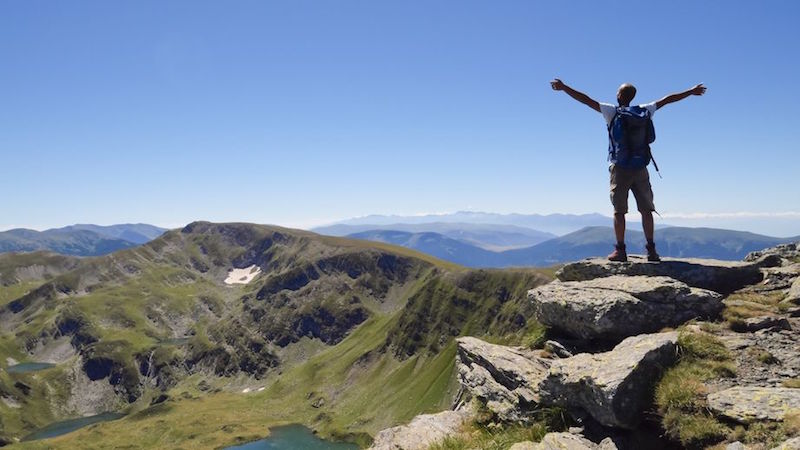 The United States' Black Friday holiday shopping ritual doesn't have to be a descent into its usual madness. There are plenty of ways to build community, express gratitude, exercise your creativity, celebrate the commons, and otherwise stay sane. Here are 15 of our favorites.
1. Explore Your Town
When was the last time you set out to explore your city, town, or even neighborhood. There are beautiful and interesting things all around that we rarely notice. Take advantage of Black Friday to set out on foot and explore what's right around you.
2. Host a Used Toy Exchange
If the thought of bringing more toys into your house is overwhelming, try hosting a toy exchange. The idea is simple: people bring toys they're no longer using and swap them, with other families, for toys that the kids will use. It's a win-win as you purge unused stuff and freshen up the toy choices for the kids.
3. Celebrate Nature
While masses of people push their way into big box stores, some commoners will head outdoors—as far away from Black Friday as we can get. Take the day to celebrate the beauty of the natural world around us at parks, reserves, beaches, and forests.
4. Host a Gift Circle
A gift circle is a way to "match resources with needs, create community and inspire gratitude and generosity." Bringing people together to share both their needs and what they have to offer is a powerful tool for community-building and supporting individuals.
5. Make Music with Friends
What's more fun than listening to music? Making music! And you don't have to be a pro to have a great time. Here are 20 tips for jamming with friends.
6. Visit a Public Space
We've been conditioned to think that we have to spend money when we go out, but there are a growing number of public spaces that exist simply as places for people to gather. What great public spaces are there in your town? Town plazas? Vibrant neighborhoods or districts? Benches on a favorite street? On Black Friday, swing by them and see what's going on.
7. Throw a Potluck
Hosting a potluck is a great way to get to know your neighbors, bring friends and family together, and celebrate all that we have. Plus, you'll have all those Thanksgiving leftovers to pass around.
8. Throw a Holiday Gift Swap
Most of us have a lot of perfectly good things sitting around gathering dust, or tucked away in boxes. By hosting a holiday gift swap, we can move those items along to a home where they'll get more use, and bring home things that will be of more use to us.
9. Take Your Sweetie On a Free Date
If you're celebrating Buy Nothing Day as an alternative to the Black Friday madness, you can still take your sweetie out on a date. Here are dozens of our suggestions for dates that don't cost a thing.
10. Host a Clothing Swap
As with a toy swap, or a holiday gift swap, a clothing swap is a great opportunity to practice out with the old—in with the new, without spending a dime. This is also a fun way to freshen up your wardrobe and let go of those things you no longer wear.
11. Make a Free Things Box and Give Stuff Away
Flip the script on Black Friday consumerism and give stuff away. Here's a quick guide on making a free things box.
12. Host a Bike Ride
Bring people together for fun and exercise with a group bike ride. Here are some tips on introducing those inexperienced friends to the ways of the bike, and the road.
13. Throw a Craft Skillshare
Do you have a craft skill you can share? Maybe you're a champion knitter, or a handlettering master, or jewelry maker. Round up a few of your craft-loving friends and teach each other a new skill.
14. Express Gratitude
Don't let your gratitude end on Thanksgiving. Take time on Black Friday to express and feel thankful for all the good things in your life. Want to make gratitude more a part of your daily routine? Here are six habits of highly grateful people.
15. Work On Your Happiness Toolbox
Happiness comes and goes, but there are strategies we can use to make it a more central part of our lives. Here are some tips for building up your "happiness toolbox."
What tips do you have for commoning on Black Friday? Please let us know in comments below.
Cat Johnson is a freelance writer focused on community, the commons, and the future of work. Publications include Yes! Magazine, Utne Reader, GOOD, Shareable, Triple Pundit, LaunchableMag, and Lifehacker. She helps freelance writers and bloggers live their best life at The Freelance Cat. Follow Cat on Twitter, Facebook, and Instagram.
See also:
Goodbye McMansion, Hello Simple Life: What I Learned From Thoreau
How I Gave Up Christmas and Found Serenity