5 Questions To Ask Your Aging Parents' Doctors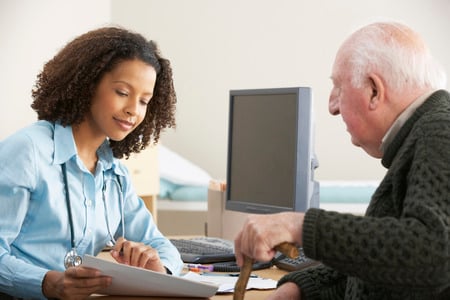 The population of seniors, or people age 65 or over, in the United States neared 48 million last year and is steadily growing. Consequently, millions of adult children find themselves taking care of their parents' medical needs. This can be a daunting task because many older individuals have complex health conditions. According to the National Council on Aging, almost 70 percent of seniors have two or more chronic diseases. As a result, they see an average of four different specialists a year.
Taking a lot of different drugs can lead to troublesome side effects or drug interactions. Having specialists who do not necessarily communicate with each other can lead to other complications. What can you do to try to avoid these problems? The answer is: Learn to ask questions and become your parents' advocate.
I am a professor of law and bioethics and was involved in my own parents' care at the end of their lives. As I wrote about in my book, "Aging with a Plan: How A Little Thought Today Can Vastly Improve Your Tomorrow," I have learned that you can do a great deal to help oversee loved ones' health care and to avoid some of its pitfalls.
Here are five key questions that you should not hesitate to ask.
1. Does my parent really need this many drugs?
Be familiar with your loved one's full medication list, and keep track of any changes. If the list is long and a doctor wants to add another drug, ask if it is really necessary. You should also request that your parent's geriatrician or primary care physician review the complete medication list periodically. Does it raise any concerns?
In 2012, about a year before she died, my mother suddenly seemed to lose her mental capacities. In a matter of two days, she went from being a frail but clear-minded 83-year-old to acting as though she had advanced dementia. She stopped wanting to eat, stopped communicating and slept most of the day.
After an agonizing period of trying to figure out what was wrong, it turned out to be a drug-drug interaction. She was 83 and weighed only 104 pounds. Yet, she had been on 12 drugs, and a doctor added an unlucky 13th. We slowly eliminated most of the drugs and got her down to five essential medicines. She slowly regained her cognitive capacities, but there were two months during which she had no memory. My mother's story is not unique – I have since read and heard others like it. It should be a cautionary tale for anyone with a very long medication list.
2. What are the side effects of the drug you are recommending?
Drug side effects can cause serious discomfort and mental deterioration. You need to know about side effects and think about them when considering new drugs for your loved one.
My husband was diagnosed with Parkinson's disease at the age of 55. Early on, we consulted a physician who recommended that he try a particular medication. I noticed that the doctor did not mention side effects. I asked about the medication's side effects, and the doctor responded that most patients tolerate it beautifully. Nevertheless, I asked, "What about those who don't tolerate it well?" The doctor acknowledged that one in five patients find that it dulls their mind. That was an unacceptable side effect for us. Andy is a computer science professor and enjoys his career, so we could not take a 20 percent chance that his mind would be dulled. But we would not have known of that possibility if I had not asked the question.
3. Are there other, less aggressive alternatives we should consider first?
In some cases, there is no alternative to surgery, and it will be lifesaving. However, in other instances, there are a lot of options, such as physical therapy, acupuncture and other interventions. Some experts believe that surgery and anesthesia can cause cognitive decline in elderly patients, especially if they already have dementia. If the doctor recommends surgery or another aggressive treatment in a nonemergency situation, it is worth asking about alternatives.
4. How can we reduce her or his discomfort?
While patients often get too much treatment, at times they do not have their painful symptoms treated adequately. Some people do not want to complain to their doctors and ask for relief even in the face of acute suffering. They are shy about asserting themselves or do not want physicians to think less of them for being unable to tolerate discomfort. In other cases, doctors hesitate to provide additional pain relief. They fear that patients will become addicted to powerful drugs. Yet pain can slow healing and cause significant mental stress for patients and their caregivers. If you know your loved one is suffering severe pain, nausea or other discomfort, press the doctors to provide more relief.
5. What would you do if this were your parent?
At the same time, doctors might provide you with several options and little guidance as to the best course of action. They may say, "We can do tests to rule out various illnesses, or we can wait and see if symptoms improve. What do you want to do?" If you have no idea, consider asking, "What would you do if this were your mother?" You may be surprised by how helpful their answers are if you ask them to step into your shoes.
Our time with health care providers is precious and often scarce. When you see a doctor with your elderly parent, feel empowered to be an advocate, ask questions and express your needs.
Sharona Hoffman joined the faculty of Case Western Reserve University School of Law in 1999. She is the Edgar A. Hahn Professor of Law, Professor of Bioethics, and Co-Director of the Law-Medicine Center at the University. She holds a B.A. from Wellesley College, J.D. from Harvard Law School, LL.M. in Health Law from the University of Houston, and S.J.D. in Health Law (Doctorate of Juridical Science) from Case Western Reserve University. She has published over sixty articles and book chapters on health law and civil rights issues.
This article was republished from The Conversation.
See also:
Aging In Community: Inside The Senior Cohousing Movement
How To Bring Caring For Kids And Elders (And Other Acts Of Love) Into The Economy