A Day Full of Grace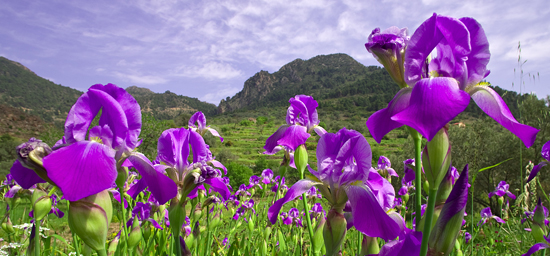 It all started when I met Grace — that really was her name – in the breakfast line at the hospital cafeteria. Grace looked at me quizzically and asked, "Have you been here all night too?" I nodded, wondering what had tipped her off.
Was it my generally disheveled appearance? I explained that I'd stayed over to be with my husband, who had just had a kidney transplant and was having a rough time getting it to kick in. The previous day he'd been rushed to the dialysis unit to take off so much extra fluid that he was literally drowning in it.
Over breakfast, Grace shared a bit of her story. She'd been living in the lounge outside the intensive care unit for a month while her 83-year-old husband clung to life at the end of a tracheotomy tube, unconscious, his arms strapped down to the bed so he wouldn't claw out the uncomfortable apparatus.
"Do you take walks?" I asked. "Oh, once or twice I've gotten outside." Once or twice in a whole month. How can anyone breathe hospital air and look at yellowed hospital walls non-stop for a month, I asked myself? I was humbled by her dedication and charmed by her serene presence, white hair gently haloing her head.
Grace went back to the ICU and her husband, so I went out for a walk, taking in some fresh air for both of us. I stumbled out into a pumpkin-gold late autumn day. The air was warm and gentle; the trees shed their gilded leaves at a leisurely pace. No hurry. Plenty of time, ahhhh.
I walked along a busy city boulevard, rounded a corner, and stopped dead. There, behind the prickly hedges guarding a row of brick town houses, were fulsome yellow bearded irises, blooming away in fierce denial of the approach of winter. I touched their sueded silk petals and breathed in their fragrance. No, they were not plastic.
It was October 30. Any gardener reading this story knows that bearded irises bloom in May. June at the latest. And anyone who knows me well must know that irises delight me more than any other flower. I cultivate grape-Kool-Aid-scented and spice-perfumed old-fashioned irises from stock that came from my mother's garden, the ancestors of which had graced her mother's garden. I take great joy in giving away the fragrant blooms as well as the prolific plants, feeling like I'm keeping alive some important part of my heritage. I am so amazed at the miracle of life that perpetuates the same scent, the same form and color, down through the generations from the same plants that my grandmother and her friends enjoyed in Nebraska at least a century ago.
My eyes strayed to the garden's few remaining roses – a pink and white charmer named "Chuckles" – as well as its hydrangeas, brown-eyed Susans, late-flowering lavender. I wandered bedazzled down the row of tiny yards, noticing that almost every resident had made some attempt at generating hope in the form of flower patches. As I came to the last townhouse, birds twittered and darted among the bare branches of a crabapple tree that reached out over the sidewalk. In this pocket garden were packed bird feeders, glowing mums, Halloween decorations and a fountain made from an old-fashioned wash tub, which was perpetually filled with water poured from a galvanized watering can suspended above it, providing refreshment for birds and passers-by alike.
Grace, in spirit, had come walking with me after all. Feeling pounds lighter, I was drawn further along into a tiny park bordering a stream, where leaf-rafts drifted past on their way to the Atlantic. At the edge of the water I looked up – waaayyy up – into the welcoming branches of an ancient locust tree, and basked in the glow from her yellow canopy of leaves. Various homely-looking cankers, the healed-over scars of old diseases, protruded from among the shards of bark. There, nestling into the base of the locust's trunk, I wept a little, finally releasing a few tears from the long days of waiting, feeling gratitude and relief that Steven was in good hands. And I let in a little more of Grace's presence, being reminded that she was with me always, if only I would open myself to her.
Phrases from the old hymn "Amazing Grace" floated through my tired brain, arriving somewhat modified from the standard text: "It's Grace that taught my heart to sing… It's Grace that made me free."
It's usually some emissary from an endangered corner of the natural world that brings me these tiny epiphanies; this time it was the plucky urban iris that allowed Grace to reveal herself to me. This day Grace brought along her sister Hope, and together we returned hand-in-hand to the hospital and to Steven's bedside.
(This is Part II in a series of stories dedicated to Steven, who, in his 25-year campaign to survive kidney failure, has been an inspiration to many, many people. He is now doing well with the help of his third transplanted kidney. Part I was entitled "Life at the Edge" and was published in the Sept/Oct '03 issue of Spirit of Change Magazine.)
Dori Smith is a writer, educator, and ecological landscape designer. Her business, Gardens for LifeSM, is based in Acton, MA. She can be reached at 978-835-5568 or at dsmith@newview.org.