A Letter To Free Fire Cider Supporters From Rosemary Gladstar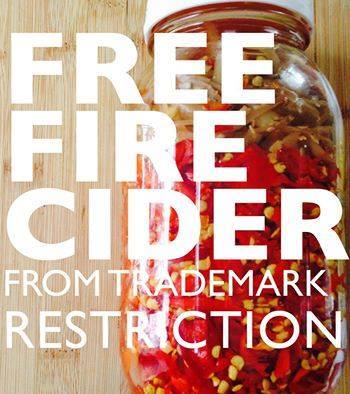 Hi Friends,
We're full in the throes of winter's cold and blustery weather… And what better time than now to bring out the Fire Cider! If you've not made it already, it's time to brew up a big fiery batch; it's time to drink it, time to share it with friends, time to celebrate it, and above all, it's time to stand up in support of Free Fire Cider for all!
Though quiet on the front lines, we've remained busy and active. Behind the scenes Kathi, Mary, and Nicole (aka The Fire Cider 3) have worked tirelessly and quietly on this campaign to free Fire Cider from trademark restrictions. A huge amount of energy went into the $100,000 lawsuit filed against Nicole, Kathi and Mary by Shire City Herbals. We're happy and relieved to report that because of the excellent work of a team of lawyers (who have donated much of their time to this issue) and along with the work of the Fire Cider 3, 80% of the lawsuit including the damages related to the boycott charges aimed against Mary, Kathi and Nicole were thrown out. This is good news, but, not all good! This lawsuit against the Fire Cider 3 has effectively stalled our petition to cancel the trademark filed with the USPTO, holding up the process  for the last 2 years and pushing it into federal court, where it is more expensive and lengthy to challenge!
We were hopeful that mediation and negotiations would resolve the issue peacefully with Shire City, but, unfortunately they have not been successful and we expect to be going to trial in 2017. Our request simply was and has been from the start to replace the name of fire cider with an original name that reflected their own (Shire City's) business, so not only they but others as well could all continue to benefit from making and selling Fire Cider.
What's up next is the central and all important issue of the trademark.
We are nearing the third year anniversary of our campaign to get trademark restrictions on Fire Cider dropped and we are asking for your support once again to make this a reality. We know it's possible and with your support we can make it happen. We are preparing to take Fire Cider to trial and to do all we can to keep Fire Cider free of trademarks and back in the hands of the herbal community.
Though going to trial is the last thing any of us wanted to do, we are willing to stand strong in our beliefs that traditional herbal remedies should be used and sold freely. We stand with thousands of people in demanding that Fire Cider should remain in public domain and should be free from trademarks. You have been unbelievably supportive in these efforts and your support and faith has kept us fueled.
Please join us in our biggest effort yet to let Shire City know it's not ok for businesses (whether small or large) to claim ownership of herbal products that have long been used, produced and sold.
As we've said many times, if it were just a matter of one name, one product, would it be worth the time and energy it's taken? Possibly not. But if one company is allowed to do this, it will – and already has – set a precedent. None of our traditional herbal products will be safe from businesses wanting to trademark them. The warm sharing herbal community that has been nurtured and grown since the early 70s will change and herbalists will be far less willing to share recipes and formulas knowing they could be trademarked.
Depending on your time, energy, and commitment to this issue, there are any number of ways to get involved listed below!
February 2017 is our last big push to raise funds for the trial. The trial costs are high, and we need help in this area! Stand with us in 2017! Donate here!
Together we can free fire cider from trademark restrictions and help set a new precedent of protecting traditional herbal remedies from being trademarked.
"The term belongs to no one because it belongs to everyone," Michelle Tyler of Temple Turmeric in defending their right to use the term Fire Cider.
In Joy,
Rosemary Gladstar
FreeFireCider.com
Reach Rosemary Gladstar at https://scienceandartofherbalism.com/about-rosemary-gladstar/
Find local holistic Cleansing Programs in the Spirit of Change online directory.
---
Legal Update: Last Push
We are writing this with hopeful and strong hearts.
In 2017, we will be going to trial to fight to keep the generic herbal term, Fire Cider, free from trademarks. Our legal team has already donated over $300,000 in free legal work for us. The herbal community has donated $20,000 in support of our fight as well.
The remaining part of the lawsuit regarding the trademark will be heard in federal court in 2017.
It is our goal to keep this term free from trademarks and to set a legal precedent to protect generic herbal terms from trademarks in the future.
It must be said that this campaign is not against trademarks. In fact, we fully support companies that trademark their own original names to describe their products.
In order to follow through with this to the end, we need to ask for your financial help.
Our trial costs are expected to exceed $150,000
Studies for court evidence could exceed $30,000
Travel, housing during the trial, food and time out of work for the team could exceed $20,000.
This battle affects the whole herbal community, and the 4 of us feel honored to be able to stand to represent it and protect our herbal culture from commodification. We need your support in this fight.
We are asking individuals and herbal companies to donate between $25-$500 for the costs of the trial.
Are there other ways to help? Yes!
Do you sell a product or teach a class that you could donate some of the proceeds to the legal fund and raise awareness?
Does a store near you carry trademarked Fire Cider? Educate them about the boycott! Find stores that carry trademarked Fire Cider here.
Can you help us spread the word about the boycott on social media?
Forward this newsletter to friends who think it is important to stop the trademarking of generic terms, and might want to donate to help us with this fight. Please donate directly to the Tradition Not Trademark fund by clicking here.
Thank you in advance for your support. The time to donate is NOW.
Standing strong with hope for a victory,
Rosemary Gladstar, Mary Blue, Nicole Telkes, and Kathi Langeleir
FreeFireCider.com