Abortion-by-Mail Pilot Program Could Usher In Women's Health Revolution
Groundbreaking telemedicine study could improve access, autonomy, and privacy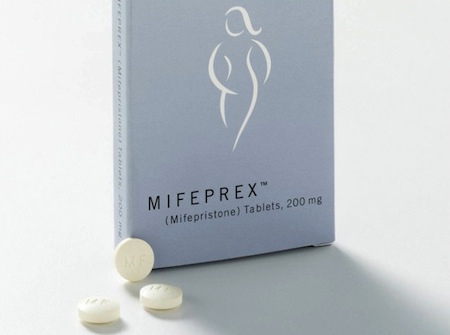 A first-its-kind pilot program, launching in four states this spring, aims to expand medical abortion access for women at a time when brick-and-mortar clinics are closing at a record pace.
The Guardian reported Thursday on the program, which will be run as a pilot study out of clinics in four states—New York, Hawaii, Oregon, and Washington. It is the brainchild of the New York-based research group Gynuity Health Projects, which seeks to make reproductive health technologies more convenient, more acceptable, safer, and more widely accessible.
According to the Guardian, the study "may…finally deliver on what reproductive rights advocates have always seen as the true promise of abortion drugs: abortion, without the clinic."
And in places like Hawaii, where only two islands out of the nine have abortion clinics, or Oregon, where more than 78 percent of counties are without abortion providers, this pilot program could be revolutionary. At least four U.S. states have just one operational outpatient abortion clinic, and Wyoming has none.
The paper explains:
The program works by making a key shift in how mifepristone, the nation's most-used abortion drug, can be dispensed. Under current FDA rules, the drug is only available in clinical settings – never in pharmacies. The pilot, however, will permit four abortion clinics in four states to ship the medication by mail.
Patients in their first nine weeks of pregnancy can receive the pills by mail if they live in the same state as the clinic and undergo an ultrasound and blood test to confirm the pregnancy and rule out risks. (Unlike abortion clinics, the thinking goes, facilities offering blood tests and ultrasounds are plentiful.) A clinician will then counsel the patient on taking the pills via video conference. The counseling and drug regimen are unchanged.
As Dr. Elizabeth Raymond, of Gynuity, wrote with colleagues for JAMA Internal Medicine this week, following such a model "enhances privacy and autonomy as well as access. The dispersion of care also helps to avoid harassment of both patients and clinicians."
What's more, the authors noted, existing restrictions on medical abortion "are medically unjustified: mifepristone, which is dispensed in single doses, has no immediate clinical effects, and thus the location where a patient receives it, or even where she swallows it, is irrelevant to its efficacy or safety."
Indeed, bolstering this argument, the FDA on Wednesday loosened 15-year-old restrictions on the same drug—mifepristone, also known as Mifeprex—bringing the total number of trips most women undergoing the procedure will make to a healthcare provider down to two, from three.
According to the Guardian, the Gynuity team submitted their plans to the FDA Center for Drug Evaluation and Research last August "and invited evaluators to raise any concerns. None were forthcoming."
Still, many questions remain. The Guardian reports:
The researchers will test many unknowns. Ultrasound and blood-testing facilities may be reluctant to provide services if they facilitate an abortion. Women may not follow up with the clinic to confirm that the pills worked. And it may wind up costing women more money, not less, to have the tests done at separate locations, instead of as part of a package at an abortion clinic.
The study will also engage with some broader questions facing the healthcare industry as telemedicine takes on a greater role. The researchers will be looking to see if insurance companies provide the same reimbursement levels for video and in-person counseling sessions. They also want to evaluate whether the telemedicine option is less expensive for the patients. Raymond notes that the study will not be large enough to compare the relative safety or effectiveness of telemedicine versus in-person visits.
But similar programs have been met with success elsewhere, especially the Tabbot Foundation, a direct-to-patient telemedicine abortion service launched last fall in Australia.
According to the authors at JAMA, one of whom is that program's founder and medical director:
As of mid-December 2015, the program had served 303 women, of whom 41% were from Tasmania, an island state with restricted access to abortion. About 90% completed a planned 10-day follow-up contact, a higher proportion than is typical after in-person medical abortion in the United States. Only 6 women required a face-to-face clinical encounter after treatment, and no serious complications have been reported. Nearly all patients rated the service very highly.
While he warned that Gynuity and its partners "should be ready for a wall of opposition, Tabbot Foundation founder Paul Hyland also told the Guardian: "Mifepristone is the most revolutionary drug in reproductive medicine since contraception. It's amazing that this can be provided so easily and that we've taken such a long time to realize its true potential."
See also:
It's Her Choice
Who Owns Your Womb? Women Can Get Murder Charge for Refusing C-Sections