Acclaimed Burial Film Wins Awards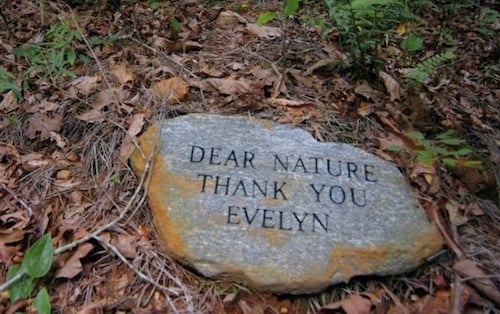 The award-winning documentary A Will For The Woods, about a man whose quest for a final resting place that will benefit the earth leads him to the burgeoning green burial movement, screened at the Museum of Fine Arts Boston's Documentary Spotlight series on Saturday, October 11 in the Harry and Mildred Remis Auditorium.
A Will For The Woods had its world premiere at the Full Frame Documentary Film Festival in Durham, North Carolina where it won both the Audience Award and the Environmental Award. It has also screened at the AFI Docs film festival in Washington, DC, Camden International Film Festival, DOC NYC and San Francisco IndieFest (where it won the Audience Award and Jury Award), among other leading fests. See below for a full list of awards this film has received.
"What drew the four of us to the topic," the co-directors write in their filmmakers' statement, "was not a fascination with death but a realization of the life-affirming power of this new/old idea that our bodies should return to the earth in a natural way."
Synopsis: What if our last act could be a gift to the planet? Musician, psychiatrist, and folk dancer Clark Wang advocates for green burial – and prepares for his own – in this immersive documentary film. Clark and his partner Jane have discovered a burgeoning movement that uses burial to conserve and restore natural areas, forgoing contemporary funeral practices that preserve the body at the ecosystem's expense. With the help of a compassionate local cemeterian, the spirited pair aim to save a tract of forest from being clear-cut. As the film follows Clark's battle with lymphoma and his dream of leaving a loving, permanent legacy, environmentalism takes on a deeply human intimacy. Making the most of the time that he has, Clark finds joy in his music and dance, connection with his friends and family, and great comfort in the thought that his death, whenever it happens, will be a force for regeneration. Set amid the genesis of a social and environmental movement, A Will For The Woods draws the viewer into a life-affirming portrait of people embracing their connection to timeless natural cycles.
About green burial: Green burial is a simple and natural alternative to resource-intensive contemporary burial or cremation. The deceased is laid to rest in the earth using only biodegradable materials and without a vault or toxic embalming, in a woodland or other natural setting, often with a fieldstone or indigenous plant marking the grave. This practice can be used as a conservation tool, enabling the acquisition, restoration, and stewardship of natural areas. Simple natural burials were prevalent for thousands of years (and still are in many parts of the world, including in traditional Muslim and Jewish burials) before the contemporary funeral industry propagated expensive and elaborate funerals as the standard.
See also:
EarthTalk: Green Burials