After Orlando, LGBTQ Muslims Call For Resistance To 'Forces of Hatred'
'We reject attempts to perpetuate hatred against our LGBTQ communities as well as our Muslim communities'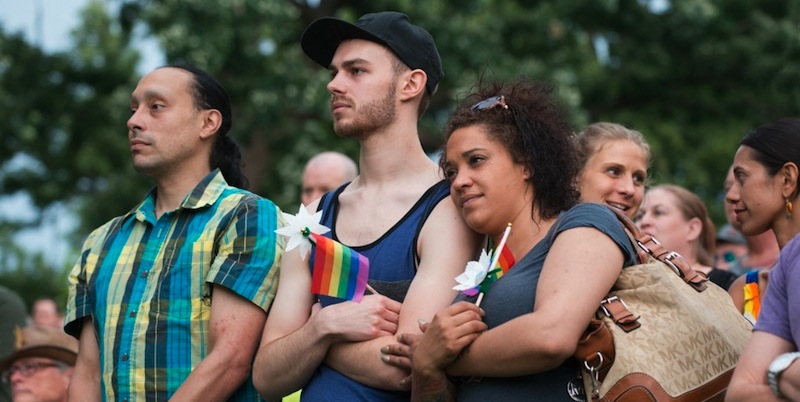 In the wake of Sunday's horrific mass shooting in Orlando, LGBTQ Muslims are speaking out with words of mourning for the victims and to caution against using the tragedy to stir increased Islamophobic sentiment.
Shortly after the shooter's name was reported on Sunday, the Muslim Alliance for Sexual and Gender Diversity (MASGD), which works to empower and connect LGBTQ Muslims, released a statement expressing grief for the "senseless loss of life that is a reminder of the violence that LGBTQ people continue to experience."
"Although the facts are still emerging, as LGBTQ Muslims, we feel compelled to speak out at this time of national tragedy to appeal for solidarity and to ask that there be no rush to assign blame to any individual or group beyond the shooter," the group wrote.
As MASGD noted, the shooting occurred during a convergence of LGBTQ Pride month and the festival of Ramadan. "At moments like this, we are doubly affected," the group said. "It pains us to see that these periods of joy, celebration, and peace have been marred so violently with such horror."
However, rather than receiving recognition, this cross-section of communities faces a continued anti-Muslim response from conservative lawmakers and other public figures—none less vocal than presumptive Republican presidential nominee Donald Trump, who capitalized on the tragedy to reiterate his call for a ban on Muslim migration, although the shooter, Omar Mateen, was a U.S. citizen born in New York.
"I said this was going to happen—and it is only going to get worse," Trump said in a statement on Sunday, adding that the country "can't afford to be politically correct."
The real estate mogul also challenged presumptive Democratic nominee Hillary Clinton to say that the attack had been caused by "two words: radical Islam."
On Monday, Clinton capitulated.
"Whether you call it radical jihadism or radical Islamism, I'm happy to say either," she told CNN.
That line of rhetoric is "a direct attack towards Muslims, who are American citizens, and as well as other individuals who are here who believe in their faith," according to Imam Daayiee Abdullah, executive director of Mecca Institute and one of the first openly gay imams in the Western Hemisphere, who spoke to Democracy Now! on Monday.
"And we find that we are now in a position again of trying to protect ourselves, and, again, in some instances, causing people to become more sequestered in their day-to-day lives," Abdullah said.
As Samra Habib, an LBGTQ Muslim activist and artist, wrote in an op-ed on Monday, the Orlando shooting "can't be turned into a story of us v them—because the real world is far more complicated than that."
Habib writes:
We are now used to the fact that, every time a criminally misguided Muslim commits an act of violence, the entire religion and all its followers are questioned and placed under suspicion in a way that isn't replicated with other faiths. We – and this of course includes queer Muslims – have to take extra care walking down the street at night and entering our mosques for fear of Islamophobic attacks. Muslim organizations and activist groups are tasked with the responsibility of releasing public statements, apologizing for the actions of terrorists and reminding the world that Islam promotes peace so innocent Muslims who are just trying to go about their daily lives don't suffer repercussions.
And while U.S. presidential candidates tussled over rhetoric, Muslim religious organizations released a sweeping series of statements condemning the violence and offering condolences to the victims' families. The Council on American-Islamic Relations (CAIR) sent out individual press releases from dozens of chapters nationwide.
CAIR-Florida's Orlando regional coordinator Rasha Mubarak said, "We condemn this monstrous attack and offer our heartfelt condolences to the families and loved ones of all those killed or injured. The Muslim community joins our fellow Americans in repudiating anyone or any group that would claim to justify or excuse such an appalling act of violence."
MASGD concluded: "We reject attempts to perpetuate hatred against our LGBTQ communities as well as our Muslim communities. We ask all Americans to resist the forces of division and hatred, and to stand against homophobia as well as against Islamophobia and anti-Muslim bigotry."
Watch Abdullah's interview on Democracy Now! below.
Nadia Prupis is a Common Dreams staff writer.
See also:
Six Things Americans Should Know About Mass Shootings
The Bravest Response To Fear