Astrology Forecast for Fall 2013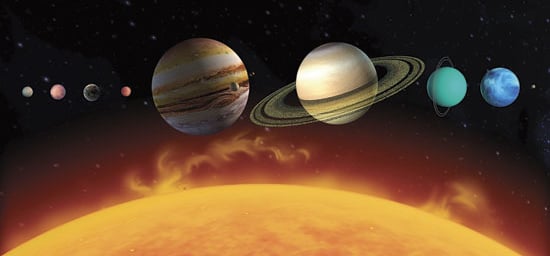 Many years back I attended a workshop on geomancy and dowsing with English author and mystic Reshad Field. One afternoon Reshad commented on the growing polarization between awakening souls and those who preferred to remain asleep, stuck in the ways of the past. In my opinion, over the decades that divide has deepened, the point driven home by political discourse, profit-driven corporate "news" broadcasts and countless social network postings.
Online I frequently find astute political commentary, inspiring wisdom quotes, enchanting photos and stories, but also disturbing accounts of human cruelty, greed, shortsighted environmental destruction and violence. Make no mistake about it — autumn's stars impel us to move forward spiritually, technologically and politically. We must focus on doing good and loving one another.
September
The forecast period begins with a powerful September 1st trine between the Virgo Sun and Pluto in Capricorn. This fabulously practical alignment helps put lives in better working order. Vacationers will find the same aspect conducive to replenishing their weary bodies and souls. In any case, it is an encouraging note on which to start the new month.
The Moon is waning for the first days of the week, reaching the new phase on Thursday the 5th. Buoyed by Jupiter's boundless enthusiasm, the Virgo new Moon day is perfect for laying groundwork and beginning ambitious projects.
Plans may need revising on Monday the 9th as Mars tests Saturn. Slow down. Forcing the pace now can be entirely counter-productive. Progress is notable during the second half of the week but be sure to keep partners in the loop. Friday night's romantic vibes vie with a temptation to go it alone. Bold moves may well be initiated over the weekend, but again, let your significant others know what you are up to. Mental Mercury, now in Libra, is testing the disquieting Uranus/Pluto square. There will surely be news of more popular uprisings, protests as well as other progressive forces.
Life's pace accelerates as the Moon waxes full overhead. On Wednesday the 18th Venus joins Saturn and forms a sextile to Pluto. Deepest needs may be expressed and met. The pathways of the heart are impossible to quantify but this alignment may prove that love can indeed conquer all.
The "Harvest" Moon sails serenely, reaching the full stage at 7:13AM on Thursday the 19th. The early morning hours are a high point. Evening sees a burst of social activity. Rambunctious trends dominate Friday the 20th as in the far off fringes of our solar system Pluto turns retrograde. The reversal could be a drag on financial markets but is ameliorated by Pluto's sextile with Saturn, which is exact Saturday morning.
Sunday brings the autumnal equinox, the Sun's entry into Libra. It is time to pay more attention to our partnerships. With the hours of daylight and darkness in balance, we are asked to create balance in our relationships. A building trine between Venus and Jupiter is a major plus. The aspect is pure fun, and is exact on Thursday the 26th. Do what you can this week to make nice with people who matter. The opportunity won't last long as Venus finds herself at odds with fiery Mars Saturday morning. Passions rise but require careful handling. Tensions and uncertainties are also multiplying as the month closes.
October
We live during challenging times. This sentiment is neatly encapsulated during the first days of October by the Libra Sun's taut square with Pluto on Tuesday the 1st and Earth-shaking opposition to Uranus on the 3rd. This is an "anything goes" scenario, the only certainty being the intensity of experience, whether good or ill. Mercury, now in Scorpio, opens eyes to silver linings and other blessings. Regardless of what appears to be threatened or lost, have faith that something better will soon replace it.
Friday the 5th is a potentially difficult day. Life may feel chaotic this evening as the Libra new Moon once again sets off the Uranus/Pluto square. Mercury, gaining strength from an approaching sextile to Pluto and conjunction with Saturn, suggests that logic and common sense offer solid guidance during trying moments. Take long-term interests as well as emerging realities into account while Mercury and the ringed planet stand united on the 8th.
Venus is in an awkward square with Neptune the morning of Thursday the 10th. Don't be snookered by an "unbelievably good" deal, or a fervent plea for help. Because the Sun is also in a testing angle with Jupiter, a generous heart may be more easily exploited, and extravagant urges more difficult to control. Thoughtful advice can be a better and more useful gift than a questionable financial outlay.
The Sun's square to Jupiter, exact on Saturday the 12th, does inspire many folks to be on the move. Leaf peepers, apple pickers and other nature lovers enjoy the upbeat energy. So will those who choose to stay close to the nest.
Mars enters Virgo the morning of Tuesday the 15th. This week there's ample energy for tackling practical matters and doing inspired work. The Moon is rapidly waxing full. Gracious Venus trines Uranus Thursday evening. A casual get together after work is great fun.
The eclipsed "Hunter" Moon in late Aries is exactly full at 7:38PM on Friday the 18th. With the Moon in shadow, expectations may prove to be greater than actual experiences. On the other hand, some lucky souls will find their mates more than meet expectations. Mars is also now opposing Neptune, so it is best to keep one's feet on firm ground. Try to deal only with people you know are trustworthy. The risk of a deception or misunderstanding remains high through Saturday night.
Just in time for the morning commute, mental Mercury turns retrograde early Monday. Allow extra time to get to work or school, and expect a friend or two to change his or her mind.
The Sun enters Scorpio on Wednesday the 23rd. Here the great light trines mystical Neptune. The magical alignment is exact Friday evening, making it a perfect night to go to the theater. Mercury's retrograde carries the winged messenger back into a second conjunction with serious Saturn during the afternoon of Tuesday the 29th. If conversations seem to bog down, opt for a timeout. Knotty issues are likely karmic in nature. A good long walk can be a welcome mood changer.
October ends with an empowering trine between Mars and Pluto. Resilience and tenacity help us face and overcome daunting challenges. In the dark of the waning Moon, a ghostly Halloween night is sure to have its scary moments. Be careful while trick or treating and on the way to parties.
November
November opens with an impressive, all-star performance. For starters Uranus is in an exact square to Pluto. This is the year's second as well as the fourth of seven total reality-shaking squares spanning 2012 until 2015. The Scorpio Sun and Mercury are conjunct and in sextile to Pluto. Changes now under way are irreversible, necessary and constructive. Welcome the new.
The solar eclipse at the Scorpio new Moon on Sunday the 3rd is closely conjunct Saturn. An urgent sense of responsibility may dawn this week. Clarity, driven by necessity, can be another offshoot of the new Moon. As you weigh options bear in mind that Mercury remains retrograde until the 10th. Plans may yet require a fine-tuning and maybe major revisions.
It's impossible to ignore reality as the Sun passes by Saturn on Wednesday the 6th. Jupiter retrogrades that night, helping to occasion "aha!" moments. Upbeat and healing vibrations carry through the Veteran's Day weekend. This is a good time to proclaim love, admiration and show respect. Relationships grow testy from the 13th through the 15th. It seems everyone has their price, and love comes with strings attached. The Moon is waxing, adding more drama to already over-heated emotions.
The Full "Beaver" Moon is exact at 10:16AM on Sunday the 17th. Cultivate healthy and strategically helpful alliances around this date. Listen carefully to the counsel of wiser, more experienced advisors.
On the 21st the Sun's arrival in Sagittarius initiates the holiday season. With the exception of Sunday the 24th and Monday the 25th, when bad weather can make the going treacherous, we've got solidly supportive travel auspices through the end of the month.
Spirits soar and hearts grow full as Thanksgiving gatherings bring families and friends together. Take this time to embrace an attitude of gratitude. A month-ending solar trine to irreverent Uranus facilitates glad hearts, warm camaraderie, clairvoyance and cheeky exchanges. Keep looking up!
Eric Linter offers a complete range of astrological services including readings, classes and his "On Top of the Stars Monthly Guide" for making inspired career and personal decisions. Contact Eric at www.ericlinter.com. Meet Eric at the Spirit of Change Natural Living Expo in Marlboro, MA on Sunday, November 17 during his 3pm workshop, "Love and Astrology."