Beat the Heat: Hibiscus Cooler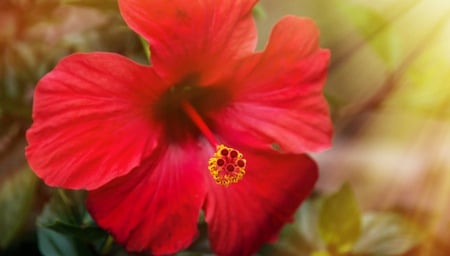 There are few things better than sitting outside with a nice cold beverage during a hot and sultry summer afternoon. Taking the time to pause and refresh yourself isn't just good for the body, but for the mind and spirit as well. Instead of going for the more traditional high sugar iced tea or lemonade, why not choose a cooling drink that has additional health benefits?
Hibiscus has a strongly cooling and refreshing nature. It's also a great anti-inflammatory, and shows promise in reducing high blood pressure and high cholesterol.* And it's delicious! Here's a recipe that will make you think twice before you choose that next sweet tea.
Ingredients
1 cup hibiscus flowers
4 cups water
2 cups ice
Optional: 1/4 cup honey
Directions
1. Boil 4 cups of water and remove from heat
2. Add 1 cup of hibiscus flowers, stir, and cover
3. Steep for 15-20 minutes
4. Strain, then add honey if desired
5. Cool for 30 minutes, then add ice
6. Add mint leaves or orange slices for added taste and color
As always, be sure to talk to your health practitioner when adding a new herbal remedy into your daily regiment.
*Hopkins, AL et al. (2013). Hibiscus sabdariffa L. in the treatment of hypertension and hyperlipidemia: a comprehensive review of animal and human studies. Fitoterapia,85, 84-94.
Banyan Moon Botanicals is a locally owned, family business in Montpelier, VT. Their mission is to provide integrative holistic healthcare, using eastern and western diagnostic tools. They strive to heal the whole person through herbs, nutrition, and yoga therapeutics.
This article was republished from Banyan Moon Botanicals.
See also:
Medicinal And Refreshing Iced Herbal Teas For Summer
Calendula – Sunshine Incarnate