Bees Are In Danger. You Can Help.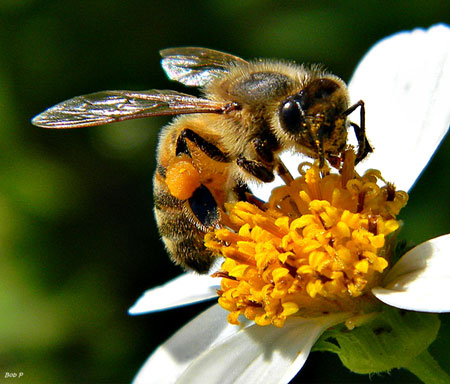 The Environmental Protection Agency (EPA) is considering allowing bee-killing pesticides to be sprayed on 165 million acres of previously protected American farmland. We need to do everything in our power to save the bees — you can take action and tell your governor to ban bee-killing pesticides right now by clicking this link.
Bees are an invaluable part of our ecosystem. They pollinate many of the foods we love: from almonds to strawberries to the alfalfa used to feed dairy cows. In fact, we rely on bees to pollinate 71 out of the 100 crops that provide 90 percent of the world's food supply.
According to a January 2018 study, honeybees are the single most important species of pollinator in our natural ecosystems.
Bees are vital. But they're dying off in droves: 33 percent of our nation's honeybee colonies died last year, an amount that experts say is unsustainable. Scientists have pointed to several causes behind the problem, including global warming, habitat loss, parasites and a class of bee-killing insecticides known as neonicotinoids (or neonics).
Neonics are incredibly toxic to bees — 6,000 times more toxic than DDT. When seeds are treated with neonics, the chemicals work their way into the pollen and nectar of the plants.
For years, Environment America and our national network have urged the EPA to enact a nationwide ban on these bee-killing pesticides. Millions of Americans, including thousands of our members, have signed petitions and public comments calling for action.
And we've made progress: In 2016, Home Depot and Lowe's announced that they would take neonics off of their shelves, and pesticide manufacturer Ortho agreed to remove the pesticide from its formulas.
Meanwhile, we celebrated when Maryland became the first state in the country to ban consumer use of these bee-killing pesticides in 2016.
Despite these victories, agrichemical companies are continually asking the EPA to allow increased use of these pesticides across the country. If they get their way, neonics will be sprayed on more crops than ever — including wheat, barley, corn, rice, sorghum and potatoes — totaling 165 million more acres of American farmland.
So we're turning to state governments to step up to save the bees by banning neonics. We're working hard across the country to convince states to follow in Maryland's footsteps — and there is already legislation pending in California.
Bees are vital to our ecosystem, including pollinating many of the foods we enjoy. That's why we need to stand up for bees by banning bee-killing pesticides — before it's too late. With more and more bees dying off every year, we need to take action now.
You can take action in your state here.
Steve Blackledge directs the conservation program for Environment America, working with the organization's advocates throughout the country to run effective campaigns that protect America's special places. Prior to his current position, he worked on public health issues for U.S. PIRG. Overall, he has worked on public interest issues for more than two decades, has appeared on CSPAN, Fox News and CNN, and has been quoted in The New York Times, Los Angeles Times, Chicago Tribune, and numerous other media outlets. He is a 1991 graduate of Wartburg College in Iowa.
This article was republished from Environment America.
See also:
Turning Solar Sites Into Pollinator-Friendly Habitats Is The Sweetest Idea
Wild Bees Can Help Honey Bees—How Your Yard Can Support Them