Big Successes At The State House For Holistic Practitioners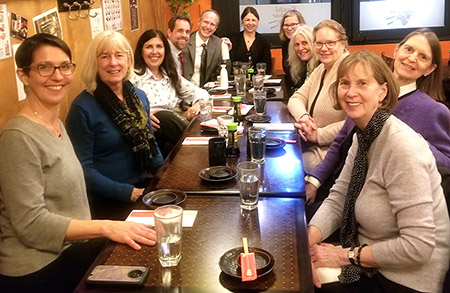 Public hearings were held at the State House in Boston this fall for two crucial bills affecting everyone's access to holistic health services in the state.
On October 28, a hearing was held by the Joint Committee on Consumer Protection and Professional Licensing for S168, "The Bodywork Bill," which redefines the majority of unlicensed holistic practitioners (Reiki, yoga, meditation teachers, etc) as "bodyworkers," and requires them to be licensed by the state as such. Well over 70 practitioners and consumers of holistic health testified against the bill, due to the enormous disruption to the entire holistic health industry it would cause in the state, as well as the inaccurate characterization of all practitioners as bodyworkers.
A small contingent of law enforcement officials testified vigorously in favor of the bill, hoping it would help curb the use of bodywork or other unlicensed healing establishments as a front for human trafficking. Unfortunately, as we have seen from recent high profile human trafficking establishment arrests, these still take place in licensed facilities. The only thing that will curb human trafficking is enforcement of current HT laws.
With close to 200 safe, well-established unlicensed holistic healing modalities potentially affected if the bill were to pass, the outpouring of testimony against S168 gave legislators new insight into how problematic and crushing the passage of this bill would be to the holistic health industry in Massachusetts.
On November 19, a hearing was held by the Joint Committee on Public Health for S665/H3660, "The Safe Harbor Bill," which would protect unlicensed holistic practitioners from charges of practicing medicine in the state, as long as they avoid the bill's prohibited acts and provide the required consumer disclosures regarding professional qualifications to each client.
Representative Donald Wong introduced the bill accompanied by 2 MDs who underscored their support of safe harbor for unlicensed holistic health practitioners. Not a single voice was raised in opposition to the bill, but 34 individuals traveled from all corners of the state to speak out in support of it. Committee chair Joanne Commerford listened with rapt attention to each testifier, frequently nodding her head in agreement with their assertions of the need for this potential new legal protection for unlicensed holistic practitioners in the state.
Both bills will now move into executive session, where each committee will decide whether to table the bill for further study or pass it favorably out of committee for a vote of the full legislature, potentially sometime in January.
Thanks to all those who sent in testimony for either bill or attended the hearings in person. Your voices have made all the difference! Please stay tuned for our next action steps in support of health freedom and safeguarding access to holistic medicine in Massachusetts.
Carol Bedrosian is the publisher of Spirit of Change magazine and a steering committee member of Health Freedom Action Massachusetts. Please consider donating to these lobbying efforts on behalf of this legislation. Email carol@spiritofchange.org to be added to the list for bill updates. Thank you!
See also:
Support Safe Harbor Bill S665, Stop The Bodyworker Bill S168