Boston Medical Center to Provide Acupuncture Services for People Living With HIV/AIDs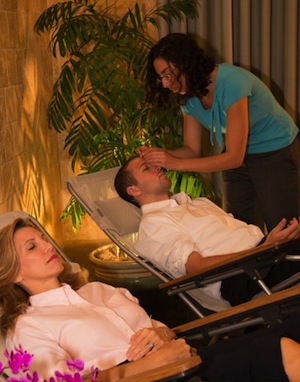 Boston Medical Center (BMC) has a new program to provide acupuncture services in group settings to people living with HIV/AIDS. The departments of family medicine and infectious diseases, as well as the Program for Integrative Medicine and Healthcare Disparities, will make these services available to the approximately 1,600 HIV/AIDS patients in care annually at BMC, as well as accept referrals from the community. Providers recently implemented the process of in-taking patients, which includes a one-on-one acupuncture consult. After intake, most patients will be treated in group visits.
As a community-based, academic medical center, BMC is the ideal place to offer these acupuncture services because of its long-standing commitment to caring for patients with HIV/AIDS, a comprehensive range of programs, and the close ties between all of the departments, physicians, and specialists involved.
A 2014 Center for Disease Control and Prevention report indicated that a person with HIV who was diagnosed at age 20, and takes current HIV medications, will, on average, live to the age of 71, compared to a person without HIV, whose life expectancy is 79 years of age.
"Through medical advances, HIV/AIDS has been transformed from a terminal diagnosis to a chronic disease that can be managed. As patients live longer and grow older, there is even a greater need to improve their quality of life," said Katherine Gergen Barnett, MD, clinical director of the Program for Integrative Medicine and Healthcare Disparities at BMC. "Acupuncture has been found to help relieve HIV/AIDS symptoms and medication side effects, such as nausea, pain, neuropathy, fatigue, and headaches."
The acupuncture program at BMC will include a group model of care that is well recognized. In the group therapy acupuncture program, between seven and eight mixed gender patients will receive treatment in the same room, at the same time. Patients will enter and leave the therapy on a rolling basis and have a few additional minutes of one-on-one time with providers.
For more information about the program, please call (617) 414-6260 or visit http://www.bmc.org.