Broccoli Sprouts to the Rescue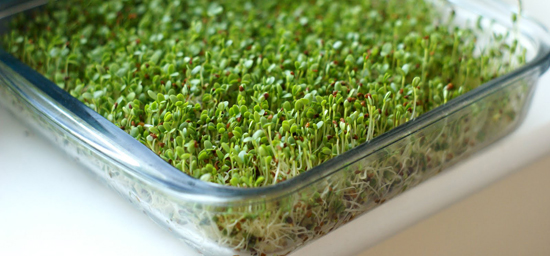 When your mother told you, "Eat all your vegetables and don't miss the broccoli, it's good for you," she was right! Now the experts agree – there is compelling scientific evidence that consumption of vegetables and fruits helps to reduce the risk of some cancers.
The USDA's Dietary Guidelines for Americans, as well as the National Research Council and American Institute of Cancer Research recommendations, all reflect this growing awareness. It is estimated that 10.3 million new cancer cases are diagnosed each year worldwide, making cancer prevention a major public health priority. Those simple words from your mother held much truth. Vegetables do keep us healthy, and can be a powerful weapon against cancer. According to a recent international expert report, dietary changes can prevent 30 to 40 percent of cancer cases, (three to four million cases annually).
What is it about vegetables that produce those healthy effects? It's the naturally protective phytochemicals from thousands of naturally occurring chemicals in vegetables. The "stars" of these anti-cancer chemicals in the body are: allicin, found in garlic; carotenoids, found in carrots; lycopene, in tomatoes; and another amazing compound found in broccoli, sulforaphane glucosinolate (SGS). These compounds increase the body's own defense system against carcinogens.
Cells in the body contain a family of detoxification enzymes known as Phase 2 enzymes that neutralize cancer-causing chemicals as well as free radicals before they damage DNA and initiate cancer. Chemo-protection can be accomplished by activating the body's Phase 2 defense enzymes which are an integral part of the body's amazing detoxification system, neutralizing carcinogens and making them inactive. This detoxification system turns carcinogens and other toxic substances into harmless molecules that are excreted from the body.
Some of the best growing techniques now guarantee large quantities, up to 5,500 parts per million, of sulforaphane within organically grown broccoli sprouts turned into powder. "Three-day-old broccoli sprouts consistently contain 20 to 50 times the amount of chemo-protective compounds found in mature broccoli heads, and may offer a simple, dietary means of chemically reducing cancer risk," says Paul Talalay, M.D.1 In general, Brassica family plants such as broccoli are rich in sulforaphane in its glucosinolate precursor form.
Unfortunately, broccoli must be eaten in large quantities to substantially reduce the risk of cancer. Preliminary studies suggest that to cut the risk of cancer in half, the average person would need to eat about two pounds of broccoli or similar vegetables per week. Because of research done at Johns Hopkins research3, scientists were able to identify that broccoli varies in sulforaphane content, and that certain varieties of young broccoli sprouts, grown under standardized conditions, contain large, uniform quantities of the compound. And since the concentration of sulforaphane is much higher in broccoli sprouts than in mature broccoli, the same reduction in risk theoretically might be had with a weekly intake of just over an ounce of sprouts, or maybe a few capsules of sprout powder.
Who should consider supplementation?
Any person dealing with cancer presently or in the past, or anyone wanting to undertake chemo-prevention
Those with liver disease to help the liver's detoxification process
Those dieting and releasing toxins back into the system from fat cells
Those wanting to guarantee at least five portions of fruit and vegetables in their daily diet
Those wanting to reinforce detoxification

References
"Broccoli sprouts: An exceptionally rich source of inducers of enzymes that protect against chemical carcinogens." Proc. Natl. Acad. Sci. USA, Vol. 94, pp. 10367-10372, September 16, 1997. Jed W. Fahey, Yuesheng Zhang and Paul Talalay
"Vegetables, fruit, and cancer prevention: A review." J Am Diet Assoc. 1996; 96:1027-1039. Steinmetz, K.A. Potter, J.D.
Other references on broccoli sprout research
Murray, M. Pizzorno, J., Encyclopedia of Natural Medicine. Prima Publishing, Rocklin, CA, 1998. 110-120.
Talalay, Paul. "The War Against Cancer: New Hope." Proceedings of the American Philosophical Society, March 1999, Vol. 143(1), pp. 52-72.http://www.brassica.com
Geoff D'Arcy is a licensed acupuncturist and herbalist. He is the medical director of the D'Arcy Wellness Clinic in Natick, MA and the president of D'Arcy Naturals World Herbs. For more information and articles please visit http://www.darcynat.com or call 508-652-1975. This article previously appeared in the Wellbeing Journal.