Career Education: A New Generation Of Bodywork Practitioners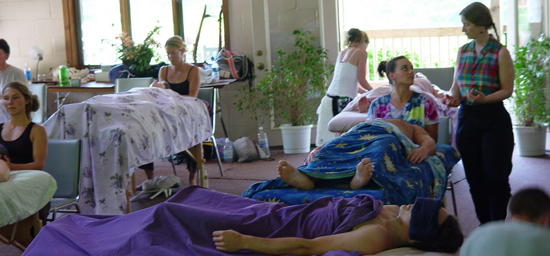 Since September 11, 2001, much has been written about people from all walks of life making dramatic changes in their lives as they tap into their deeper essence, change careers, and find innovative ways to bring passion into their work lives.
The recent business bestseller What Should I Do With My Life? by Po Bronson (Random House, January 2003) chronicles a mix of career changers garnered from some 900 interviews of people who dared to answer this tough but important question. A constant theme which emerged was "seeking passion and purpose on this planet."For many people seeking a deeper connection to one's spiritual path, the road has often led to education in professional bodywork and hands-on therapy. For three local students — all with established careers — the path has led to the study of shiatsu. All were fascinated by different aspects of how chi moves through the body, but more importantly were drawn to further study of the East Asian healing arts.
Finding a Deeper Connection to Patients
Growing up near the bucolic vineyards of Bordeaux, France, Nicole Six raised three sons while juggling a busy career as a physiotherapist and nurse. Despite living amidst the luscious French countryside where culture, wine, and food are daily passions, she was attracted to healing energy and culture in the opposite corner of the world.
Although she had never experienced East Asian massage or bodywork while living in France, new doors and energy opened to her several years ago while traveling to China and Hong Kong on an extended group vacation. She recalled being very impressed by the Chinese people, culture, and healing arts. She developed an immediate connection to Chinese herb therapy and tai chi. For many years, Six worked in a traditional French hospital practicing physiotherapy and kinesiotherapy, primarily with rehab patients. Part of the therapy she practiced was to try to stimulate blood circulation and body movements in her patients, some of whom were in a coma and in need of assisted body movement just to stay alive.
When she moved to Boston several years ago, she was somewhat surprised to find out her training and diploma were not recognized in the American healthcare system and she was unable to practice physiotherapy. Determined and having just reached the milestone of age 50, Six began exploring other alternatives. Part of this self-exploration was through receiving several kinds of bodywork including shiatsu. Through shiatsu, a 4000-year old healing arts system, Six could feel energy moving in her body.
Soon, she wanted to know everything about the movement of energy in the human body system. She knew the world of muscle and bone movement in the body, but energy movement in the body piqued her curiosity. Everything she had been taught about the palpable human skeleton and muscular systems now seemed distant and different. Before long, she enrolled to study Zen shiatsu at a Boston training program.
"That's the nice thing about America," explained Six who now resides in Belmont, MA. "Here, you have the career mobility to do several things in your life, not like Europe. It's wonderful to have this opportunity to explore a new career, even at my age."
Although the work is physically demanding for Six, she acknowledges that it teaches a new way of eating, exercising and becoming aware that you have to work on yourself in order to become a better person that is capable of helping others.
"I'm not the same person that I was in France," she rejoices. "It's wonderful to be able to tap into a new source of energy and purpose in life with this new career for me, all while enjoying the habits of a healthier lifestyle.
"This professional training has changed my way of thinking, especially about my relationships with people," Six continues. "I'm more compassionate these days and less critical of others. In France I was trained to have an analytical view of a patient's health condition. Now I have an expanded and different view of another person, one that incorporates their body/mind. Being around holistic practitioners has taught me to be more open and more accepting of others-and that's a very good thing for us all."
Applying Feng Shui Arts to Life
Twenty years ago, Hank Reisen faced a major career decision: study acupuncture or architecture. Both called upon his sense of design, structure and flow of energy. He chose the latter at M.I.T. but has never forgotten his attraction to the study of chi and the flow of energy all around us.
Over the years, Hank's built up a successful architectural design company and found the time to study tai chi, feng shui, the Chinese language, and now shiatsu. Intrigued by the movement of energy in nature and in our urban existence, his study of feng shui (literally translated as "wind" and "water") was a natural extension of his work in architecture and design. It was also a natural flow from when he first felt energy moving in and around him 30 years ago when first training in tai chi.
From many years as an acupuncture patient, Reisen appreciated his ability to feel energy moving in his body while promoting the wellbeing and healing of body, mind, and spirit. In 2001, he enrolled in a shiatsu training program because he wanted to learn more about meridians and how energy moves in the body.
"One of the great things I've learned while studying shiatsu is the ability to read human chi," Hank explains. "Because your hands are right on the meridians during a shiatsu treatment, you get lots of information from peoples' bodies. You can really develop an acute ability to feel what is going on energetically with a client, and then facilitate energy flow throughout their entire system."
Reisen is building on his tai chi practice and feng shui skills to understand how energy moves in nature, around people, and the places they live and work. "Now, my fascination with chi has come full circle as a shiatsu student. I'm not sure where this shiatsu program will take me, but I'm open to many East Asian traditions and know this knowledge and experience will further deepen my understanding of my related interests in Taoism, tai chi, feng shui, and even Asian-influenced architectural design," explained Reisen.
The Extra Curricular Woman
With a 2nd degree black belt in tae kwan do and a bookcase full of trophies as national forms champion (non-contact, moving meditation forms competition), biomedical researcher Cynthia Gallant was committed to a serious training regimen of two or three hours a day to keep in top form for her martial arts competitions all around the U.S. After an ankle injury sidelined her for several weeks, she turned to a co-worker who just so happened to be an M.D. and acupuncturist from China. He inserted a needle in her injured leg and she immediately felt a huge surge of energy moving down her leg. The result — instant relief from pain and increased mobility.
Intrigued by personally feeling the flow of chi in her body, Gallant's understanding of energy medicine was taken to whole new level. "Studying shiatsu was a natural progression for me as a martial artist," she explains. "It's very important to have a great understanding of the body, specifically for self-preservation since martial arts can be very taxing on our physical bodies, and especially when you compete at the national level."
Gallant's constant quest for knowledge and learning outside her traditional employment has earned her a reputation of being called "the extra curricular woman" by envious colleagues who wonder where she gets all the energy and chi for her many activities outside her normal 9 to 5 work life. As a cardiovascular research technician at a biomedical research institute in greater Boston, Gallant feels she's been able to give back to society, albeit indirectly through advancing cardiovascular science and research efforts.
"With shiatsu, I'm able to give back to people directly through touch. It's a wonderful feeling to be able to enjoy giving back to others like this," she commented. Gallant mentions that, like her grandmother who was an herbalist and fortune teller, she is able to tap into a healing and compassionate connection with people.
Gallant's advice for career changers seeking to become professional bodyworkers is that "you have more options than you think. Follow your passion and don't get stagnated in your own ideals. Through shiatsu and studying other East Asian healing arts, I've learned to better enjoy the present moment. Anything is possible. I have realized that I can have more than one career progression and find the time to manage and nurture them."
Gallant has no intention of changing careers, just expanding on her existing skill sets and tapping into other sides of the brain. Recognizing the current reality of a tighter economy, the energetic Gallant continues to pursue a passion for healing with her grounded background in scientific research. "My research skills are great to fall back on. I'll always have that knowledge base and can take it with me anywhere. My pursuit of a dual-career is somewhat of a safety precaution, but probably a wise one, given the current economic climate."
As an advocate for holistic health, she wants to personally make a difference in the lives of others and recognizes that many people are just not getting quality time with their traditional healthcare providers anymore.
She sees this as an opportunity to serve people who want to pay for quality wellness treatments with well-trained practitioners dedicated to spending quality time with their clients.
David Conti is a freelance writer, certified Zero Balancing® practitioner and student at Charles River School of Shiatsu in Arlington, Mass. He can be reached via email atdavidconti@msn.com or visit his website at http://www.BoxfordHealingArts.com.