Concluding Lifetime Of Dedicated Activism, Grace Lee Boggs Dies At Age 100
"I want my life to challenge people to think philosophically," she once said, "I want people to ask themselves and each other what time it is on the clock of the world."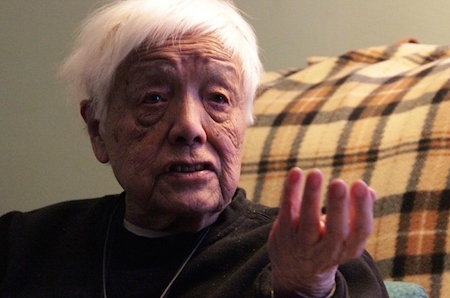 Longtime activist, educator, and philosopher Grace Lee Boggs passed early Monday at the age of 100.
Friends and caregivers Shay Howell and Alice Jennings said in a statement about her passing that Boggs "left this life as she lived it: surrounded by books, politics, people and ideas." Boggs died peacefully in her sleep in her Detroit home.
Born in Rhode Island in 1915, the daughter of Chinese immigrants studied at Barnard College and Bryn Mawr, where she received Ph.D. in philosophy in 1940. These studies led to a lifetime of activism, starting in Chicago with the movement for tenants' rights and the Workers Party. In the 1960s, Grace moved to Detroit, where she became known for her work, along with her late husband, author and activist James Boggs.
Over the past 70 years, she was involved with the civil rights, Black Power, labor, environmental justice, and feminist movements. In 1992, she co-founded the Detroit Summer youth program, "a multi-racial, inter-generational collective" that serves as a training ground for youth activists. She once stated, "you cannot change any society unless you take responsibility for it, unless you see yourself as belonging to it and responsible for changing it."
"Grace Lee Boggs embraces a philosophy of constant questioning—not just of who we are as individuals, but of how we relate to those in our community and country, to those in other countries, and to the local and global environment," notes a biography of Boggs, which accompanies of portrait of her painted by artist Robert Shetterly.
Throughout her life, Boggs' speeches and essays frequently made connections between the suffering experienced by poor and marginalized communities with humanity's overall lack of vision, exemplified by the demand for "endless growth."
During a 2012 talk given in San Francisco, Boggs spoke alternately of the need to "grow our souls."
She said: "We need to find that balance of life that respects each other, that thinks that the most important thing at this time on the clock of the world is not our accumulation of things, is not economic growth which threatens and imperils all life on this planet including ourselves, that the time has come to grow our souls, to grow our relationships with one another, to create families that are loving and communities that are loving, to bring the neighbor back into the hood."
And in an essay written in 2010 explaining why she did not partake in a commemoration of the August 28, 1963 March on Washington, Boggs boldly questioned the value of "encouraging democratic illusions" while there was still such pervasive injustice and inequity in the U.S.. Instead, she reiterated Dr. Martin Luther King's call for a "Radical Revolution of Values," which she said not only disparages racism, but also "Materialism and Militarism."
In her final post on the Boggs Center website, written in August 2014, she wrote, "I want my life to challenge people to think philosophically. I want people to ask themselves and each other what time it is on the clock of the world."
---
Living for Change: If Not Now, When?
The following essay by Grace Lee Boggs (1915-2015) was first published by Common Dreams on August 23, 2010. With the passing of Boggs announced on Monday, we share in the mourning of those who knew her best and the untold number of people who were influenced and inspired by her life dedicated to social justice and a better world. Read more of Boggs' writings for CD here and visit the Boggs Center for more information about her extraordinary life and work.
I won't be marching with Jesse Jackson in the March called by the UAW and the NAACP to commemorate the August 28, 1963 March on Washington.
That's not only because at 95 my marching days are over.
As early as 1963, Malcolm X called the "I Have a Dream" March a "Farce on Washington" because John Lewis had been forced to delete from his speech any references to Revolution and Power by the MOW's "Big 6" organizers: A. Philip Randolph, Dr. King/SCLC, Roy Wilkins/ NAACP, James Farmer/CORE, Whitney Young/Urban League, and John Lewis/SNCC.
Marchers were also instructed to carry only official signs and allowed to sing only one song 'We shall overcome.'
Malcolm never put lipstick on a pig. Malcolm thought outside the box. If he were alive NOW, he would be telling us that we should no longer be marching. We should no longer be protesting. We should no longer be dreaming. We should no longer be encouraging democratic illusions.
… When millions of Americans do not have meaningful work,
… When as a result of our obsession with economic growth, wildfires in Russia burn dangerously close to nuclear plants and millions drown from floods and mudslides in Pakistan, China and Iowa,
… When Congress decides to cut back food stamps for the poor and hungry in order to provide paychecks for public employees because trillions are being thrown away on unwinnable wars in the Middle East and military bases around the world,
… When our cities are dying because corporations are exporting jobs oversea to make bigger profits,
… When our prison population is the highest in the world because our schools structured in the factory age have become pipelines to prison,
It is time to stop dreaming and protesting.
Instead in every community and city we should be discussing how to make the "Radical Revolution of Values" not only against Racism but against Materialism and Militarism that Dr. King called for in his 1967 anti-Vietnam war speech.
King's call for this "Radical Revolution" came only four years after his 1963 "I have a Dream" speech. But in those few years, youth in Watts, California and other cities had risen in Rebellion. In Chicago King and anti-racist marchers had experienced the raw ugliness of Northern racism. The genocidal war in Vietnam had exposed our country as the world's worst purveyor of violence and on the wrong side of the world revolution.
That is why in 1967 King decided that the time had come to warn the American people that unless we make a Radical Revolution in Values, we face spiritual death.
In 2010, 42 years later, we are experiencing massive physical and spiritual death.
Why are we still marching and dreaming?
Why are we not making a "radical revolution in values"?
Why are we still obsessed with economic growth?
Why are we still allowing corporations to deprive us of jobs by replacing human beings on the line with robots and by exporting jobs overseas to make greater profits?
Why are we still accepting the dictatorship of technology and of corporations?
The time has come to
…slow down global warming by building sustainable local economies and by living more simply.
…reject the dictatorship of technology so that it is no longer normal and natural to replace human beings with robots.
…stop corporations from exporting jobs overseas.
…end factory-type schooling and start engaging schoolchildren in local community rebuilding.
Let's start thinking outside the box!
If not now… when?
Grace Lee Boggs (1925-2015) was an activist and community organizer for more than 60 years and is the author of the autobiography Living for Change and, with Scott Kurashige, The Next American Revolution: Sustainable Activism for the Twenty-First Century.
See also:
The Rad History Book Every Girl (and Boy) Should Have On Her Bookshelf
What Kind of World Do You Want to Live In?