Corporate Giants' "Sustainable" Palm Oil Revealed As Sham
Nestlé, Kellogg's, Procter & Gamble, Unilever and others are linked to child labor and forced labor in Indonesia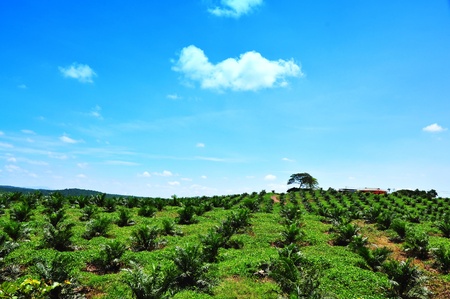 Child labor and forced labor are fueling profits for global conglomerates including Nestlé, Colgate-Palmolive, Unilever, Procter & Gamble, Kellogg's, and others, finds an Amnesty International report published Wednesday.
The corporations are ignoring labor abuses—which include children as young as eight working in grueling conditions—on Indonesia plantations run by the world's largest palm oil grower, the Singapore-based Wilmar, the report found.
"Companies are turning a blind eye to exploitation of workers in their supply chain. Despite promising customers that there will be no exploitation in their palm oil supply chains, big brands continue to profit from appalling abuses. These findings will shock any consumer who thinks they are making ethical choices in the supermarket when they buy products that claim to use sustainable palm oil," said Meghna Abraham, senior investigator at Amnesty International.
The report, The Great Palm Oil Scandal: Labour Abuses Behind Big Brand Names (pdf), argues that the abuses researchers uncovered "were not isolated incidents but due to systemic business practices by Wilmar's subsidiaries and suppliers," and that the company's business partners should be well aware of them.
The report comes as Nestlé, in particular, is coming under increasing scrutiny for the ethics of its practices around the world.
"Corporate giants like Colgate, Nestlé, and Unilever assure consumers that their products use 'sustainable palm oil,' but our findings reveal that the palm oil is anything but," said Abraham. "There is nothing sustainable about palm oil that is produced using child labour and forced labor. The abuses discovered within Wilmar's palm oil operations are not isolated incidents but are systemic and a predictable result of the way Wilmar does business."
Moreover, Amnesty International observes that all but one of the nine companies whose products could be traced back to Wilmar were "members of the Roundtable on Sustainable Palm Oil, and claim they use 'sustainable palm oil' on their websites or product labels. None of the companies Amnesty International contacted denied that the abuses were taking place, nor did any provide examples of action taken to deal with labor rights abuses in Wilmar's operations."
And the stories revealed by the rights group are harrowing.
One 10-year-old child laborer, who has toiled on palm oil plantations since he was eight, told the researchers: "I don't go to school…I carry the sack with the loose fruit by myself but can only carry it half full. It is difficult to carry it, it is heavy. I do it in the rain as well but it is difficult…My hands hurt and my body aches."
A woman who works to maintain a palm oil plantation told researchers that she is forced to work illegally long hours (Indonesia's labor laws are strict, but rarely enforced) through explicit and implicit threats. "If I don't finish my target, they ask me to keep working but I don't get paid for the extra time," she said. "My friend and I told the foreman that we were very tired and wanted to leave. The foreman told us if you don't want to work, go home and don't come again. It is difficult work because the target is horrifying…My feet hurt, my hands hurt and my back hurts after doing the work."
"Something is wrong when nine companies turning over a combined revenue of $325 billion in 2015 are unable to do something about the atrocious treatment of palm oil workers earning a pittance," Abraham argued.
Nika Knight is a Common Dreams staff writer.
This article was republished from Common Dreams.
See also:
How Did Palm Oil Become Such A Problem—And What Can We Do About It?
EarthTalk: Palm Oil Production and Rainforest Destruction