Cultural Crossroads: Occupation, Not War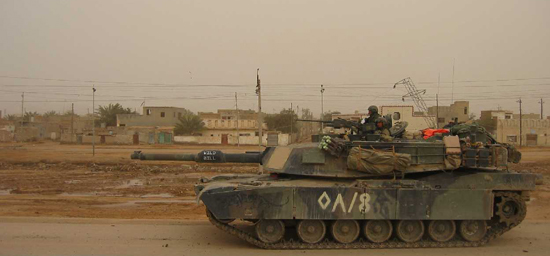 Every time the media — or a Democrat — uses the phrase "War in Iraq" they are promoting one of Karl Rove's most potent Republican Party frames.
There is no longer a war against Iraq. It ended in May of 2003, when George W. Bush stood below a "Mission Accomplished" sign aboard the USS Abraham Lincoln and correctly declared that we had victoriously defeated the Iraqi army and overthrown their government.
Our military machine is tremendously good at fighting wars — blowing up infrastructure, killing opposing armies, and toppling governments. We did that successfully in Iraq, in a matter of a few weeks. We destroyed their army, wiped out their air defenses, devastated their Republican Guard, seized their capitol, arrested their leaders, and took control of their government. We won the war. It's over.
What we have now is an occupation of Iraq. The occupation began when the war ended, and continues to this day. According to our own Pentagon estimates, at least ninety five percent of those attacking our soldiers are Iraqi civilians who view themselves as anti-occupation fighters. And in July both the Defense Minister and the Vice President of Iraq asked us for a specific date on which the occupation would end.
The distinction between "war" and "occupation" is politically critical for 2006 because wars can be won or lost, but occupations most honorably end by redeployments. We won World War II and it carried Roosevelt to great political heights. We lost the Vietnam War and it politically destroyed Lyndon B. Johnson, Richard Nixon, and Jerry Ford. And as we fought to a draw in Korea, it so wounded Harry S. Truman politically that he didn't have a strong enough base of support to run for re-election against Dwight D. Eisenhower.
American's don't like to lose or draw at a war. Even people who oppose wars find it uncomfortable, at some level, to lose, and Republican strategists are using this psychological reality for political gain. When wars are won — even when they're totally illegal and undeclared wars, like Reagan's adventure in Grenada — it tends to create a national good feeling. On the other hand, when arguably just wars, or at least legally defensible "police action" wars, like Korea, are not won, they wound the national psyche. And losing a war — like the German loss of WWI — can be so devastating psychologically to a citizenry that it sets up a nation for strongman dictatorship to restore the national honor.
An "occupation" is something that logically should end one day, and, if it's an expensive occupation in lives or money, will find popular support to end as soon as possible. The various colonial powers of Europe ended their occupations of most of Africa, for example, and there was no national emotional pain associated with it. Churchill's withdrawal from Uganda increased his popularity with Brits.
While Americans hate to lose wars, we're generally pleased to wrap up occupations. We had no problem with ending our occupation of the Philippines, numerous South Pacific islands, and the redeployment of our troops stationed in nations conquered in World War II (Japan and Germany) from broad-based "occupation" to locally based "assistance." (Although we still have troops in Japan and Germany, neither country has been functionally occupied by us since the late 1940s and the legal occupation of both ended shortly thereafter. It should also be remembered that not a single American life was lost because of hostile fire in either brief post-war occupation.)
If Democrats can succeed in the upcoming months in making it clear to average Americans that the war in Iraq ended in 2003, and that we're now engaged in an occupation of Iraq, then Democratic suggestions to end or greatly diminish the occupation will take on a resonance and cogency that will both help them in an election year, and help to bring our soldiers to safety and Iraq to stability.
On the other hand, if Democrats are perceived as pushing for America to "lose the war in Iraq," they will be vilified and damned by Republicans and many swing voters, and could thus lose big in 2006. The war is over. The occupation has now lasted 3 years and one month — far longer than necessary.
Here's a scenario — fictitious at this moment — of how Democrats should play it out:
[Tim Russert]: So, Senator Reid, what do you think of this most recent news from the War In Iraq?
[Senator Reid]: The war ended in May of 2003, Tim. Our military did their usual brilliant job, and we defeated Saddam's army. The occupation of Iraq, however, isn't going so well, in large part because the Bush administration has totally botched the job, leading to the death of thousands of our soldiers, and dragging our nation into disrepute around the world. I'd like to see us greatly scale down the current occupation, redeploy our forces to nearby nations in case we're needed by the new Iraqi government, and get our brave young men and women out of harm's way. Occupations have a nasty way of fomenting civil wars, you know, and we don't want this one to go any further than it has.
[Tim Russert]: But isn't the war in Iraq part of the global war on terror?
[Senator Reid]: Our occupation of Iraq is encouraging more Muslims around the world to eye us suspiciously. Some may even be inspired by our occupation of this Islamic nation to take up arms or unconventional weapons against us, perhaps even here at home, just as Osama Bin Laden said he hit us on 9/11 because we were occupying part of his homeland, Saudi Arabia, at the Prince Sultan Air Force Base, where Bush Senior first put troops in 1991 to project force into Kuwait and enforce the Iraqi no-fly zone. The Bush policy of an unending occupation of Iraq is increasing the danger that people will use the tactic of terror against our allies, and us and, just like George W. Bush wisely redeployed our troops from Saudi Arabia, we should begin right now to redeploy our troops who are occupying Iraq.
[Tim Russert]: But the war…
[Senator Reid]: Tim, Tim, Tim! The war is over! George W. Bush declared victory himself, in May of 2003, when our brave soldiers seized control of Iraq. That's the definition of the end of a war, as anybody who's ever served in the military can tell you. Unfortunately, our occupation of Iraq since the end of the war, using a small military force and a lot of Halliburton, hasn't worked. We should take Halliburton's billions and give them to the Iraqis so they can rebuild their own nation, the way we helped Europeans rebuild after World War II. And go from being an occupying power to being an ally of Iraq and the Iraqi people, like we did with Japan and Germany.
[Tim Russert (bewildered)]: I can't call it a war anymore? We have to change our NBC "War In Iraq" banners and graphics?
[Senator Reid (patting Russert's hand)]: Yes, Tim. The war is over. It's now an occupation, and has been for three years. And like all occupations, it's best to wrap it up so Iraq can get on with their business. I'm sure your graphics people can come up with some new logos that say "Occupation Of Iraq." It'll be a nice project for them, maybe even earn them some much-needed overtime pay. The "War In Iraq" graphics are getting a bit stale, don't you think? After all, soon we'll be able to say that we fought World War II in less time than we've been in Iraq. Wars are usually short, but occupations — particularly when they're poorly managed — can be hellish.
[Tim Russert (brightening)]: Now I get it! I even wrote about wars and occupations in my book about my dad. Thanks for coming on the program today and clarifying this for us.
If the Democrats don't shift the discussion from war to occupation, the Republicans will succeed in painting them as being in favor of losing a war, which will destroy their electoral possibilities. Instead, every time a Republican or a member of the press uses the slogan "War in Iraq," Democrats need to correct them by saying, "You mean the Occupation of Iraq." The war is over.
Thom Hartmann is a Project Censored Award-winning best-selling author, and host of a nationally syndicated daily progressive talk show carried on the Air America Radio network and Sirius. Among others, his books include The Last Hours of Ancient Sunlight, What Would Jefferson Do? and Ultimate Sacrifice. His next book, due out this autumn, is Screwed: The Undeclared War on the Middle Class and What We Can Do About It. Visit http://www.thomhartmann.com for more information.