Dangerous Isolation: Meet The Fearless Advocates Helping Rural Women Escape Abuse
From helping care for an abused woman's animals to switching jackets so she can slip past her husband in the parking lot, advocates in poor, rural areas are thinking outside the box.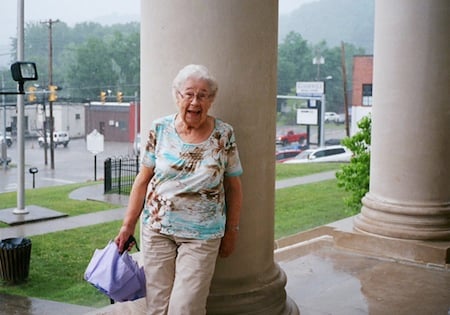 Two years ago, Lois Howard's ex-husband put her in the hospital for 12 days. Afterward, a concerned social worker sent her to Safe Harbor, an emergency shelter in Ashland, Kentucky, that handles domestic violence cases and advocates for the survivors. Howard arrived with no clothes except the ones she was wearing, no money, and no friends or family nearby.
At first, she resented being there and vowed to leave as soon as possible. But she eventually warmed to the staff and other residents. In the end, she stayed at Safe Harbor for two years.
During that time, she has thrived. She got divorced, moved into her own apartment, attended the New Opportunity School for Women in Berea, Kentucky (which she enthusiastically recommends), and won the United Way of Northeast Kentucky's award for Volunteer of the Year. She has also gone down 12 dress sizes, improved her physical stamina, and developed an exercise routine. Her bright red hair, which had fallen out due to a poor diet, is growing back, and she wears it in a trim pageboy. And most importantly to her, she has found her vocation as head of donations at Safe Harbor.
When I visited Howard in May 2015, three bags of donated clothes had just come in, and she was thrilled. She couldn't wait to get her hands on them so we walked to the donation room together and talked while she sorted through the dresses and skirts, exclaiming in delight when she found some with tags still on them.
Transformations like Howard's are not easy to pull off in rural Appalachia, where poor roads, low incomes, and a fiercely traditional culture combine to leave women facing domestic violence in physical and emotional isolation. But a handful of nonprofit shelters and advocates have managed to make progress in this difficult setting.
The secret of their success seems to be listening carefully to the women they serve and then handcrafting programs for those women. The advocates have found that when it comes to domestic violence, a one-size solution does not fit all. It is important to consider community and culture in order to make real differences in the lives of domestic violence survivors, a lesson for shelters everywhere.
I spent much of the month of May visiting some of these rural shelters. Even though I've lived in West Virginia for eight years, as I drove into the state's southern counties I felt like I was entering a different world. The six-lane highways turned into narrow roads curving around mountains. Trucks carrying lumber hurtled past me on the switchbacks. Densely green woods surrounded me with cool, still beauty, and the towns were few and far between. I lost cell service almost immediately. For me, the solitude seemed idyllic. But this kind of isolation can be deadly for a woman trying to escape from an abusive home, especially if she is responsible for children and animals.
Pam Gillenwater, program director of the YWCA Resolve Family Abuse Program in Charleston, put it succinctly: "If you live miles up in the holler and you don't have a telephone, and you don't have a land line, and your cellphone doesn't work up there, and you don't have a car, and you don't read and write very well, and you've got three kids, how are you going to get help?"
Unusual challenges
In addition to the populous and relatively prosperous Kanawha County, where Charleston is located, Resolve serves the struggling rural counties of Boone and Clay, where unemployment rates are high and college graduation rates are low. In order to let the women who live there know about available services, Gillenwater says that fliers with phone numbers have been more effective than Facebook or Twitter. And when it comes to designing them, simpler is better.
"In the rural areas we have to be considerate and mindful of literacy," Gillenwater explained.
Resolve's communication director Marilyn Wrenn puts key words in boldface, especially the word "free." "That's the major thing people want to know because we are talking about extremely poor women," she said.
Confidential is another word the fliers emphasize. It's hard to be anonymous in rural areas, and residents can be mistrustful of outsiders. The solution, according to Gillenwater, is for advocates to integrate themselves into the communities. So Resolve staffers make regular appearances at the Boone County's West Virginia Coal Festival and the Clay County Golden Delicious Apple Festival. They never miss Headstart orientations, attend church services, and make friends with preachers and school principals.
Persistence is also important. After 23 years in Boone County, Resolve outreach advocate Tina Manns is an institution. When I walked with her through downtown Madison, where she works in a small, cluttered office next to the courthouse, she greeted everyone by name, asking after their parents, health, and children. Some hugged her while others shook her hand.
It hadn't always been that way. When she first took the job, she found that people didn't trust her and could be outright hostile to her efforts to champion the cause of abused women. Courtroom regulars called her "that old white-haired bitch" when she walked women down the halls to get protective orders.
"I turned around one day and said, 'I don't know what you all would do if I ever dyed my hair,'" Manns reminisced.
But the same magistrates who were once reluctant to take her seriously are now the ones she trusts most to issue protective orders. She has been working here so long that she now helps the children of her original clients. Even after losing several women to violence over the years, she remains indefatigable. She runs a support group for survivors of domestic violence every Tuesday, accompanies women to court, drives them to the shelter, and helps them sign up for benefits. At the age of 86, she shows no sign of slowing down. Her goal is to transfer the credibility she's earned onto newer advocates, bringing them to support groups, court, or the office of the West Virginia Department of Health and Human Resources.
Manns and other advocates consider this department to be an important partner for domestic violence advocates because so many women in rural Appalachia are on public assistance and must visit their local office to pick up checks and sign papers. Men who monitor their wives' movements still have to let them go to the DHHR office.
Pam Gillenwater has conducted workshops with the Departments' supervisors and staff on how to get a victim alone without arousing suspicion—for example, bringing her into a private room on the pretext of signing papers. Once alone, staff can explain what services Resolve can offer her and ask if the woman wants help. If she is ready to leave her living situation, the staff can call an advocate. The fearless Tina Manns has exchanged jackets with a woman to sneak her out of the DHHR office while the husband waited in the parking lot.
The police too are crucial partners for domestic violence shelters. They are frequently the first point of contact for women experiencing abuse and can make referrals to advocates. In rural Appalachia, however, victims may be reluctant to call the police if their perpetrators have friends or family on the force. They may also worry about having their cases taken seriously, especially if they have called before. Meanwhile, resources are often stretched thin in rural police departments, so officers aren't always trained to understand domestic violence.
Michelle Carpenter, the executive director at Haven of Hope in Cambridge, Ohio, has worked hard to change that situation in her region. During her six years as director, she has launched several programs designed to create an educated and trauma-conscious police force. She started a new officer training program, in which officers work with her a week at a time, sitting in on victim interviews and learning how to build rapport with trauma victims. Jeffrey Paden, the local county sheriff, says he carries her fliers and calls Haven of Hope whenever he gets a call about a potential case of abuse.
Carpenter says the partnership has helped dispel fears of law enforcement. She also does confidential trauma support with the officers themselves, visiting the station for private meetings and operating a 24/7 hotline where police can debrief about tough cases.
When neighbors are far away
In the hills and hollers of Appalachia, contact with outsiders can be scarce. This isolation has helped preserve the region's famous legacy of art, music, and storytelling for many generations. Many Appalachians are fiercely proud of this unique culture. But long distances between homes can create obstacles for women trying to escape an abusive situation. For example, people in the region may not have neighbors that can take pets and farm animals in for a woman who wants to leave a violent household.
Most shelters allow women to move in with their children. But advocates found that women wouldn't leave a household unless the animals had a way out too.
Tatiana Duvall moved from St. Petersburg, Russia, to southern Ohio to marry a man she believed would be a loving and kind partner for the rest of her life. But when she arrived at his farm, she found a different reality. He refused to let her leave the farm, get a job, apply for a driver's license, or make friends. He beat and choked her regularly and also abused her black-and-white border collie, Dina. Duvall knew she couldn't take Dina with her to a shelter but she was afraid that if she left, her husband might kill her dog in retaliation.
When she sought help from Haven of Hope, Carpenter called Lisa Bell, a volunteer officer at the local humane society, who found a foster family for Dina. During the seven months while Duvall lived at the shelter, Lisa arranged for her to visit Dina in safe public places. In the meantime, Duvall found a job and got an apartment.
Today, Duvall and Dina live together in western Pennsylvania where Tatiana works as a web designer.
Carpenter and Bell currently have four families that can take animals from horses to dogs to cows. They are hoping to expand the program and particularly to find more funding for vet bills.
"Once you provide safety for the animals, you are providing safety for the humans," Bell explained.
But the relationship between isolation and abuse goes beyond making sure animals and people have a safe place to go when they are ready to leave. Many advocates in the region say the root of the problem is violence that's passed on within a family from one generation to the next.
"They just by and large accept domestic violence because it's generational in nature," said Jennifer Allen, an outreach advocate from Safe Harbor who works in Elliott County, one of the most rural counties in Kentucky. "They've seen it growing up. Their intimate partner has seen it growing up. So, sadly, it is almost an accepted way of life."
Gillenwater agreed, and talked about her experiences in a court-ordered class she'd taught for years. "It was not uncommon, especially in these rural areas when I taught the batterers' program, to have a father and a son come to group, an uncle and his nephew, a grandfather and his grandson. We've had them carpool together."
Lois Howard says she lived through generations of domestic violence herself. Her father abused her mother, and she has seen it come up in the younger generations of her family. "Out in the country, it's different. Nobody sees what goes on, so it's OK."
She believes that a different approach to education could change that, and advocates agree that schools are the ideal places to change attitudes toward gender relations and violence. Both Resolve and Safe Harbor hold regular discussions on bullying at the elementary school level and move onto teen dating in middle and high schools.
Lois says she could never have imagined an institution like Safe Harbor while she was growing up in Rockcastle County, in the eastern coalfields of Kentucky.
"The area where I'm from, we don't know about places like this."
Laura Michele Diener lives in Huntington, West Virginia, where she teaches medieval history and directs the Women's Studies Program. As a teacher, she works to foster relationships between students and community organizations that advocate for women, girls, and social justice.
See also:
Project New Hope
Taking Action Fends Off Global Indifference