Edamame Spring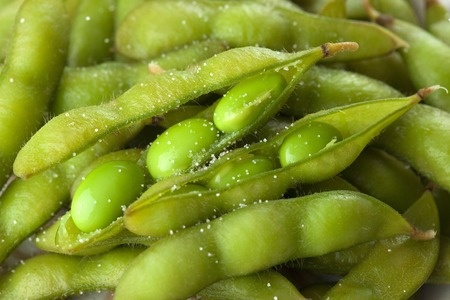 Edamame are young soybeans that are harvested before they harden. These unripened, green soybeans are tender, soft, and high in protein with a delicate flavor. They are also a rich source of fiber, omega fatty acids, calcium, iron and vitamins C and A.
Edamame has been a staple in Japanese cuisine for centuries and has recently been introduced into the American diet. They are easy to prepare and make a quick and filling snack that can be eaten hot, cold or dry roasted.
To cook edamame still in the pod, boil the pods in salted water or steam, then sprinkle with sea salt. Place the pod at your mouth, then squeeze or bite the beans inside, which easily pop out. Don't eat the pods.
Try this colorful edamame salad with texture and crunch, topped with a healthy and tasty dressing you will love.
Edamame Salad with Miso Dressing Recipe
Prep time: 30 minutes
Cook time: 15 minutes
Serves: 8-10
Dressing
In a bowl mix well and set aside:
1/2 cup vegetable oil
1/8 cup toasted sesame oil
1/4 cup rice vinegar
2 cloves garlic, diced fine
2 tablespoons fish sauce
2 tablespoons organic miso paste
Salt and pepper to taste
Salad
16 oz frozen hulled organic edamame
4 oz fresh asparagus, cut into 2" pieces
1/2 cup fresh whole baby carrots, halved
4 oz of fresh shiitake mushroom, sliced (optional or you can use another mushroom)
1 cup cooked green beans, cut into 2" pieces
1/2 red and yellow pepper, coarsely chopped
1 small red onion, diced or 3 chopped scallions
4 oz yellow cherry tomatoes, halved
Cook frozen edamame, following directions on the back of the package. In the last 3 minutes of cooking time add carrots and asparagus. Drain and rinse with warm water. Set aside.
Heat a skillet over high heat coated with 2 tablespoons of oil. Sauté shiitake mushrooms with 1/4 teaspoon of salt until golden brown, about 5 minutes. Set aside.
Bring a pot of water to boil. Add green beans with a clove of garlic. Cook for 5 minutes or until tender, then drain and rinse with cold water.
In a large bowl, combine edamame, carrots, asparagus, shiitake mushrooms and green beans with remaining ingredients. Add the miso dressing and mix to coat.
This salad is best eaten at room temperature. Enjoy!
Helen Chin Lui is a certified reflexologist, certified energy medicine practitioner, Reiki Master and teacher. She is the owner of the Healing Place in Medfield, MA, where she specializes in helping people of all ages to find relief from chronic digestive disorders, chronic pain and balance hormones naturally. Visit www.healingplacemedfield.com.
See also:
10 Ways to Celebrate the International Year of Pulses
Beans 101 – Cheap, Nutritious and Super Healthy