Elevating Yoga To The Next Level: An Interview with Yoga Alliance President David Lipsius
Clarifying yoga teaching standards and ethics is shaping a new professional identity for the ancient practice of yoga.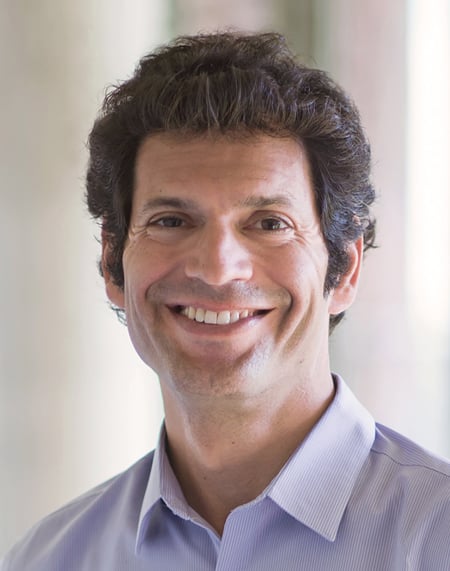 Within the past 10 years, yoga has moved well into mainstream recognition as a valuable health tool for mental and physical well being. Either you already do yoga yourself or know someone else who does. No longer considered an exotic spiritual practice for serious contortionists only, yoga is now acknowledged by the American Heart Association as a way for anyone to prevent and reverse heart disease, and is routinely offered in senior centers, public schools, corporate work places, churches, Y's, gyms and tens of thousands of private yoga studios across the country to what is estimated will be 80 million Americans in 2018.
America has discovered that yoga works! Many of the stretching exercises most popularly recommended by your physical or occupational therapist are also yoga poses (asanas). Add some conscious breathing while you stretch and you're doing yoga. Yoga is so simple, so adaptable and so universal that it can be practiced by anyone at any age with steady results. My wise and 30-year experienced yoga teacher once pointed out that for some individuals, their version of the headstand is to bend the head downward at the neck, or if seated, bend forward at the hips. Yoga always has to start somewhere.
With the explosion of yoga's popularity has come a fresh new crop of teachers who haven't yet developed their 30 years of experience in knowing that every body is different, nor honed the skill to continually remind students to check in with this body part and that body part as you move into a specific pose. While yoga encourages stretching into new areas of the body with breath, prana and regeneration, yoga should never be painful. The first yogic precept is ahimsa, non-violence, to self and others. Healing comes gently and gradually — less is more — a wisdom gained over years of practice. But what happens when you have a teacher not quite experienced enough to know that suggesting headstand adaptations at the start of the pose is actually more important than guiding students through to its completion?
While no fatalities have been attributed to yoga, injuries do occur when students ignore the body's pain signals or intuitive flashes of "Stop! Don't do this!" Just like running, dancing or any other sport, injury during yoga can occur without sufficient warm up for the body to assume strong poses like Plank and Downward Dog, or even when a body is just not ready to bend, stretch or move a certain way on that day. Fortunately, yoga is its own antidote; there is always a reverse or healing pose to restore balance, even if the restoration might take some time.
Amidst the explosive growth of yoga in the wild, wild West, and with every expectation that its mainstream acceptance will only expand, comes a need to ensure that American yogic teaching standards evolve with the tradition's longstanding ethics that promote teacher competency, public safety, embrace of diversity and inclusion of all people. In a dovetail of divine timing, less than two years ago, yoga teacher and values-based non-profit executive David Lipsius took over as President and CEO of Yoga Alliance and Yoga Alliance Foundation, the largest international not-for-profit organization serving yoga teachers, yoga schools and students, with exactly that mission in mind. For the past 14 months, David has catalyzed the effort to bring yoga more easily into the mainstream by clarifying yoga teaching standards and ethics that strengthen its professional identity while respecting the diversity of its many traditions. With its hundreds of zealously regarded lineages, truly, only a very experienced yogi could possibly even envision embracing all yogic traditions into one professional framework!
Yet holding to this unified vision has strengthened the framework for the future field of yoga so it can more easily merge into the mainstream, as well as protect practitioners and consumers. The July 19, 2018, unanimous passage of Massachusetts Senate Bill 2599 (now S2621 in the House): A Bill to Regulate Bodyworkers, intended to prevent human trafficking in bodywork establishments, would have required unlicensed "bodyworkers" in the state (practitioners who use "touch, words or directed movement"), including yoga teachers, qigong masters, Reiki practitioners and nearly all alternative practitioners, to become licensed through massage therapy schools for state oversight — an expensive and burdensome proposition.
Flawed from the start to even equate bodywork with human trafficking because of a small number of isolated incidents, fortunately the bill did not make it through the House, but is sure to come up for discussion again by the end of the year. House Bill 2033 and Senate Bill 1136, informally known as the Safe Harbor Act, are reasonable legislative alternatives, which would guarantee the rights of practitioners to offer alternative therapies while shoring up consumer protections by helping consumers identify professional credentials among alternative practitioners.
Unlicensed healing modalities such as yoga, Reiki and qigong will benefit from strong professional organizations that can self-monitor their community of practitioners by offering certification and continuing education, encouraging more transparent disclosure of competency. Yoga Alliance is now strongly positioned to offer this leadership, and perhaps a model to other unlicensed healing modalities for providing similar oversight for their practitioners.
Buoyed by his gratitude for the many, many years of experience he has been privileged to enjoy around some of the most extraordinary yoga teachers on the planet, and seeing a larger picture of where and why yoga is not accessible to others, David is committed to giving back to the community by helping to make yoga accessible to all. He shares exactly how he plans to do that in this interview.
Carol Bedrosian: What is the Yoga Alliance and what are the issues the organization addresses?
David Lipsius: Yoga Alliance is actually two organizations but the organization known as Yoga Alliance is an independent not-for-profit member organization. Yoga Alliance advances the training and development of yoga professionals and also advocates for safety and accessibility in yoga. Our sister organization is the Yoga Alliance Foundation. That's a 501C3 not-for-profit public charity. The new mission at the Yoga Alliance Foundation is to expand access and inclusion in yoga and to bring yoga to underserved, underrepresented and marginalized populations.
Carol Bedrosian: That's a tall order. What kind of progress have you made towards those aims?
David Lipsius: Yoga Alliance is really making a major transition from being a registry — a place where yoga teachers register that they have completed a yoga teacher training — to operating as a traditional member organization, with standards and credentialing, member education, member benefits and government relations as the primary activities. Yoga Alliance is really looking at how it can serve our members better, so we restructured the organization in 2017 to move beyond a simple registry.
Why do this? I came on board at Yoga Alliance a little more than a year ago, after some time spent as the CEO of Kripalu Center in Stockbridge, Massachusetts. Having spent five years at one of the largest yoga institutions in the West, I had an amazing opportunity to really listen deeply to yoga practitioners, yoga teachers, and many of the major thought leaders in yoga. In a lot of ways it was a five-year focus group on the concerns and interests and opportunities that were impacting our field. So leading Yoga Alliance presented an interesting opportunity to look for ways to elevate the profession for the benefit of yoga teachers and their students everywhere. Yoga Alliance is really making a major transition from just being a registry — a place where yoga teachers register that they have completed a yoga teacher training — to operating like a more traditional member organization, thinking about standards and credentialing, member education, member benefits and government relations as a cohesive whole. Yoga Alliance is really looking at how it can serve our members and non-members, alike, who are in the field of yoga in ways that are much stronger than just being a registry.
Carol Bedrosian: Those are very lofty goals to standardize and professionalize a field as diverse and non-traditional as yoga, but this is exactly what is needed to bring it to the public. With so many different yoga traditions, how is that unfolding?
David Lipsius: It's unfolding well is one part of the answer, not to say that there aren't challenges. Our vision is to create an alliance. Our founding was based on the principle of unity in yoga — the leading yoga teachers of the time coming together for the benefit of others. What I'm suggesting to the field is to say that we're stronger together. I believe what we need to start doing is listening to each other, finding ways to partner and to work together and learn from each other in that spirit of unity — yoga — and in the spirit of alliance, as opposed to succumbing to competition or fear.
Yoga Alliance is particularly unique in that we're independent, meaning we can appropriately represent interests from different lineages, traditions, organizations, for-profit orgs, not-for-profit orgs, styles, and belief systems, all without having to adhere to any single set of interests from an individual or any dogma from any particular community. We think about the field as a whole and bring all of those people together in a way that advances the profession.
So how do we do something so lofty and so broad in many ways? We start with some basics, and for Yoga Alliance that is a comprehensive, inclusive review of our 18-year-old yoga teaching standards. That's where our main focus has been in the first year, year and a half. The yoga teaching standards were effectively put into place way back in '97, '98, and '99 when they were codified by a group of original yoga teachers and thought leaders who came together for the greater good. But in the 18 years since then, there have only been some modest updates to the standards. So this entire year of 2018 for Yoga Alliance has really been focused on the standards review project and bringing as many people together from as many backgrounds as possible to take a good look at the underlying standards of yoga teachers and yoga schools and to determine what needs to happen next to help the field evolve.
Carol Bedrosian: Can you be specific about what these standards are?
David Lipsius: The basic standards that were put in place some 18 years ago are based on 200-hour level and 500-hour level trainings. And within that training are competencies based on different categories of education. So in a 200-hour training a potential yoga teacher would learn yoga philosophy, ethics, they would learn asana, pranayama, meditation techniques, anatomy and physiology from an Eastern perspective and a Western perspective, etc. Those standards have, in a lot of ways, become the accepted standards in the field.
What we're doing now is saying: Well where are we and what have we learned over the last 18 years of using those standards? Are there enhancements to be made? The way we're doing that is through an inclusive process that has welcomed the public — both YA members and non-members — and, in fact, many of our critics as well, to come to the table in that spirit of yoga to have discussions about how these standards should evolve given that they are ubiquitous around the world. And that's what's happening right now.
The way that's happening is in multiple feedback mechanisms. We're getting feedback through a global survey that went out in the early spring. We've just received those early results and are waiting for the final reports, which will be published in August. We believe that it's the largest ever survey of yoga professionals or the field of yoga that we can identify, with over 12,000 people responding.
We also have eight volunteer working groups that are evaluating specific areas of the standards, like the potential need for a code of ethics, the potential need for a better understanding of the scope of practice for a yoga teacher — what does a yoga teacher do or what doesn't a yoga teacher do — as well as working groups that are examining topics like the potential development of a core curriculum: What standards and credentials would a yoga teacher need? What would a yoga teacher trainer need? We're looking at integrity, meaning what accountability structures should be put in place for yoga teachers, either by Yoga Alliance or by others like the schools themselves who do the certifications?
Those committees are actively in motion now and will be delivering reports through the late summer and the fall. Their findings and recommendations will then be combined with the survey results and all the additional feedback that we're getting through other mechanisms like our listening tour, which has brought me from India to the U.S., and in the fall to Europe. In addition, our e-mail and phone advisors are collating information being offered by our members. Anyone can submit feedback at any time to our e-mail address IWantToHelpYA@yogaalliance.org.
Carol Bedrosian: How does credentialing work?
David Lipsius: An individual local yoga school provides a certification once a trainee successfully completes their teacher training. If the teacher received their training certificate from a registered Yoga Alliance school, they are then eligible to become a member of Yoga Alliance — the member association that advances the development of yoga professionals and advocates for safety and accessibility in yoga. When becoming a member, a teacher registers with Yoga Alliance and receives the professional credential, which is widely viewed as the favored credential to obtain work as a yoga teacher. They also receive a pretty extraordinary benefits package, continuing education opportunities and the support of our government relations initiatives. Yoga Alliance is also proud to be a non-coercive, voluntary, independent member organization; while some schools and teachers choose to stay outside of this system, many people join because it opens doors to employment and gives them access to great benefits.
Carol Bedrosian: There are no federal or state requirements or guidelines for yoga teachers that I know of. Does the Yoga Alliance fill that role?
David Lipsius: In the U.S., there is little government regulation of yoga teachers or yoga schools, primarily because Yoga Alliance is doing a good job of being the responsible leaders setting the standards. Part of the standards review project is to make sure that we're constantly evolving and holding ourselves to a high standard that is meaningful to yoga experts and yoga professionals. As a not-for-profit 501(c)(6)member organization run by yoga professionals we are better positioned to represent the interests yoga teachers and schools.
Carol Bedrosian: You mentioned critics. Who are your critics?
David Lipsius: There are those out there who would like the government to regulate yoga. In contrast, my personal belief system recognizes the importance of the different lineages and traditions and expressions in yoga. It also respects that many yoga teachers, including myself, believe that yoga is a spiritual practice at its core and the last thing I want for myself is for any government to come in and tell me how I should practice my spiritual beliefs or how I should practice my asana or pranayama or meditation for that matter.
I'm also very aware of the reality that there are many diverse belief systems about yoga. Yoga is not one thing, it has never traditionally been defined as one thing, and frankly, I worry very much about any government coming in and defining what yoga is for everyone, or defining specifically how it can and can't be taught. That could cause a minimization of the great beauty and variety of yoga, as well as limit its potential evolution.
The shortest way I can say it is that Yoga Alliance wants to support the continued diversity of the beautiful practices of yoga. We certainly don't want to be the single point of dictating what yoga is or how it should be taught, but public safety requires that some body or bodies collectively come together and find ways to set standards that are appropriate to protect public safety. And we are better suited to that effort than the government.
So we feel a responsibility to make sure that the standards that are widely accepted, that we helped create, are evolved. At the same time we want to additionally make sure that the standards support the traditions, the organizations, the lineages, the belief systems, the organizations, for-profit and not-for-profit, that teach yoga. They need the freedom to continue to teach in their tradition, lineage, organization, etc., as long as public safety is prioritized by all. That's a collective responsibility.
And thankfully that's what I'm hearing from yoga profesisonals. Are we living and teaching in an ethical way? Do we understand the scope of practice of a yoga teacher? Now there's real momentum and understanding that public safety is key. We can learn from our past and evolve. There is real movement now on topics like ethics, inclusion and scope of practice.
In any field, in my opinion, the responsibility of professionals in that field is to continue to study, to upgrade skills, to continue to seek out expert advisers and teachers who may know more than ourselves. I think in yoga that's a relatively new conversation in some ways, because for many decades we weren't necessarily thinking of ourselves as yoga professionals. I'm not saying that's true of everybody; I don't want to make an overly broad statement. However it's a relatively new phenomenon for some to think of a yoga teacher as a professional educator.
I've always felt the professional need as a yoga teacher to continue to study. Certainly my biggest learning after my first 200-hour yoga teacher training was that I know too little. Not because my training was insufficient — it was actually quite amazing — but two hundred hours taught me that I needed to practice a lot more and study a lot more in order to be a safe teacher of the quality that I had experienced.
In relation to safety in yoga, now, after the 40, 50-year experiment of yoga in the West, we need to — without blame or shame — rethink where we are and acknowledge that perhaps in the rapid growth of yoga in the West, in the way that the systems were developed, in the well-meaning desire of so many people to take on the role and responsibility of becoming a yoga teacher, we're now at a place where quality continuing education needs to be put back in the forefront. Not everyone knows what's available and how much great education is out there. We need to invite people into the possibility that we can all continue learning. In fact, that's the role of a yogi, in my opinion — to continue a lifelong self inquiry and self development process, which of course would be included within one's profession or within one's passion of studying or teaching yoga.
Carol Bedrosian: Are the teaching standards going to change, the 200 and 500 hour certifications?
David Lipsius: I don't know the answer to that yet because the standards review project is an inclusive process and is ongoing. This is a nuance but I think it's an important nuance for readers. Yoga Alliance will not come in and assume by itself that either I or our leadership team or our board or our staff are the experts of yoga. And so what we've done is open the review up to the entire yoga community, expert committees, public surveys, feedback mechanisms and the listening tour and to ask, "What do you all think?"
One of the key themes that's emerging early is that hours is one way to think about things, but competency is obviously another. And so there's a question as to what competencies can and should be learned within the 200-hours. There's lots of folks who think 200 hours is plenty of time to become competent to teach a basic, safe, public yoga class based in asana, pranayam and meditation. And then there are others on the other end of the spectrum who think that there are no amount of hours or that maybe 10,000 hours is the standard to become a teacher. There's a vast number of opinions that we're still considering and we eagerly await the committee recommendations.
There is also always going to be a tension point as to what's the right competency and who judges competency. So lineage A judges competency in one way and lineage B judges it in an entirely different way. One thing that I think yogis should be careful about is taking positions that say that my way is the only way, because to really celebrate the different views and facets and beauty of yoga is to say that maybe none of us has the perfect way and that there is always something else to learn and another way to include.
The other tension that I want to mention is that there have been real entry barriers to yoga in the West. Many people and populations have been excluded based on the way the systems developed over the last 50 or 60 years. One of the things that we have to acknowledge very openly is that yoga spaces have excluded many, whereas yoga itself is inclusive to all and, in fact, sees the humanity in every person. Yoga philosophy indicates we should include as many people as possible in a way that respects different cultures and backgrounds and life experiences, different financial situations, etc. So for some who are highly focused on expanding number of hours to great degrees I would offer an inquiry and ask, "Is that the most inclusive solution here?"
Carol Bedrosian: How do you make yoga accessible to all populations that want it? Are you talking about populations that don't have financial resources?
David Lipsius: There are many populations that haven't had access to yoga for a variety of reasons. I don't want to simplify conclusions as to why because there are a lot of underlying societal factors that have contributed to yoga spaces being exclusionary. We need to tackle that problem collectively from many levels and we need to listen deeply to people who have been excluded to understand not only why they feel they've been excluded but how they've been excluded and what suggestions they have to help enhance inclusion.
Carol Bedrosian: Can you be more specific about who has been excluded?
David Lipsius: I think there are many populations in mainstream U.S. yoga spaces that have been excluded including people of color. Socioeconomic factors have definitely excluded others. And then physical access has also been one of the exclusionary factors. So whether it's yoga studios or schools that don't have elevators and have physical barriers to entry, or yoga spaces that don't have the consciousness or the language to truly speak to different populations and cultures, this is what needs to change.
The positive news is that we have an incredible group of advisers who are now working on committees, many of whom are experts in inclusion, diversity, equity and accessibility. What I hear from many is that this is a multi-level problem.
The way Yoga Alliance is beginning to raise awareness is to have many conversations in public through our educational platforms on the issues of inclusion and access. As the standards revisions begin to coalesce towards the end of this year and in early 2019, I think you can expect to see a much greater focus on inclusion, accessibility and cultural competency included into the standards, as well as support and education for our members and non-members around these issues. Much of this work may be done with expert partners.
Carol Bedrosian: If yoga were offered in more schools, then everybody would have access to it.
David Lipsius: We are seeing great strides in society; the evidence indicates that more and more Americans are practicing yoga or are willing to practice yoga, so I think our desire to see it expand is happening. And given the stresses on youth nowadays, it behooves us to offer these tools of self-regulation and self-care to as many children and youth as possible.
What is lagging, perhaps, is getting into some of the communities that haven't yet had access, so the Yoga Alliance Foundation and Yoga Alliance are looking at ways that we can help change that. The Foundation intends to support community leaders who are already working in these spaces and successfully delivering yoga interventions into these communities. Yoga Alliance Foundation is able to support them financially or support them by amplifying their work. Donor support helps fund these efforts.
The sooner people can self-identify as an educator and a yoga professional, the sooner we can all get the respect and the relationships and the access that we need to impact society on a larger scale. Instead of just hoping that it will happen, Yoga Alliance is trying to lead and bring people together, so yoga professionals can begin to see themselves in a new light and understand that their competency and professionalism, their skillfulness and their continuing education can all play a part in inclusion and access.
I believe it's essential for our field at this moment to recognize that yoga teachers are community leaders at heart and always have been, going back thousands of years. We have strived to be exemplars of health and healing and living examples of mindfulness, self-regulation, resilience, self discovery and self inquiry, which are really the basis for human growth and the realization of human potential. Now is a wonderful moment to be a yoga teacher because yoga is so popular, so mainstream. It is an enormous opportunity for us to use this moment to acknowledge how lucky we are that this amazing technology is now widely accepted. And to ask, how can I better serve my community?
If we look at it through that lens, it really changes the conversation around yoga and the yoga industry. It is an honor and a privilege that I have had for the last six or seven years to be in close contact with so many hundreds, if not thousands of yoga teachers, and I have yet to meet a yoga teacher who is coming at this from a bad place or coming at it from a place of trying to do harm. What I see is the sincere desire from yoga teachers to help their communities, and that more education, tools and skills could be offered to these teachers to more successfully apply their desire to serve their communities with actual social impact. Please forgive me if I sound enthusiastic about the opportunity that's available to us, but Yoga Alliance has 90,000 members worldwide and they're doing good work in the world. Sometimes it's confusing when the naysayers out there are bemoaning the state of yoga in the world. I'm not saying that our field is not without our challenges or problems but mostly we have virtually unlimited opportunities to serve. And that is a great honor and responsibility.
For more information on the Yoga Alliance visit yogaalliance.org and yastandards.com.
Carol Bedrosian is the publisher of Spirit of Change holistic magazine.
See also:
Practicing Safe Yoga: Yoga Comes of Age In America
Hope, Medicine and Kundalini Yoga