Emergency: New Leading Cause Of Death Under 50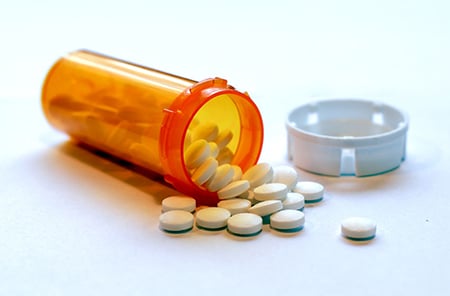 Prescription painkillers — not illicit drugs — are now among the most commonly misused drugs in the U.S.1,2 As of June 2017, opioids became the leading cause of death among Americans under the age of 50.3 President Trump declared the opioid crisis a public health emergency that year in October.4
The following graph by the National Institute on Drug Abuse shows the progressive incline in overdose deaths related to narcotic pain relievers between 1999 and 2017.5
I've written many previous articles detailing the background of how the U.S. ended up here. Unfortunately, while the opioid crisis has received a significant amount of attention and strategies have been put into place to try to curb the epidemic of overuse and misuse, few of the responsible parties have been held to account. A small-town Southern lawyer hopes to change some of that.
Can Forgotten State Law Bring Justice To West Virginia?
An article6 in Freedom Magazine describes how Paul Thomas Farrell Jr.,7 a lawyer in Huntington, West Virginia, is using a little-known state nuisance statute (West Virginia Code Section 7-1-3-KK8) to tackle the state's opioid problem. As explained in that article, the statute:9
"… prohibited things like junk piles in people's yards and noisy bars staying open late. It called for the responsible parties to abate the issue, that is, to remove the problem — and pay for damages."
Farrell is using this law to sue and hold wholesale distributors of opioids responsible, as they should have reported unusual activity, yet didn't, which is a violation of federal law.
This unlawful conduct, Farrell says, is what has given rise to a public nuisance — the destruction of communities due to rampant opioid addiction. Farrell is also urging other areas to follow suit, using similar nuisance statutes, although it's still unclear whether this legal tactic will actually work.
Three Distributors Have Cornered The Opioid Market
As noted by Freedom Magazine, there are 800 wholesale distributors of narcotics in the U.S., with three — Cardinal Health, AmerisourceBergen and McKesson — having cornered 85% of the market share.
The Fortune 500 rankings of each of these wholesalers has also risen "in direct parallel to a skyrocketing relationship to the sale of OxyContin," Freedom Magazine notes, adding:10
"The distributors' mandated task was to detect suspicious orders — any increase of 15 percent or more — and report them to the Drug Enforcement Administration (DEA) monthly. Yet West Virginia, and eventually other areas, saw prescription increases of 100, 200 even 900 percent or more in some places, but no reports were filed.
In 2001, Farrell noted, a government oversight agency reviewed the DEA's reports on OxyContin and determined that the DEA was also negligent. At the time, he said, DEA officers were 'underfunded, understaffed and ill-equipped to handle the volume. We're talking about 30 million transactions.'
Over the next few years, the DEA began going after distributors. One of the distributors' wholesale centers got caught selling a 500 percent increase in opioids to just five pharmacies in Florida, which all became well-known 'pill mills,' facilitating in the process of illegal street sales of opioids further up the East Coast.
When the DEA prohibited that center from selling to those five pharmacies, the distributor simply supplied those pharmacies from a different center. '[Then] the DEA agent says, 'Are you kidding me? You're still selling?' So, they hammered them,' Farrell said. The DEA hit Cardinal with a $44 million fine and revoked the registration of that facility."
Suing Opioid Distributors
In 2017, the DEA forced opioid manufacturers to reduce the number of pills produced by 25%. The following year, another 20% reduction was mandated.11 However, as the supply of opioids went down, addicted patients started turning to readily available (and less expensive) heroin instead. Indeed, research12 published in 2014 shows prescription opioids had by then become the primary gateway drug to heroin and other illicit drug use.
Farrell points out that while most of the blame for the narcotics problem (both prescription and illicit) has been laid on the heads of opioid manufacturers such as Purdue Pharma, "nobody's really picked up yet on the role the distributors have played," Farrell tells Freedom Magazine.
"So, what I'm going to do is make them abate the public nuisance." He points out that Cardinal Health, AmerisourceBergen and McKesson are "just as big or bigger than Purdue," and they have but one job: track and manage the volume of drugs distributed.
After devising a recovery plan with community leaders, Farrell sued 24 distributors — including the three largest ones — along with Walgreens and CVS, to force them to help repair the damage done to the community.
Part of the recovery plan for West Virginia includes educating people, especially children, about the dangers of opioids and that these pills are "just as dangerous as a crack pipe," Farrell says.
For this, he's requesting funding from both the board of education and the state health department to the tune of $5 million per year for 10 years for each county. For the first step in the recovery plan, the total cost for the state's seven counties would be $350 million, but the total abatement cost is estimated to be in excess of $1 billion.
Farrell filed his lawsuit in 2017. In 2018, it was placed in a multidistrict litigation (MDL) in Cleveland, Ohio, along with 400 other lawsuits. "The intent is for similar cases to be heard under one jurisdiction to speed up the discovery process and pretrial rulings," Freedom Magazine explains, adding:13
"Even under the MDL, Farrell … sees his case as slightly different. As he explained, suing a drug manufacturer frames the case as a 'product liability case — you have to show design defect, or labeling defect,' he said. 'I don't have to prove any of that. Mine is public nuisance,' Farrell said …
'You broke the law in West Virginia … Let's just pick a random number … You broke the law 10,000 times. I just have to prove it once. You helped create a public nuisance that resulted in drug abuse, addiction, morbidity and mortality — now you have to abate it. How do you abate a public nuisance like that? It'll cost you about a billion dollars. And you can write a check.'"
Cardinal Health Denies Accountability
A July 24, 2019, report by WOSU Radio reads:14
"An executive at Dublin-based Cardinal Health … said under questioning recently that the business has no obligation to the public when it comes to the amount of prescription opioid painkillers it ships …
[I]n a deposition earlier this year, Cardinal Health counsel Jennifer Norris was asked by a lawyer whether the company wants to 'ensure that it does what it can to prevent the public from harm?' She answered: 'I don't know that Cardinal owes a duty to the public regarding that.'"
This particular deposition was for a lawsuit filed by two Ohio counties, Cuyahoga and Summit. Several drug companies and distributors are named in this suit, the trial for which is scheduled to begin in October 2019.
July 29, 2019, The Columbus Dispatch published an article15 headlined, "Cardinal Health: A Billion Pills in 8 Years, But No Role in Ohio's Opioid Crisis?" As noted in this and other media reports, Cardinal Health insists it had nothing to do with the creation of the opioid epidemic, maintaining the crisis, "was caused by the doctors who overprescribed the pills, the pharmacists who sold them and the regulators who failed to catch the addictive prescription drugs flooding American communities."
However, there's ample evidence showing Cardinal Health (as well as other distributors) ignored suspiciously large orders, shipping an alarming number of pills into areas that should have raised big red warning flags. Over the past decade, Cardinal Health has also paid nearly $100 million in fines over its mishandling of narcotics,16 making its denials ring even more hollow.
Federal drug database records show wholesale distributors shipped 76 billion opioid pills across the U.S. between 2006 and 2012,17 more than 10 billion of which came through Cardinal Health.18 Keep in mind that as of 2012, the U.S. had a population of just 312.8 million.19
Between 2006 and 2014, Cardinal Health shipped over 1 billion opioid pills into Ohio alone, and records show the number of opioids flooding into the state from Cardinal rose by 44% in those years.20
McKesson has a similar record of shipping suspiciously large orders. One particularly egregious example is that of Kermit, West Virginia. In a single year (2005 to 2006), a pharmacy in Kermit — which has a total population of 400 — took delivery of nearly 5 million doses of opioids from McKesson.21
Cardinal Shifts Blame Onto DEA
Cardinal Health also blames the DEA, saying the company reported all sales details to the DEA as required, and did not have access to complete data about shipments to individual pharmacies from other distributors. The DEA was the only one with full access to all the data and therefore, Cardinal believes the failure to act is on the DEA.
DEA, meanwhile, maintains Cardinal Health failed to flag suspicious sales and even paid large fines for those failures. In an October 2, 2008, press release, DEA Acting Administrator Michele M. Leonhart said:22
"Despite DEA's repeated attempts to educate Cardinal Health on diversion awareness and prevention, Cardinal engaged in a pattern of failing to report blatantly suspicious orders for controlled substances filled by its distribution facilities located throughout the United States."
The press release, which publicized Cardinal's $34 million settlement for failure to report suspicious sales, also pointed out that:
"Seven Cardinal Health distribution centers received and filled thousands of suspicious orders placed by pharmacies participating in illicit Internet schemes, but failed to report the orders to DEA.
They did so even after an Aug. 22, 2005, meeting at which DEA officials met with and warned Cardinal officials about excessive sales of their products to pharmacies filling illegal online prescriptions.
The pharmacies filled purported online 'prescriptions' for hydrocodone (contained in drugs such as Vicodin), but the prescriptions were issued outside the normal course of professional practice and not for a legitimate medical purpose.
The U.S. Attorneys allege that the orders that Cardinal received from these pharmacies, and others, were unusually large, unusually frequent and/or deviated substantially from the normal pattern."
One Cleveland, Ohio, lawsuit against Cardinal Health points out that wholesale distributors cannot plausibly argue that they're simply delivering goods and have no power to control the amount, like that of a trucking company, since they are by law "required to 'maintain … effective controls against diversion' and to 'design and operate a system to disclose … suspicious orders of controlled substances.'"23
As Ohio Attorney General Dave Yost told The Columbus Dispatch,24 "They know exactly what they're hauling, where they're hauling, who they're selling to and, most importantly, how much …"
Multistate Settlement Discussions Underway
August 6, 2019, The Columbus Dispatch published a follow-up to this ongoing story.25 According to anonymous sources, the three largest distributors — Cardinal Health, AmerisourceBergen and McKesson — have allegedly proposed a $10 billion, yes, folks, BILLIONS with a B, multistate settlement to close a number of cases against them. Yet this may still fall far short of what the opioid epidemic is actually costing us.
A Verus press release26 confirms the existence of a "comprehensive settlement" for hundreds of communities that are part of the MDL in the Northern District of Ohio under Judge Dan Aaron Polster, but it does not specify an amount. According to The Columbus Dispatch:27
"The National Association of Attorneys General — handling talks on behalf of more than 35 states — countered with a demand for $45 billion to cover costs from the public-health crisis of opioid addiction and overdoses …
Whether the distributors and attorneys general can agree to a deal remains uncertain. But reaching a compromise might not be the toughest hurdle.
The distributors face almost 2,000 additional lawsuits brought by cities and counties across the U.S., with a separate group of lawyers leading the litigation. Getting them to sign on to any deal could prove challenging …
A global settlement covering all opioid manufacturers and distributors might end up costing the companies a combined $30 billion to $55 billion, according to analysts at Nephron Research, an independent health-care investment research firm. Wells Fargo analyst David Maris said a final tally could be even higher, at almost $100 billion."
Johns Hopkins public health professor Caleb Alexander, an expert witness for the defendants in the MDL under Judge Polster, who is working on a national 10-year abatement plan, believes the cost of abatement will be greater than $480 billion. This cost includes addiction treatment, preventative education, foster care for children whose parents have died from overdoses and criminal justice resources.28
Struggling With Opioid Addiction? Please Seek Help
It will be interesting to see what comes from these cases, now numbering in the thousands and difficult to keep track of. In the meantime, educating yourself and your family — especially your children, but also elderly parents and grand-parents — about the dangers of these drugs is paramount.
Regardless of the brand of opioid you use, it's vitally important to realize they are extremely addictive drugs and not meant for long-term use for nonfatal conditions. Chemically, opioids are similar to heroin. If you wouldn't consider using heroin for a toothache or backache, seriously reconsider taking an opioid to relieve this type of pain.
In many cases, you'll be able to control pain without using medications. In my previous article, "Billionaire Opioid Executive Stands to Make Millions More on Patent for Addiction Treatment," I discuss several approaches — including nondrug remedies, dietary changes and bodywork interventions — that can be used separately or in combination to control pain, both acute and chronic.
If you've been on an opioid for more than two months, or if you find yourself taking a higher dosage, or taking the drug more often, you may already be addicted. Resources where you can find help include the following. You can also learn more in "How to Wean Off Opioids."
This article was brought to you by Dr. Mer cola, a New York Times bestselling author. For more helpful articles, please visit
Mer cola.com today and receive your free Take Control of Your Health E-book!
Sources and References
1 The Recovery Village, November 27, 2018
2 National Survey on Drug Use and Health, September 7, 2018, Page 359 of 2871
3 CBS News June 6, 2017
4 Whitehouse.gov Ending America's Opioid Crisis
5 Drugabuse.gov Overdose Death Rates Revised January 2019, Figure 3
6, 9, 10, 11, 13, 18 Freedom Magazine 50(3), The Opioid Dossiers
7 Greene Ketchum, Paul Thomas Farrell Jr.
8 West Virginia Code Section 7-1-3-KK
12 JAMA Psychiatry 2014;71(7):821-826
14 WOSU Radio July 24, 2019
15, 16, 20, 23, 24 The Columbus Dispatch July 29, 2019 (Archived)
17, 21, 25, 27 The Columbus Dispatch August 6, 2019 (Archived)
19 Census.gov December 29, 2011
22 Justice.gov October 2, 2008
26 Verus LLC June 19, 2019
28 Reuters April 18, 2019
29 Substance Abuse Mental Health Service Administration