Enjoy A Little World Change With Your Coffee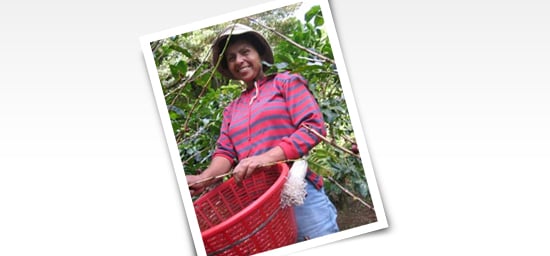 Who would ever think that the simple act of buying and enjoying superior quality coffee could also represent a powerful societal statement and help lead to better lives for hundreds of thousands of people around the world?
When you buy Fair Trade Certified coffee, you are choosing to help indigenous coffee growers remain independent and self-supporting. It's like adding a little something special to make that first cup in the morning taste even better…with no extra calories!
Fair Trade certification is a market-based model of international trade that benefits over one million farmers and farm workers in 58 developing countries across Africa, Asia and Latin America. Fair Trade certification enables consumers to vote for a better world with their dollars, simply by looking for the Fair Trade Certified label on the products they buy.
Fair Trade Certified agricultural products including coffee, tea and herbs, cocoa and chocolate, fresh fruit, sugar, rice, and spices (vanilla) are currently available at over 35,000 retail establishments in the U.S. Fair Trade empowers farmers and farm workers to lift themselves out of poverty by developing the business skills necessary to compete in the global marketplace. By guaranteeing minimum floor prices and social premiums, Fair Trade enables producers to invest in their farms and communities and protect the environment.
The roots of Fair Trade can be traced back to projects initiated by churches in North America and Europe in the late 1940s. Their goal was to provide relief to refugees and other poverty stricken communities by selling their handicrafts to northern markets. Compared to conventional trading structures, these Alternative Trade Organizations (ATOs) offered higher returns to producers in the developing world through direct trade and fair prices. In the US, ATOs such as Ten Thousand Villages and SERRV have followed this model with Fair Trade handicrafts, and in 1986, Equal Exchange was formed to import Fair Trade coffee to the US market.
In 1988, world coffee prices began a sharp descent, triggering the birth of the first Fair Trade certification initiative. It was branded "Max Havelaar," after a fictional Dutch character who opposed the exploitation of coffee pickers in Dutch colonies. The Netherland's Max Havelaar label offered mainstream coffee industry players the opportunity to adopt a standardized system of Fair Trade criteria.
TransFair USA, a non-profit organization, is the only independent, third-party certifier of Fair Trade products in the U.S. and one of 23 members of Fairtrade Labelling Organizations International (FLO). TransFair's rigorous audit system, which tracks products from farm to finished product, verifies industry compliance with Fair Trade criteria. TransFair allows U.S. companies to display the Fair Trade Certified label on products that meet strict Fair Trade standards. In six years, TransFair has leveraged limited resources to certify 74 million pounds of Fair Trade coffee. This has generated $60 million of additional income for farmers, providing lasting benefits for their families and the earth. The Fair Trade price means that farmers can feed their families and that their children can go to school instead of working in the fields.
Fair Trade Principles
Fair price. Democratically organized farmer groups receive a guaranteed minimum floor price and an additional premium for certified organic products. Farmer organizations are also eligible for pre-harvest credit.
Fair labor conditions. Workers on Fair Trade farms enjoy freedom of association, safe working conditions, and living wages. Forced child labor is strictly prohibited.
Direct trade. With Fair Trade, importers purchase from Fair Trade producer groups as directly as possible, eliminating unnecessary middlemen and empowering farmers to develop the business capacity necessary to compete in the global marketplace.
Democratic and transparent organizations. Fair Trade farmers and farm workers decide democratically how to invest Fair Trade revenues.
Community development. Fair Trade farmers and farm workers invest Fair Trade premiums in social and business development projects like scholarship programs, quality improvement trainings, and organic certification.
Environmental sustainability. Harmful agrochemicals and GMOs are strictly prohibited in favor of environmentally sustainable farming methods that protect farmers' health and preserve valuable ecosystems for future generations.
Fair Trade standards require sustainable farming techniques and offer price premiums for organic production, but Fair Trade certification does not guarantee that a product was organically grown. However, Fair Trade farmers are more likely to use sustainable, traditional growing methods rather than apply (expensive) agrochemicals, and producer groups frequently use Fair Trade revenues to train members in environmentally sustainable farming practices and to finance the cost of organic certification. Fair Trade and organic certification often go hand in hand. Currently over 60% of Fair Trade Certified coffee in the U.S. is also certified organic.
Look for the Fair Trade Certified label on products at your supermarket and purchase items to help feed another family while you are shopping for your own. For more information about Fair Trade Certified products, visit http://www.transfairusa.org or call 510-663-5260.