FDA Bans Triclosan And 18 Other Ingredients In Antibacterial Soap
Manufacturers have 1 year to remove the ingredients or products.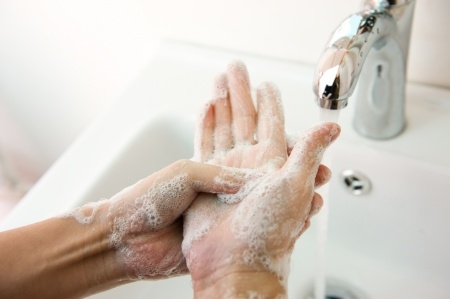 We've become a nation of germaphobes, washing regularly with antibacterial soap, but the Food and Drug Administration has finally said knock it off.
Not only do consumers not need to use antibacterial soaps, the agency announced, but some of the ingredients found in those products may be dangerous. On Sept. 2, the FDA issued a rule banning 19 specific chemicals in liquid and bar soaps, including triclosan (commonly used in liquid soap) and triclocarban (used in bar soap). The agency says manufacturers have not shown that these products are any more effective than plain soap and water in preventing illness or stopping the spread of certain infection. In addition, there is some evidence that some of these ingredients could lead to problems such as bacterial resistance or hormonal effects, according to the FDA.
"Consumers may think antibacterial washes are more effective at preventing the spread of germs, but we have no scientific evidence that they are any better than plain soap and water," Janet Woodcock, M.D., director of the FDA's Center for Drug Evaluation and Research, said in a statement. "In fact, some data suggests that antibacterial ingredients may do more harm than good over the long-term."
Manufacturers have one year to either remove these ingredients from their products or take the products off the market. The rule doesn't apply to hand sanitizers or wipes, or antibacterial products used in health care settings.
Many companies had already started phasing out these ingredients after the FDA issued a proposed rule in 2013 that required manufacturers to provide additional data on the safety and effectiveness of certain ingredients in the antibacterial products.
The FDA encourages people to use plain soap and water instead.
"Following simple handwashing practices is one of the most effective ways to prevent the spread of many types of infection and illness at home, at school and elsewhere," says Michele. "We can't advise this enough. It's simple, and it works."
Mary Jo DiLonardo writes about everything from health to parenting — and anything that helps explain why her dog does what he does.
See also:
6 Reasons Why You Should Stop Using Antibacterial Soap
10 Things to Throw Away for Better Health