Feng Shui Advice: Convert A Slippery Slope Into A Sanctuary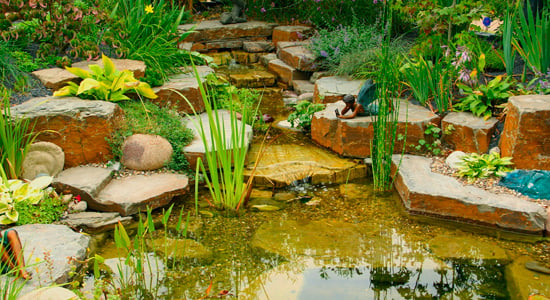 Dear Lynn,
What feng shui adjustments are recommended for a property site that slopes down at the back? There is an elevation drop of at least 10 feet in my wealth/fame/marriage power wall at the far end of my property. There is also a small natural pond at that lower elevation that attracts wildlife, including deer. Am I correct in understanding that such a configuration of the land, together with the pond, is not a positive feng shui aspect? Why is this and how can I correct it? Thanks Lynn! — Marsha
Dear Marsha,
You obviously know a bit about feng shui. That elevation drop is occurring in an area where stability and backing would ideally be supported by a landform. When those three areas of the bagua — wealth, fame and love — have no earth under them, one is faced with an abrupt drop off in not just one but three essential life aspects.
As if that weren't enough, the low-lying pond sits squelching, drowning and extinguishing possibilities for growth. Water extinguishes fire, the central component of the upward moving energy needed for the fame/reputation area. Although water can support wood — the fuel of wealth — the pond would not be of the scale necessary to do so. As for love, although the pond sounds sweet, love is an earth aspect and having the pond there is basically a recipe for mud. If this were a hot tub in the rear left (wealth), it could be an advantage, as it is a holding tank and heavy as well.
Although this slope and pond configuration is rather like having a giant pothole in your backyard, we're going to turn a negative into a positive. What presents as a problem, with your help, can become a tremendous asset.
To neutralize the challenges presented we will begin with the traditional and powerful remedies that have stood the test of time. Backing is crucial for us. Sitting in a chair with no back? Totally uncomfortable and unsettling, even temporarily. A chair with a sturdy back provides the support we naturally need. That's the type of adjustment needed on your property. Plant upward and fast growing trees on the far side of the pond to counter the topography's receding nature; it will provide your property with backing. Evergreens, as the name implies, are an especially good choice as they are always seasonally correct. Also consider upward growing, brilliantly colored plantings to embrace this area of the property season by season.
With attention and re-definition, the inauspiciously positioned pond could become the ruby of the property. With deep respect, position yourself near it and begin a dialogue. Why does this pond have to be assigned such lowly status? What is perceived initially as a compromising or negative feature — a drawback on the whole scheme of the land — could be utterly embraced and appreciated for its particular beauty. You can't elevate the pond but you can elevate its status. Consider making the pond a world unto itself with its own bagua. Determine the orientation of its energetic entrance, overlay the bagua on it and begin embellishing.
Try to incorporate all five elements into your enhancements. Provide solid seating; stone would be great. Terrace it. Trellis it. Perhaps make it a sanctuary or healing grotto with stone steps or grades that evoke and provide safety. Make the pond's inherent magic more accessible by adding the enticement of a path curving slowly and gradually in approach, maybe adding a solar twinkling light strand.
In the far right corner (love), you could install two statuettes or a little garden with yellows, earth tones and pinks or reds representing that part of love that is juicy. The red/pink tones also add fire, from which earth is born. Adding any type of lighting here also adds fire. If you can add a fountain to any part of the pond this will add exuberance and vitality. Wildlife enhances the pond so that is good.
Don't forget to enhance prescriptions for wealth, fame and love throughout your home indoors as well. Remove all clutter off the floors in corresponding areas that are specifically challenged outdoors. To attract wealth, decorate a tree inside or provide stable plantings that are on the ground and growing upward in your wealth sector; this is much different than a little spider plant hanging from the ceiling. In the fame/reputation area, consider lighting, candles and artwork depicting sunshine and brilliant colors. Add a red afghan to a couch.
Bring lighting to your love sector as well — fire creating earth, again. Be sure to pair things or provide groupings, not one solitary soul gazing out into the abyss. Display images of couples (like yourself) enjoying life together.
The late Lynn Taylor was a senior feng shui practitioner, teaching and consulting in the United States and Mexico for both business and home environments.