Fire Cider Wins In Court, Remains Generic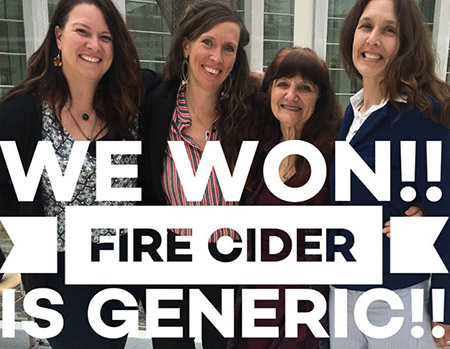 After a five-year David and Goliath court battle to free the words Fire Cider from trademark restrictions, Fire Cider and the brave and courageous Fire Cider Three have won their case in court! Long time herbalist, community leader and health freedom activist Rosemary Gladstar wrote this morning:
Dear Friends,
I'm sure you've already heard the good news, as it's been circulating on social media since being announced this past weekend, but I wanted to thank you personally and definitely wanted to be sure you knew: WE WON THE FIRE CIDER CASE!!! Yes, it's true! After a five year battle, Fire Cider is free from trademark restrictions and is officially considered a generic term, which basically means no one can own it; it belongs to all of us and is free for all to make and sell as they chose. 
What's even more exciting is this landmark victory sets a precedent, which means that other herbal products/names with a history of being commonly shared and community-owned will be far less likely to be trademarked in the future. 
Yeah, Fire Cider & the Fire Cider Three. We do owe a huge and special thanks to Mary Blue, Kathi Langelier and Nicole Telkes for taking a stand and being the spokeswomen for Fire Cider. It wasn't easy for them, but they did it fiercely and graciously. Also, endless gratitude to all of the dedicated individuals who came as witnesses and showed up to support us in so many ways during the nine long days of court; and to our amazing lawyers who donated so much of their time because they believed in this case, and because they, too, came to love Fire Cider! And most especially, endless gratitude to  each of you; thank you for standing by us for the past five years, supporting us in all the many ways you did. It truly was a community effort. We stood together and did a great thing for herbalists.   
And now its time to celebrate. Make up a big batch of Fire Cider this fall and share it with all your neighbors — or sell it at your local co-op!
With enduring green gratitude, Rosemary
For more information about Fire Cider and Rosemary Gladstar visit https://scienceandartofherbalism.com/product/fire-cider/
For further details, you can read the newsletter here.
Find local Natural Food Stores in the Spirit of Change online directory.