First Nations Celebrate Win Against Trans Mountain Pipeline Expansion
Here's how indigenous leaders pulled together a grassroots movement to resist the pipeline expansion.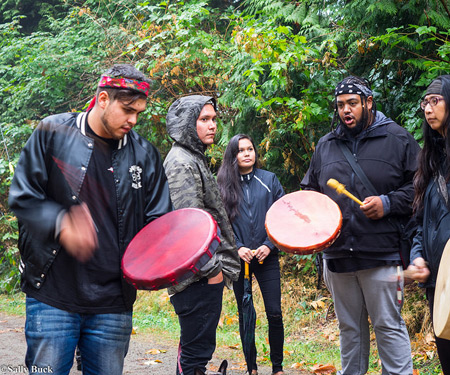 A Federal Court of Appeal on Thursday struck down the Canadian government's approval of the ‪Kinder Morgan Trans Mountain oil pipeline expansion, halting construction of the 1,150-kilometer project indefinitely.
The expansion would have tripled capacity of the existing Trans Mountain pipeline, allowing it to ship up to 890,000 barrels of bitumen oil every day from Alberta's tar sands to a terminal in Vancouver, British Columbia.
The court decision cited the Trudeau government's failure to consult with Canada's First Nations, specifically the government's insufficient treatment of oral traditional evidence, lack of sufficient time given in the consultation process for affected groups to inform themselves well enough to participate, and failure to consult about the environmental assessment.
The decision comes after months of indigenous-led opposition to the pipeline. Efforts suffered a big blow back in May, when the Canadian government announced it would purchase the project for $4.5 billion when Kinder Morgan struggled to fund the expansion.
"Without question today is a day of celebration," said Grand Chief Stewart Philip of the Union of British Columbia Indian Chiefs in an interview posted on Facebook. "But also it's a day that we must reflect on our journey up to this point in our opposition to the Kinder Morgan Trans Mountain expansion project. And I'd like to take this opportunity to thank that massive infrastructure that was pulled together in terms of grassroots people, indigenous leadership, and rank-and-file British Columbians and Canadians."
Here's what that leadership has looked like.
Coast Protectors
In British Columbia, indigenous coast protectors led direct actions of allies, environmental activists, and local residents to stop pipeline expansion. Over 200 people have been arrested in direct actions over the past several months.
This campaign was launched in March, when the coast protectors built a traditional cedar watch house in Burnaby, the site of the planned oil terminal for the expansion project. The cedar watch house was a gathering place for people organizing actions to stop construction of the pipeline.
CBC News reported that 211 people were arrested between March and early July at Kinder Morgan's work sites.
Divest The Globe
Even before the direct actions of coast protectors began in British Columbia, indigenous groups—including Mazaska Talks and the Treaty Alliance Against Tar Sands Expansion—organized an ongoing campaign to put financial pressure on the banks funding the pipeline. The indigenous-led divestment movement that emerged from Standing Rock expanded its focus last year to target the banks funding four tar sands pipelines, including Kinder Morgan's Trans Mountain pipeline.
Native women were particularly involved in leading the campaign and engaged in work to expand the movement to a global stage.
Last October, the Divest the Globe campaign saw demonstrations in more than 50 cities around the world.
Tiny House Warriors
Indigenous women have had a leading role in opposing the pipeline. Since the fall of 2017, the Tiny House Warriors have been building homes in the path of the Trans Mountain pipeline expansion. Women of the Secwepemc First Nation formed the group, building homes that were fossil fuel-free, mobile, and solar-powered.
In July, three were placed on the site of an ancient Secwepemc village in North Thompson River Provincial Park near Clearwater, British Columbia. That month, Kanahus Manuel, who co-founded the group, was arrested "after allegedly defying an eviction order from the BC Parks service," according to Canada's National Observer.
Thursday's decision will require the Canadian government to restart its consultation with First Nations, which would likely cost millions of dollars.
What happens next isn't certain, but for now the First Nations and allies who opposed the pipeline expansion are celebrating the victory.
"I'm elated," said Grand Chief Philip in a press conference Thursday. "The future of our grandchildren depends on our ability and our courage and our integrity to stand up and defend the land and defend the water."
Shannan Lenke Stoll wrote this article for YES! Magazine. Shannan is a senior editor at YES! She covers environmental justice and Native rights issues. Follow her on Twitter @slenke.
This article was republished from YES! Magazine.
See also:
Indigenous Women Built These Tiny Houses To Block A Pipeline—And Reclaim Nomadic Traditions
Climate Justice Meets Racism: This Moment At Standing Rock Was Decades In The Making