Forest Bathing: Mindfulness Meets Nature
In our increasingly urban and digitized worlds, humans are facing a forest-deprivation crisis.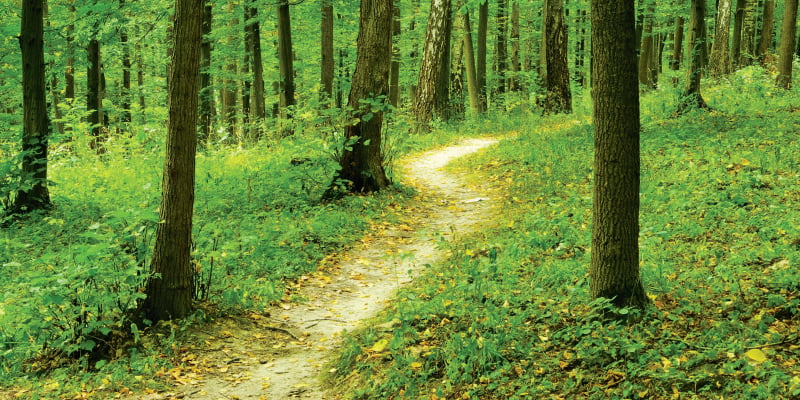 The term "forest bathing" has nothing to do with water, and is more than just a poetic way of describing a walk in the woods, something humans, of course, have been doing for over five million years. The Japanese government coined the term in 1982, a translation of shinrin-yoku, which literally means "taking in the forest atmosphere."
This Japanese concept revolves around a deceptively simple practice: quietly walking and exploring, with a mind deliberately intent on — and all senses keenly open to — every sound, scent, color and feel of the forest in all its buzzing bio-diversity. With forest bathing (and the increasingly expert-led forest therapy or shinrin-ryoho), mindfulness meets nature, and the goal is to bathe every physical cell and your entire psyche in the forest's essence. No power hiking needed here; you just wander slowly, breathe deeply and mindfully, and stop and experience whatever catches your soul — whether drinking in the fragrance of that little wildflower or really feeling the texture of that birch bark.
Poetic? Pleasurable? Yes. But it's the science behind the practice that's now taking forest bathing global, as a growing mountain of evidence indicates there's strong medicine for human bodies and brains that a forest uniquely dispenses.
Forest therapy studies have been led by Japan, whose government funded $4 million in research from 2004-2013. Today, the research database PubMed returns 100+ studies on the health impact of forest bathing, including studies indicating that it significantly lowers blood pressure (-1.4 percent), heart rate (-5.8 percent), cortisol levels (-12.4 percent) and sympathetic nerve activity (-7 percent) compared with city walks, while also alleviating stress and depression.1 The most provocative of these studies conclude that exposure to phytoncides, the airborne, aromatic chemicals/oils emitted by many trees, have a long-lasting impact on people's immune system markers, boosting natural killer (NK) cells and anti-cancer proteins by 40 percent.
It's research like this that has made forest bathing a pillar of preventive medicine in Japan and increasingly common in places like Korea (where it's called salim yok), Taiwan and Finland. It may be hard to grasp what a serious, widespread practice this is in Japan, where a quarter of the population partakes in forest bathing and millions visit the 55+ official Forest Therapy Trails annually, prompting a plan to designate an additional 50 such sites within 10 years. Visitors to Japanese Forest Therapy Trails report that they're asked to have their blood pressure and other biometrics taken pre- and post-bathing in the quest for ever more data.
It's no surprise that densely urban places like Japan and Korea were the first to rush to forest bathing, but as the world undergoes the most intense urbanization in history, we're all in a sense "turning Japanese." Fifty-four percent of us now live in urban areas, and that number will rise to 66 percent by 2050.2 In 1990 there were only 10 mega-cities (10 million+ people); now there are 28, and by 2040 there will be 41. City living puts nature and simplicity at a higher premium, which is why so many more Chinese people are taking "Blue Sky Holidays" to escape the mega-city pollution and get into nature.
Major media worldwide have been ramping up coverage of this fascinating evidence. In an era of unprecedented urbanization and digitization (with the average person now bathing his face seven hours a day in the glow of a screen), we humans are in the throes of a forest-deprivation crisis. The convergence of these two trends — growing awareness of the medical benefits of time spent in forests, and alienation from this essential, yet increasingly exotic, human experience — will drive demand for forest bathing experiences in the year (and years) ahead.
Japan took the lead with the launch of its Association of Therapeutic Effects of Forests in 2004, but today more and more nations are stepping up development and promotion. A government-supported taskforce on forests and human health launched in Finland in 2007. Things went global when the International Society of Nature and Forest Medicine (INFOM) debuted in 2011 and went on to establish a North American chapter established in 2013. Korea is investing $140 million in a new National Forest Therapy Center slated to open soon. In short, more government bodies and wildlife organizations are now yoking their forest offerings to the practice of, and science behind, forest bathing, whether it's the New York State Department of Environmental Conservation or the Canadian Wildlife Federation.
Professionals Prescribing Nature
Increasingly, forest bathing is evolving into professionalized forest therapy, including certified specialists and specially designed trails. In Japan, forest therapy bases are selected by researchers, with forest therapy led by licensed professionals. A Health From The Forest Project (through a partnership with the Finnish Forest Research Institute) has created special engagement-based trails in Finland, France, Luxembourg and Sweden. In the U.S., the Association of Nature and Forest Therapy Guides & Programs provides training and certification around the country, and they even offer forest therapy wellness retreats that combine a spa or hot springs resort stay. What was once a walk in the woods will continue to become more evidence-based and expert-led.
An insightful Slate article3 explores how more doctors are now prescribing time in parks/forests, just as they did in the 19th century when unwell people were packed off to health resorts in the woodsy Swiss Alps or Adirondacks, before the rise of the pharmaceutical era. The U.S. pioneer in the prescribing nature movement is Dr. Robert Zarr, whose Park RX program, started in 2013 by multiple government agencies, has written hundreds of prescriptions for young people with conditions like asthma and obesity to get out and move in nature.
Park RX is just one of a growing number of global nature prescription initiatives. New Zealand's Green Prescriptions, used by over 80 percent of the nation's general practitioners, involves writing a nature prescription (GRx) and then supporting patients with follow-up phone calls and/or meetings. In Wales, a Forestry Commission program, Actif Woods, has doctors prescribing woodland walks to combat conditions like heart problems and depression. And in an interesting global development, INFOM approved certifying physicians in Forest Medicine in 2014.
A Dose of Forest
In Japan, forest bathing is becoming a staple of mainstream medicine. Companies are starting to include forest therapy in healthcare benefits. Forest therapy locations link to both hospitals and hot springs/medical spa establishments, with many offering free wellness check-ups right in the forest. Last year saw the launch of a Walking Forest Therapy Roads® With A Doctor program, giving people an opportunity to see how even one dose of forest therapy impacts their stress levels and NK cells.
Forest bathing — it may be a poetic concept, but there's powerful evidence that it's also medicine for our bodies and minds, offering stress-reducing, immune-boosting benefits that you simply can't get anywhere else. It's uniquely accessible (download one of the many forest finder apps) and the perfect practice for our stress-crushed lives. Shinrin-yoku gives people a framework for experiencing the forest in a new way — with intent, mindfully, meditatively, with every sense open.
Nature prescriber, Dr. Zarr, stated in Slate that, "the effects of nature are still not on enough people's radar," even though "we've touched on something exciting." Our prediction is that will change, and change will take on many forms. That includes the advent of forest schools — where today's over-scheduled, screen-addicted young children's classrooms are moved entirely into nature — first established in Swiss Waldkindergartens, and now catching on in places like the U.S., U.K. and Canada4.
In short, forest therapy will be supported by more governments, promoted and developed in more forests, and incorporated into more wellness/spa retreats. Meanwhile, mounting medical evidence regarding forests' and green spaces' impact on human health will continue to lead to innovations in architecture, urban planning, and workplace, hospital, school and home design. And while more people travel to forests in search of health and rejuvenation, experts will find creative ways to bring more green corridors to where more and more of us live: the city.
Notes
1. Research undertaken on 600+ subjects by leading forest medicine scholars, Juyoung Lee and Yoshifumi Miyazaki of Chiba University, and Qing Li from Nippon Medical School, Japan.
2. United Nations, World Urbanization Prospects, 2014.
3. Slate, "RX: 50 mg. Nature," July 2014.
4. NPR Radio, KQED, "Forest Kindergartens Push Back Against Academic Focus for Young Kids," November 2014.
Reprinted courtesy of Spafinder Wellness, Inc., from the 2015 Spa and Wellness Trends Forecast. This annual report is based on ongoing surveys of the 20,000-plus spa, wellness and beauty providers in the Spafinder Wellness 365 Network. Visit www.spafinder.com.
See also:
United Plant Savers' Botanical Sanctuary Network
The Roots of Southern Folk Medicine