Forgiveness Is The Most Powerful Sanitizer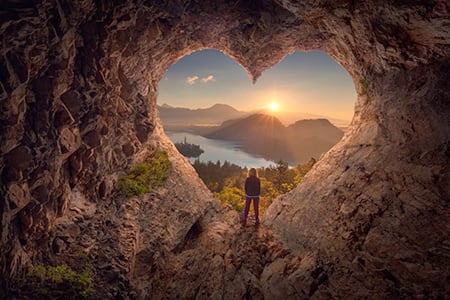 I received this text from a client a couple days ago: "Are you working on a blog about giving your power over to the coronavirus?! We need more of a Dr. Trish take on all of this!"
I had definitely been gathering my thoughts, but this crisis was more on the surreal side until my visit to the grocery store.
Normally mid-afternoon is a quiet time for the supermarket. I had heard stories, but it had been hard to wrap my mind around them. What a different vibe from Tuesday when I did my regular shopping, to Friday when I went back for a few ingredients I had forgotten. Fortunately the people I encountered were pleasant, and some even entertaining, like the woman who chuckled with me over the insanity of the empty toilet paper shelves. I'd also be lying if I said that the absence of TP didn't trigger a little panic in me.
When at the checkout counter, I noticed two people entering the store with hoods, masks and gloves. Wouldn't that have been cause for suspicion just a couple weeks prior? I couldn't help but wonder if they were protecting others because they were sick, defending themselves against the COVID-19 because they had weakened immune systems, or maybe just super paranoid.
Did you know that in Japan, people wearing masks is commonplace? When someone has a cold in Japan, out of courtesy, they wear a mask so as to not spread it to others. Just food for thought.
It's scary to know that there is a virus out there that we can't control. My heart goes out to those who have lost loved ones over it. We feel like a captive audience. Fear is also highly contagious — hence the mob scenes at the grocery stores. But it's what we do with it all that counts. We can feed our fears or use them to forgive and to heal.
I believe that it was Morris Venden, who once said, "A crisis won't change you, it will reveal you. And then you can change." And speaking of mobs, it's also interesting that this crisis parallels the Lenten season — the period Christians revere as the time leading up to the end of Christ's life on Earth. Honestly, it doesn't matter your religion. The story speaks volumes about integrity, allegiance to love, allegiance to fear, and how love heals while fear causes harm. Jesus never gave his power over to fear. He was pure of heart. I strive to not do so either, but a crisis will reveal where we've got more work to be done. Welcome to the human experience.
As an adult we have a choice to spread love or fear, based on how we choose to live. Fortunately if you catch yourself in a fear mentality it can be shifted. This time can be an opportunity to review what you've been spreading. It is within our power to come out the other side of this pandemic grateful for an opportunity to purify our hearts. And for this, forgiveness is our best sanitizer.
If leaving a legacy of love and a pathway to abundance are important to you, here are a few questions you can ask yourself to begin the sanitizing process:
When you get scared, is your tendency toward fight, flight, or freeze and dissociate? For adults, as a rule, when emotions are triggered, about 10-20% is from the current situation and the remainder is old stuff that got stirred up by the trigger. Sit with your fear. Be curious about it. Let it take you to where it is rooted. Forgive yourself for blaming someone (or something like the coronavirus) for 100% of what you are feeling when only 10-20% is from the current circumstances and vice versa. Use it as a healing opportunity and you will spread healing/love where there was once fear.
Are you a resource guarder? Resource guarding would be a clue to a scarcity mentality. You could just as easily expect to be supported as thwarted, so you must have felt thwarted before. When else have you felt powerless? What unsupportive or punitive authority figure from your past might you be projecting onto the coronavirus, the government or the divine? How might you react differently with an abundance mentality?
Have you been leaning on your bank account rather than on your higher power for your sense of safety and security? This might inspire you to revisit that choice. After all, money's just an energy. It wasn't meant to carry that much weight.
Are you dying for your work benefits at a soul-sucking job? What is the story you are telling yourself that makes you think it's a good idea?
How are you when it comes to relationships? Do you say "thank you" when what you really want to say is "no thank you," to keep people in your life? Are you spreading fear-of-loss rather than love?
Have you ever taken the side of an abuser to avoid his/her wrath from coming your way? A parent taking the side of their abusive partner for example. Or maybe you've been the child left in the dust that needs some healing.
Who might be the mob you get swept up by? Family? Work? Social norms? And who pays the price because of your choice? Have you been the one sacrificed in the past who is in need of healing? What if you paid homage to love rather than fear-of-loss and adopted a win-win mentality rather than trying to control everything?
I'm not suggesting that you quit your soul-sucking job, get rid of your toxic friends or leave the country. These are the effects. What I am suggesting is that we address the root cause first and see what happens. (unless you are in a dangerous situation of course. Then call a Domestic Violence hotline.) You might even realize that you kinda' like your job but have been complaining about it to fit in or that your toxic friend has actually been your savior. I can't promise but I've seen it before.
We need to sanitize our hearts before we touch others, not after, if we are to affect change.
So how do we sanitize with forgiveness you might be wondering?
Acknowledgment is the first step.

Forgiveness for self and others is second (forgiveness for times you've led with fear and hurt others and for times you've been on the receiving end of someone who didn't know better).

Be a more loving person because of this crisis, even if it takes professional help to reconcile the feelings that might be blocking you from getting there.

Use this downtime as a gift.
I'd like to conclude with this beautiful poem that showed up in my FB newsfeed while writing this post.
"And the people stayed home. And read books, and listened, and rested, and exercised, and made art, and played games, and learned new ways of being, and were still. And listened more deeply. Some meditated, some prayed, some danced. Some met their shadows. And the people began to think differently.
And the people healed. And, in the absence of people living in ignorant, dangerous, mindless, and heartless ways, Earth began to heal.
And when the danger passed, and the people joined together again, they grieved their losses, and made new choices, and dreamed new images, and created new ways to live and heal Earth fully, as they had been healed."
~ Kitty O'Meara
By the way, I'm low on toilet paper. Anyone have a roll to spare?
Trish Whynot, D.C.Ed. has been practicing holistic counseling for 21 years and has recently completed a Holistic Life Coach Certification. She is the author of Why Me? Why Now? Why Not? Finding Opportunity in Your Obstacles, an illustrated guide to living that expects opportunities even during challenging times. Trish works with clients remotely and in person. Visit her at www.TrishWhynot.com. Join Trish online for a book group beginning April 14, 2020 where you will be able to bring your questions to the table about love, forgiveness and living more deliberately and abundantly.
See also:
A Letter From Covid-19 To Humans
Love In The Time Of The Coronavirus: Do You Turn Your Back When Someone Offers You A Hand, A Kiss Or A Hug?