Get Personal! Resist And Regenerate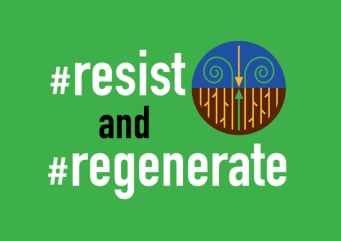 Hardly a day goes by that you aren't hit with a new attack on your health, safety and/or economic well-being by some greedy corporation, aided by a crooked, indentured politician. It's tempting to watch the drama unfold and play out in Washington, D.C. But it's critical that we address the attacks by working at the local, grassroots level. It's time to get personal.
We're all guilty of relying on technology as our only means of political participation. We sign online petitions, share critical information, conduct research without leaving the comfort of our own homes. But it's not enough anymore. We need to get out, talk to people, knock on doors, circulate petitions by hand. We need to organize in our own communities, face-to-face, with our neighbors.
We think Meetup.com, an online tool, can play a key role in helping us all bridge the gap between online and on-the-ground activism.
Since we launched #Resist and #Regenerate on Meetup.com, you've helped us create nearly 200 local Meetup groups, with over 2200 members. And we're growing fast.
The concept is simple: Start a #Resist and #Regenerate group on Meetup, reach out and invite local activists and concerned citizens to a meeting, identify a local issue or local candidate, and start working together—in your own backyard.
This might be the most important initiative we've ever launched. But we need you to take the concept, and run with it. As fast as you can.
Join a #Resist & #Regenerate Meetup near you
Start a #Resist & #Regenerate Meetup group in your community
Ronnie Cummins is the International Director of the Organic Consumer's Association.