Good News! Keystone XL Decision Delayed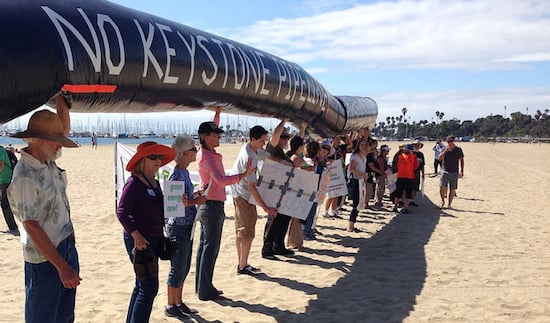 The State Department announced Friday, April 18, it will delay its decision on whether to approve the Keystone XL pipeline to give other government agencies more time to analyze the pipeline's effects. The announcement comes in the wake of intensive advocacy by the Center for Biological Diversity and many coalition allies on Keystone, as well as a string of high-profile protests; it also follows a court ruling that struck down a Nebraska law allowing the governor, not the state's utility commission, to decide where the pipeline should be built.
The current delay makes it unlikely that a decision on Keystone — a 1,700-mile, Canada-to-Texas pipeline that would carry a daily load of up to 35 million gallons of dirty oil from Canada's tar sands — will be made before the November elections.
"Every day this pipeline doesn't get built is a day that our climate is healthier and wildlife in the pipeline's path are safer," said Bill Snape, senior counsel at the Center. "Millions of Americans have taken a stand against Keystone, and my hope is, that's making the Obama administration think twice."
Visit the Center's Keystone XL facts page for more information.