Guatemala Field Notes From An American ObGyn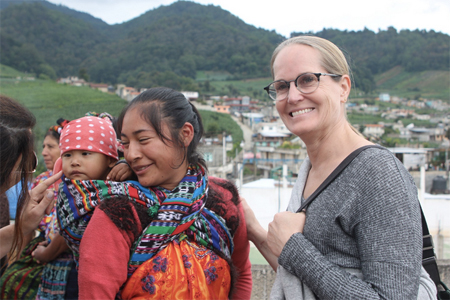 Another meaningful, soul-fueling trip with Every Mother Counts has wrapped up. Mothers from New York City and San Francisco accompanied their kids to meet the Every Mother Counts grantee partners in Guatemala.
After two prior trips with Every Mother Counts to Tanzania and Haiti, I am now familiar with the feelings that rise to the surface the second I step foot in a low income country like Guatemala. A long mental list of ways to contribute starts forming at lightening speed. Inspired by the optimism of Elliot, my 15-year-old son during and after this trip, I felt more sanguine this time. He said, "What surprised me was how little the midwives had to work with, but how they made use of everything" and "they seemed so happy!" There is nothing like a youthful, unencumbered viewpoint to infuse hope and positivity!
As an ObGyn practicing in downtown NYC, witnessing the challenges facing Guatemalan women overwhelmed me immediately. These women, and indeed girls, face many challenges stemming from political, economic, and cultural inequality. Forced marriages before 18 lead to increased partner violence and pregnancy complications.
There are many challenges and barriers to extending help to places like Guatemala, Haiti, and Tanzania. Among the impediments are religion, culture and simple logistics. For example, a $150k ultrasound unit, a valuable tool in obstetrics, delivered to a war torn hospital in Liberia, sat in a corner gathering dust. Not only was there no one trained to use the machine, but also the lack of consistent electricity prevented powering the machine up.
We visited the Association of Midwives of the Mam Speaking language (ACAM), a grantee partner of Every Mother Counts. Almost immediately, I observed a blend of the traditional Mayan approach and Western medicine. The Mayan women utilize herbal and other natural remedies in labor, the post-partum period, and nursing. But, they were openly embracing medical options, like antibiotics, pitocin, a fetal doptone and ultrasounds in rendering informed and culturally sensitive care to their patients.
As part of our tour, we were shown the sauna, where a new mother spends time immediately after delivery for a session of massage and sweat with her midwife. This ritual promotes blood flow, hormone release, healing, and milk production. I peered into a small, dimly lit, stone room, accessed only by ducking through a diminutive, Alice in Wonderland-like doorway. The smell of wood smoke permeated the space. The room was equipped solely with a stone bench, a water spigot, and a bucket.
In a second, sparsely furnished room were two makeshift gurneys and an ultrasound machine! While appearing to be from the 1960s, the machine functioned well enough for training purposes and obtaining basic ultrasound information, such as fetal position, heartbeat, dating and location of the placenta. The midwives hummed with excitement about their "new" ultrasound machine, accompanied by regular training from a Boston radiologist. Hope and positivity!
Other rooms included a very well-stocked medication room, a room for crafting remedial herbs, birthing rooms, and a prenatal and gynecological exam room. The impressive set of neatly labeled and displayed medications included the familiar pitocin and methergine, which are useful in preventing post-partum hemorrhage.
Next came the highlight of the trip for me. We met Imelda, one of ACAM's comadronas (traditional midwife in Spanish). Mallory, a visiting CNM from Seattle, facilitated our conversation. Over lunch, Imelda shared her story. Imelda plays a vital role in ACAM, not only as a midwife, but in running the organization. Our contrasting worlds had amazing overlap. We both provide care to women, have administrative roles in our practices, and came to our life calling through family. Imelda learned from her mother, a midwife, and I from my father, a surgeon.
Starting with a few basic questions, I learned that ACAM does about 100 deliveries a year, a number which is building as the word reaches the community through the mobile clinic that Every Mother Counts supports and word-of-mouth.
Like with my own group of doctors, we gravitated towards discussing our most distressing case on-hand. Imelda and Mallory shared a recent story involving an example of one of the more difficult clinical scenarios we providers face: informing a mom that her baby has passed away. With the help of the newly acquired ultrasound machine, the midwives diagnosed a mother nearing her due date with her third intrauterine fetal demise (IUFD). Imelda's recommended a referral to the mother to the nearest hospital to induce labor. The patient refused. Convinced her baby was still alive and moving, the mother insisted on returning weekly to ACAM to check the baby's heartbeat. Heartbreaking, just simply heartbreaking.
After hearing this patient's history, I was certain a weekly injection of blood-thinning medication would have significantly reduced the chance of complication. Alas. It is difficult to describe the emotions evoked upon hearing a story like this — frustration laced with anger at the unfairness, regret, and guilt. Why is care and access so different from person to person, place to place?
We remained happy and hopeful when Imelda shared the story of her first solo delivery. Not yet formally trained at 18 years old, a woman in active labor came to the house in search of Imelda's mom, who was not at home. Left with no other option, Imelda tended to the woman. She led the woman into a room with a bed, and drawing from what she watched her mom do, examined the patient. Something wasn't quite like she remembered. This patient's exam was different, confusing. The second stage of labor was in full force, the patient was in pain and pushing. Imelda revealed, "she was Breech." (Breech presentation is defined as delivering buttocks or feet first and has a higher risk of complications). This is the moment that my heart stopped. The terror of Imelda's predicament, so very real to me, but under very, very different circumstances — no hospital, no hemorrhage team, no operating room, no safety net. Imelda said she was scared, but channeling her mother's techniques, supported the mother and the baby. A 5-pound baby girl delivered and cried right away! Mom and baby were okay. What a relief! Imelda shared that she knew at that moment that she wanted to follow in her mom's footsteps and become a midwife. Inspiring!
As with other EMC trips, I learn so much each time. The biggest lesson driven home this visit was not imposing my context on others. The ACAM midwives work within a minimalist arena by any American standards. And yet, they affect change going from woman to woman, blending their traditional birthing techniques with Western-style medical techniques to optimize survival for both mom and baby as best they can.
Every Mother Counts navigates these challenges beautifully and seamlessly. Christy and her team form close relationships within the organizations that they support, building the trust needed to overcome cultural differences. The basic essence of this positive impact was clearly visible through the eyes of the kids who accompanied their moms on this trip. Thank you Christy and Every Mother Counts, thank you!
This article was republished from Every Mother Counts.
See also:
Maya Midwives As Social Workers In A Machista Society
For Native Mothers, A Way To Give Birth That Overcomes Trauma