Healthy Home Walk Through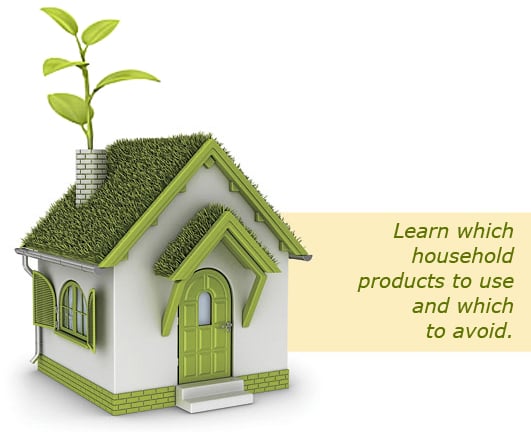 From kitchen, bathroom, glass and all-purpose cleaners to dishwashing detergent, laundry soap and bleach, Environmental Working Group has scoured the chemical ingredients of more than 2,000 different household cleaning products and come up with a list of some of the best — and some you should avoid.
EWG's Guide to Healthy Cleaning provides practical solutions to protect you and your family from exposure to potentially harmful chemicals. That's important, because U.S. law allows manufacturers of most cleaning products to use almost any ingredient they wish, including known carcinogens and substances that can harm fetal and infant development. The government does nothing to assess the safety of the vast majority of cleaning products before they're sold to consumers. The Environmental Protection Agency only regulates cleaners that contain registered pesticides (such as disinfectants with "active ingredients") whose labels the agency must approve.
To fill the gap, EWG's staff scientists evaluated the ingredients listed on cleaning product labels, websites and worker safety documents based on information available in top government, industry and academic toxicity databases and in the scientific literature on potential health and environmental problems.
It's important to keep your home clean, but in doing so you might be using products that contain chemicals that can trigger asthma attacks, allergic reactions, eye and skin irritation or that are known or probable human carcinogens. Even more troubling is that the law doesn't require most types of cleaners even to disclose what chemicals are in them.
Instead, many companies use vague terms such as "surfactant" or "preservative" to describe their ingredients, leaving consumers in the dark about the specific chemicals they may contain and whether they might pose health hazards. EWG believes that's not good enough. Consumers have a right to know that information at the point of sale before bringing cleaners into their homes.
From the database it compiled, EWG identified some of the best and worst products in each of four categories to give consumers a sampling of products that received high or low scores in EWG's rankings based on what's known about their ingredients and how much their labels disclose.
Any product in the "Worst" categories received an "F" grade in EWG's rankings for one or more of the following reasons: 1) they contain ingredients linked to health effects such as asthma and respiratory problems, skin allergies and irritation, developmental and reproductive toxicity or cancer; 2) they contain ingredients may have harmful environmental effects; or 3) product labeling failed to disclose ingredients that may be toxic.
Bathroom
Best Bathroom Cleaners
Green Shield Organic Bathroom Cleaner, Fresh
Earth Friendly Products Shower Kleener
CLR Calcium Lime, Rust Cleaner
Seventh Generation Natural Toilet Bowl Cleaner, Emerald Cypress & Fir
Earth Friendly Products Toilet Kleener, Natural Cedar
Green Shield Organic Toilet Bowl Cleaner
Seventh Generation Natural Tub & Title Cleaner, Emerald Cypress & Fir
Lysol Professional Disinfectant Basin Tub & Tile Cleaner
Mrs. Meyer's Clean Day Lavender Bathroom Cleaner

Ecover Toilet Bowl Cleaner Pine Fresh
Bathroom Cleaners To Avoid
Lysol Action Gel Toilet Bowl Cleaner Country
Clorox Automatic Toilet Bowl Cleaner with Bleach, Rain Clean
Scrubbing Bubbles Extend A Clean Mega Shower Foamer
Tilex Soap Scum Remover
Toilet Duck Automatic Toilet Bowl Cleaner
Lysol Aerosol Bathroom Cleaner Sunshine Fresh
Clorox Bleach Foamer for the Bathroom
Drano Professional Strength Max Gel Clog Remover
Safeway Bright Green Liquid Drain Opener Professional Strength
Drano Clog Remover
Dishwashing
Best Dish Cleaners
Green Shield Organic Squeez Automatic Dishwasher Liquid Detergent, Lemongrass
The Honest Co. Honest Auto Dishwasher Gel, Free & Clear
Planet Ultra Dishwashing Liquid, Hypo-Allergenic
Seventh Generation Automatic Dishwasher Detergent Concentrated Pacs, Free & Clear
Better Life Dish It Out Natural Dish Liquid, Unscented
Ecover Rinse Aid
Seventh Generation Automatic Dishwasher Powder, Free & Clear
Whole Foods 365 Everyday Value Automatic Dishwasher Detergent, Citrus
Earth Friendly Products Wave Automatic Dishwashing Gel Lavender

Mrs. Meyer's Clean Day Basil Automatic Dish Pack
Dish Cleaners to Avoid
Simple Green Naturals Dish Washing Liquid
Ajax Dish Liquid with Bleach Alternative Lime
Clorox Commercial Solutions SOS Pot Pan Detergent
Palmolive Eco + Gel Dishwasher Detergent, Lemon Splash
Ajax Triple Action Dish Liquid Hand Soap, Orange
Cascade Dishwasher Detergent Gel
Dawn Ultra Concentrated Liquid Dishwashing Detergent Hawaiian Pineapple
Easy-Off Professional Liquid Dish Detergent Concentrate
Cascade Powder Dishwasher Detergent
Palmolive Ultra Oxy Plus Odor Eliminator Dish Liquid
Laundry
Best Laundry Products
Arm & Hammer Super Washing Soda Detergent Booster and Household Cleaner
OxiClean Laundry Baby Stain Soaker
Martha Stewart Clean Laundry Detergent
Whole Foods 365 Everyday Value 2X Concentrated Laundry Detergent, Unscented
Green Shield Organic Laundry Detergent, HE Elite Care, Free & Clear
Seventh Generation Natural Powder Laundry Detergent, White Flower & Bergamot
Planet 2x Ultra Laundry Detergent, For HE & Standard Machines
Seventh Generation Chlorine Free Bleach, Free & Clear
Dr. Bronner's 18-in-1 Hemp Pure-Castile Soap, Peppermint

Planet Delicate Laundry Wash Hypo Allergenic
Laundry Products to Avoid
Fab Ultra 2X Liquid Laundry Detergent, Spring Magic
Tide Plus a Touch of Downy Liquid Detergent, Lavender
Ajax 2X Ultra Liquid Laundry Detergent, Original
Ivory Ultra Snow Liquid Laundry Detergent
Cheer BrightCLEAN HE Liquid Laundry Detergent, Free & Gentle
All Small & Mighty Laundry Detergent HE, Fresh Rain
Dynamo Liquid Laundry Detergent
Gain Liquid Detergent, Island Fresh
Tide Liquid Detergent with Febreze Freshness Meadows Rain
Wisk High Efficiency Liquid Laundry Detergent
All-Purpose Cleaners
Best All-Purpose Cleaners
Green Shield All-Purpose Cleaner Degreaser, Fresh
Whole Foods Market Glass Cleaner, Unscented
Dr. Bronner's Sal Suds Liquid Cleaner
Ecover Cream Scrub
Green Shield Organic Glass Cleaner Fresh
Method All-Purpose Surface Cleaner, Ginger Yuzu
Whole Foods Market Green Mission Organic All-Purpose Spray & Degreaser, Lemon Zest
Attitude Bathroom Mold Mildew Cleaner

Citra Solv Citra Clear Window Glass Cleaner
Bon Ami Powder Cleanser
All-Purpose Cleaners to Avoid
Easy-Off Professional Heavy Duty Cleaner-Degreaser Concentrate
Simple Green Concentrated All-Purpose Cleaner
Walmart Great Value Heavy Duty Oven Cleaner
Lestoil Grease & Stain Heavy Duty Cleaner
Drano Professional Strength Kitchen Crystals Clog Remover
Lysol Antibacterial Kitchen Cleaner Citrus
Easy-Off Heavy Duty Oven Cleaner Aerosol Spray
Soft Scrub with Bleach Cleanser for Bath and Kitchen, Mountain Breeze
Weiman Cook Top Scrubbing Pads
Bar Keeper's Friend Soft Cleanser
Healthy Home Checklist
Now that you know which products to avoid, walk through your home and open your bathroom cabinet, look under your sink, and check those laundry supplies. It's an easy, hands-on way to create a less toxic environment for your family. When you're done, you'll breathe easier (literally!) knowing that you've tackled the toxics that matter most in your home. For an even healthier home, read through this checklist of more things to look for.
Kitchen
• Do you cook with non-stick cookware? Replace with cast-iron, stainless steel, or glass when possible. Stuck with it? Take care not to overheat it. The Teflon coating (PTFE) releases toxic fumes at high temperatures.
• Do you use plastic food containers? We recommend glass over plastic. Never microwave food in plastic containers. For baby, use glass or BPA-free plastic bottles.
• Do you drink water bottled in plastic? Kick the habit. For water on-the-go, get a reusable water bottle, like stainless steel (not plastic or aluminum lined with plastic).
• Any canned food in the pantry? Cook with fresh or frozen whenever possible; most food cans (including liquid infant formula) are lined with bisphenol-A (BPA), a toxic chemical that leaches into the food.
• Do you eat conventionally grown produce? Check EWG's Shopper's Guide to Pesticides (http://www.ewg.org/foodnews/) to be sure you buy organic when pesticide residues are highest.
• Do you eat high-mercury fish? Ask before eating and head for the lower-mercury types (especially for pregnant women and young children) such as haddock, pollack, scallops, shrimp, tilapia, sardines, and salmon.
Bathroom
• Do you use air fresheners? Don't! Most contain a number of toxic chemicals that contaminate the air you breathe.
• Is there fragrance in your personal care products? We don't know what's in "fragrance," so it's safer to choose all fragrance-free personal care products. Always check ingredient lists to be sure.
• What kind of toothpaste do you use? Choose fluoride-free for kids younger than 2 and teach older kids to rinse and spit; fluoride is toxic if swallowed. Also, pick a paste without triclosan, an antibacterial chemical; you'll see it on the ingredient list.
• Do you use liquid hand soap? If so, avoid antibacterials. Even the American Medical Association recommends against using them at home as researchers have determined that antimicrobial soap does not work any better than plain soap and water in preventing the spread of bacteria. By skipping the antibacterials, you limit your exposure to triclosan, which may disrupt thyroid function and encourage bacterial resistance to antibiotics when they are needed most.
• What material is your shower curtain? Avoid vinyl shower curtains. If you get a new curtain of any type of man-made material, leave it outside for several days before using.
• Do you have extra body and hair care products? Less is more. Skipping cosmetics like hair spray and detangler, body sprays and powder is less toxic — and cheaper!
Laundry and Cleaning Closet
• Are your cleaners green? Do your product labels list all ingredients? Most don't, but they should. Support companies that disclose all ingredients by buying their products — you have a right to know. Find out the ingredients by calling the manufacturer, avoid the toxic ones and choose green-certified products whenever possible.
• Do you need all those products? Most homes can be safely cleaned with a few non-toxic ingredients: vinegar (it's anti-bacterial), baking soda, water, a HEPA vacuum, microfiber mops and cloths — and some elbow grease! Skip laundry products you don't need, like dryer sheets, fabric softener, and chlorine bleach. Never mix bleach with ammonia, vinegar or other acids as the combination can produce deadly gases.
All Around the House
• Was your home built before 1978? If so, it probably contains lead paint. When repainting, use a wet sanding technique to reduce dust, choose low VOC paints and always paint with the windows open for good ventilation. Keep kids away from rehab dust and loose chips.
• Got foam furniture? Foam products (like stuffed furniture and mattresses) are often treated with toxic fire retardants, so keep them well-covered. Ask whether a product is treated before you buy and choose naturally fire-resistant materials, like cotton and wool, when possible.
• Don't "protect" your fabrics and carpets with sprayed-on chemical coatings; simply clean spills quickly.
• Do you use pesticides or insecticides? Try non-toxic alternatives first; pesticides are a last resort. If you choose to use them, store them out of reach of children. Organic gardening is healthier for kids and pets, since they live closer to the ground.
• Do you have a wood deck, picnic table or playground set? Those made before 2005 likely contain arsenic. Test to confirm and either replace with safer wood or reduce your exposure by sealing it, replacing high-use areas and washing hands after touching, especially before eating.
• What materials are your kids' toys made from? Top contaminants to avoid are: lead paint, play make-up, cadmium and lead in play jewelry, and phthalates in soft plastics (like teethers and rubber duckies). Choosing non-toxic toys for young kids is especially important because so many end up in their mouths.
• Skip the biggest hazards and avoid air fresheners, use a baking soda and water paste to clean the oven and tackle toilet stains, and use a mechanical snake to unclog the drain.
The Environmental Working Group is the nation's leading environmental health research and advocacy organization. Through the power of information, their mission is to provide straight facts, unfiltered and unspun, investigate government subsidies that encourage wasteful practices, and to support policies that promote thoughtful stewardship of our land and natural resources. For dozens of valuable consumer guides, lists and articles, visit www.ewg.org or call EWG headquarters in Washington, DC at (202) 667-6982.