Help Provide Service Dogs To Vets And The Disabled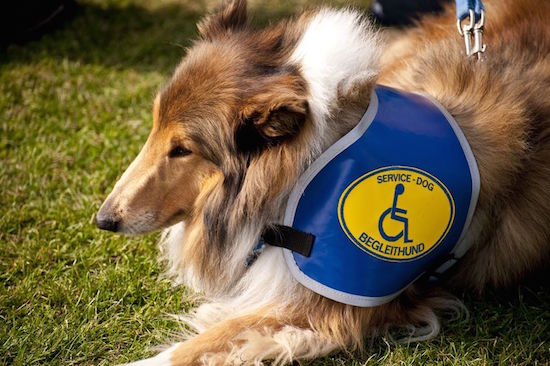 Imagine the grief a wheelchair-bound person feels when they've dropped an important item and are unable to retrieve it. A service dog is trained to handle this type of distressing situation, as well as to provide a number of useful services to the disabled including pulling wheelchairs and opening doors. For people suffering from autism, PTSD, depression, blindness, deafness, and more, a service dog provides much-needed help, as well as loving companionship. It's clear these animals are essential in a number of situations, so why aren't their programs funded?
Service Dog Trainers Rarely Receive Government Funds
The government rarely provides funds to the disabled to acquire a service dog, nor does the government provide funds to service dog trainers to offset their costs. In Pennsylvania, Nancy Lee Augsbach suffered debilitating injuries after a life-threatening car accident. She couldn't bend over to retrieve fallen items and she lost hearing in one of her ears. She desperately needed a service dog, so she reached out to Susquehanna Service Dogs, a non-profit that services 23 counties in Pennsylvania.
She was able to raise the $5,000 needed to adopt Gnat, a specially trained Labrador retriever. "Honestly, I can say I never thought my life could ever be so fulfilling," Augsbach told Penn Live. "My Gnat has given me back my purpose in life."
If $5,000 sounds like a lot for a disabled person on a fixed income, you're absolutely right . Seventy percent of the people who need service dogs can't them because the cost is too high. Additionally, it costs four times as much to train the dogs, but service dog trainers don't do it for the profit. They do it because they are committed to providing disabled people with the help they need. Because it costs $20,000 to train a dog, Susquehanna Service Dogs is only able to place around 15 dogs a year. Even those who are able to pay are still made to wait. It can take years before a dog is matched with a disabled party.
No Reimbursement From Insurance
It is extremely rare that an insurance company will pay for a service animal. Disability and Medicaid don't pay either. Even if you need one desperately, insurance companies aren't going to cover the cost of a service dog. The cost almost always comes out of pocket, which is exactly why people go without.
Even the VA has withdrawn funding to provide service animals to soldiers in need. Chicago Now reports, "According to the VA, there are about 400,000 veterans currently in treatment for PTSD, which increases daily." Service dogs provide excellent care to those who suffer from PTSD and yet the VA withdrew its funding for training service dogs to provide care to our nation's suffering soldiers.
There is one way to make insurance pay, but it's rare. If you have a flexible spending insurance you may be allowed to use some of the allotted funds to pay for the service dog, considering they provide medical assistance, but this is only if the plan allows it.
You Can Help!
Training centers rely on donations. Contact a local service dog training center and ask them when and how they accept donations. You can also donate much-needed items such as food and clothing, which may include a service dog vest.  The tax-deductible donations ensure service dogs continue to be trained and placed in homes, pairing the disabled with the animals they desperately need.
Ashley Andrews is a San Diego-based freelance writer who blogs on a wide range of green living, business, health and technology topics.
See also:
Pets for Vets Turns Things Around For PTSD Vets
Dr. Murphy Is In: The Value of Pet-Assisted Therapy