Helsinki's JooSoap Upcycles Kitchen Waste Into Eco-Friendly Cleaners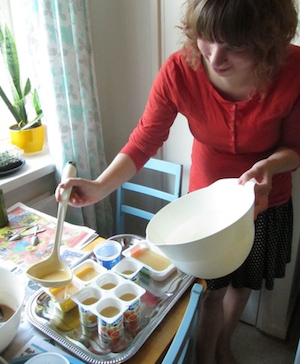 JooSoap's philosophy runs something along the lines of the old fishing proverb: "Give a person a bar of soap, and you keep them clean for a day. Teach them to make soap, and they're clean for a lifetime." In other words, the Helsinki-based craft studio is less a marketplace than a knowledge center, home to both local and global initiatives aimed at encouraging the production of "eco-soap" cleaning supplies from used cooking oil.
JooSoap was founded in 2011 by Ying-Ju Lin, who holds a master's in Industrial and Strategic Design and Creative Sustainability from the Aalto University School of Art, Design, and Architecture. While studying in Taiwan, Lin volunteered for and honed her soap-making skills at Taichung Maple Culture Association, an organic farm and pioneering upcycling operation. She introduced the eco-soap model to Helsinki in hopes of simultaneously tackling two problems: the improper disposal of cooking oil used for deep fat frying; and the adverse ecological effects of synthetic detergents.
In and around Helsinki, JooSoap collects used cooking oil from neighborhood residents, cafes, and Täffä, a student restaurant on the Aalto University campus. Makers transform the oil into bar, powder, and liquid soap, all packaged in materials designed by university students. Sales from Joo Soap products help fund other local projects, including soap-making workshops and a ToolKit available for loan.
For would-be eco-soap producers farther afield, JooSoap's website offers step-by-step instructions, printable labels, and more. In addition, JooSoap recently founded the JooSoap Local-Global Network, a digital forum for sharing information and experience related to upcycled craft production.
Learn how to make your own eco-soap, or sign up for the JooSoap Local-Global Network, on JooSoap's website.
Anna Bergren Miller is a freelance writer specializing in the built environment. Her interests include contemporary design practice, digital design and fabrication, the histories of architecture and urban planning, and public architecture. She has a PhD in Architecture from Harvard University, where she wrote a dissertation on the architecture and planning of United States Army posts between World Wars I and II. Anna lives in Santa Barbara, California.
See also:
How To Transform Plastic "Waste" Into A Bottle Brick
How Vintage Campers Will Save The Planet