Here Comes A Major Change For Sell-By Dates On Food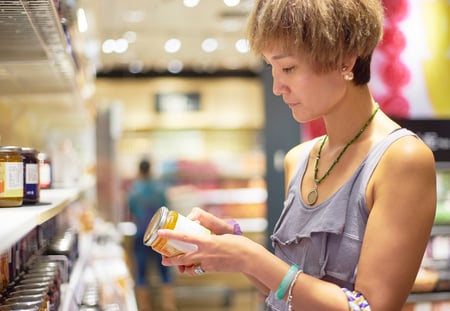 Currently, food packages have more than 10 different date labels, which can confuse consumers and cause unnecessary food waste. These marks include Sell-By, Use By, Expires On, Best Before, Better if Used By, or Best By. Often, consumers assume these indicators represent the eat-by date, causing them to trash edible food. Two prominent food industry organizations—The Grocery Manufacturers Association (GMA) and the Food Marketing Institute (FMI)—want to simplify date labels in the United States to help customers.
"Eliminating confusion for consumers by using standard product date wording is a win-win because it means more products will be used instead of thrown away in error," says Jack Jeffers, Vice President of Quality at Dean Foods, which led GMA's work on this issue. "It's much better that these products stay in the kitchen–and out of landfills."
This voluntary initiative attempts to streamline date labels on consumer packaging down to just two standard phrases: Best If Used By or Use By. Best If Use By describes product quality, where the product may not taste or perform as expected but is safe to use or consume. Use By applies to the few products that have a food safety concern, such as meat and poultry. Consumers should eat these items by the date listed on the package.
Retailers and manufacturers are encouraged GMA and FMI to immediately begin implementing the standard phrases presented by GMA and FMI. The initiative calls for widespread adoption by the summer of 2018, so industry adoption will likely occur over time.
The initiative expands upon a December 2016 recommendation from the U.S. Department of Agriculture (USDA) that food manufacturers only use a "Best if Used By" date label. "To reduce food loss and waste, these changes will give consumers clear and consistent information when it comes to date labeling on the food they buy," says Al Almanza, USDA Deputy Under Secretary for Food Safety. "This new guidance can help consumers save money and curb the amount of wholesome food going in the trash."
Additionally, this initiative closely follows the findings of a 2013 report by the National Resources Defense Council (NRDC) and the Harvard Food Law and Policy Clinic, The Dating Game: How Confusing Labels Land Billions of Pounds of Food in the Trash, which brought the issue into the spotlight for manufacturers and consumers. The NRDC also partnered with the Ad Council and launched a national public service campaign in 2016 called Save The Food that is designed to combat consumer food waste.
Another campaign advocating for food labeling changes is Think.Eat.Save, a collaboration founded by Save Food as a joint initiative between U.N. Environmental Program (UNEP), the U.N. Food and Agriculture Organization (FAO), and Messe Düsseldorf. It provides consumers, retailers, and communities with advice on ways to reduce their food waste. In a 2014 report, Think.Eat.Save suggests that food date labels be improved to make it easier for households to use what they buy. and waste less food.
In 2016, experts at Harvard University, John Hopkins University, and the National Consumers League conducted a national survey on consumer perceptions of date labelss. Results showed that 84 percent of consumers occasionally throw out food based on date labels and 37 percent of the respondents always or usually do. In addition, 36 percent of participants wrongly answered that the American government regulates food date labels.
Joey DeMarco is a research and writing intern for Food Tank.
This article was republished from Food Tank.
See also:
19 Food Films To Inform And Inspire
Here Are 17 Food Heroes Leading Us To A Brighter Food Future