How Artists And Neighbors Turned A Bomb Site Into A Medicine Garden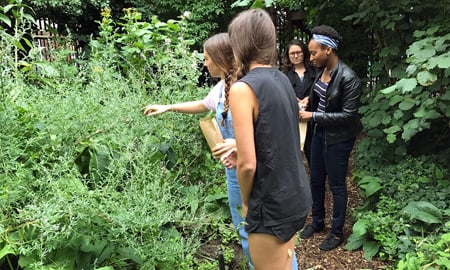 It was a fenced-off World War II bomb site that had rewilded, and a team of London artists decided it was the perfect place to grow a medicine garden. The site is in the middle of a social housing complex in the Bethnal Green neighborhood of Tower Hamlets, a London borough that has become the U.K.'s second most densely populated local authority, the basic unit of local government.
For the artists, the hardest part of getting the project off the ground turned out to be finding space. Before they found the old bomb site, they spent 2010 to 2012 in negotiations over another piece of land in Tower Hamlets. But it was "the size of a garage" and involved eight different landowners, said Michael Smythe, the founder of Nomad Projects, an independent art commissioning foundation that focuses on socially relevant public art. Then their funders got antsy.
That's when one artist reached out to Margaret Cox, the chair of the nearby Teesdale & Hollybush Tenants and Residents Association, which had taken stewardship of the 1-acre parcel, known as Bethnal Green Nature Reserve, in the late 1990s. The association maintained the space by removing litter and planting. Cox, who is 62 now and has lived in the neighborhood since she was 9, said she had been visiting and caring for the land for the past 18 years. She referred to herself as its "mum."
Cox said there were always concerns that the reserve, which is partly owned by the local government of Tower Hamlets, would be developed. Tower Hamlets is experiencing a housing crisis: The borough has the highest poverty rate in London, yet, at the same time, property values and rents have been going up. According to the Tower Hamlets council, 19,000 families are on a waiting list for 1,800 affordable housing slots.
Adding to those concerns, reported Vice in 2016, then-Mayor Boris Johnson had a history of overriding the decisions of local London councils, including Tower Hamlets, to greenlight development projects.
"The mayor's plan at the time was to build, build, build without any consciousness of the impact that it has," Cox said.
Smythe and Cox saw the partnership between artists and local stewards as a chance to protect the space. Smythe in particular wanted to educate the public about homegrown food and medicine, showing that the city could be a generative space. By demonstrating the reserve's ecological value through artistic projects and educational programs, they could show the council there were better options than building.
Nearly six years later, the reserve is a vibrant and visible part of the community. With funding from the health-focused charity Wellcome and the Arts Council England, it now hosts Nomad Projects' original pitch, the Phytology medicine garden. The garden grows more than 30 varieties of edible or medicinal plants, from dandelion and common nettle to cowslip and comfrey, that have grown in the London area for the past thousand years. Local residents can harvest the plants for free.
From October to February, the reserve enters a dormancy period, allowing the plants and soil to mulch and rest. In March, the site opens to the year's artists-in-residence. Usually, the artists develop their projects from March to September and launch them when the site opens to the public in May. On Saturdays through the spring and early fall, the reserve is free, with activities like free lunch, music and campfire nights, or simply some time alone in an urban wilderness; Fridays are free too, minus the lunch. According to Smythe, the reserve had 7,000 visitors last year and is used for Forest School, a U.K. outdoor education program, by seven different local schools during the week. A couple hundred people have also gone through a caretaker course that allows them to access the site during off hours.
In 2016, the project achieved national recognition when it won an award for innovation from Grow Wild, an outreach initiative of Kew Gardens, a famous London botanical garden that is a UNESCO World Heritage site and has the largest and most diverse collection of living plants in the world. "The group were awarded on the basis of their unique approach to creating a community space in the heart of urban East London," Grow Wild spokesperson Hannah Kowszun said in an email.
In 2016, Nomad Projects and the Teesdale & Hollybush TRA came together to establish the Bethnal Green Nature Reserve Trust, a charity that looks after the interests of the site and makes decisions about its use.
Species Protecting One Another
Since Nomad Project began to work in the Bethnal Green Nature Reserve in 2012, it has created a model for how humans and other species can find symbiosis in an urban setting.
In 2015, Phytology built a network of small ponds to support a newt population. Before, the reserve had only one large pond that newts and toads shared, and the toads would eat the newts' eggs. Thanks to the new, smaller ponds, which do not attract toads because they spawn in deep water, the newt population has quadrupled in two years.
Then, in 2016, artist-in-resident Lucy McLauchlan made a birdhouse. But the droppings beneath it turned out to come from bats, inspiring the team to build and install a network of bat boxes last summer. They have recorded a colony of 10 on site so far, but since then have built 60 boxes, enough to house more than 100. They will know by June or July whether more bats have moved into the new homes.
If the Bethnal Green Nature Reserve can offer protection for newts and bats, the newts and bats might also offer protection for the reserve: Both species are protected in the U.K., so any land they are found on is much harder to develop.
Smythe sees the bat project in part as empowering local communities to protect other areas and therefore have more of a say in development. This year, they have a grant to build bat boxes in six other areas of Tower Hamlets that are likely to be developed.
Room To Breathe
Smythe said the larger point of both the medicine field and the bat project was to show Londoners how to '"take on town planning and developments on their own terms and make their homes authentic to who they are." He referred to the reserve as "breathing space," saying anyone could come and daydream for free.
And that sense of ease carries many benefits. According to the World Health Organization, using your body in a green space can reduce depression and stress.
In March, a joint inquiry published in Parliament declared air pollution in the U.K., which kills 40,000 a year, a "national health emergency." In 2015, Tower Hamlets was recorded to have the fifth worst air quality of any local authority in the country.
Smythe said they plan to start monitoring air quality in the reserve this summer, but the importance of trees and green space for improving air quality is well-known.
Cox spoke about encountering a group of 5- and 6-year-olds coming out of the reserve after a school trip. They told her they had initially been afraid to enter because of the surrounding fence, but once they did, their minds changed.
"Oh, it's got trees and we need trees, because if we haven't got trees, we can't breathe," they told her. "We're going to make sure that nobody builds on this."
Olivia Rosane wrote this article for YES! Magazine. Olivia is is a freelance writer with an interest in ecological and social justice. In 2017, she earned a master's in art and politics from Goldsmiths, University of London. She now writes regularly for EcoWatch, and her work has also appeared in Real Life Magazine, the New Inquiry, and the Dissent blog. Follow her on Twitter @orosane
This article was republished from YES! Magazine.
See also:
New Life For Toxic Land
How One Woman Is Reclaiming Herbalism As A Form Of Resistance