How Sharing Can Help Change Consumption Culture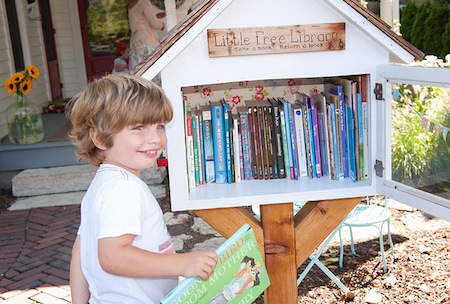 Tucked into the corner of the laundry room in my apartment building in New York City, New York, is a little free library created from a bookcase that was salvaged from a neighbor's trash. Nearby sits a repurposed plastic hamper marked "Free Stuff." For fifteen years the library has been providing residents with free reading material while the Free Stuff box has been serving as a convenient way to pass along gently-worn household goods for others to use.
Representing just two good examples of what can be viewed as a hyper-local form of the sharing economy, these free, low-tech amenities also help our building's residents prevent a lot of stuff from winding up in the trash, bringing a potential raft of benefits to all New Yorkers.
New York City has an ambitious zero-waste plan, but the recycling rate is around 17 percent, according to the city's Department of Sanitation. Meanwhile, a great deal of what ends up in the waste stream is reusable like furniture and other household goods. So it makes sense for us to consider ways to keep such items circulating with our local economy, starting with our own buildings and neighborhoods.
All around the world, local communities are exploring fresh new ideas beyond the traditional white elephant sales and thrift shops for stretching resources, cutting down on waste, and making social connections. We can begin the process of shifting our consumption culture to one that is less wasteful and more regenerative for our society and economy. The possibilities are endless.
Here are five good ways to start:
1. Take advantage of public services such as Stop 'n' Swaps and free public community reuse events run by GrowNYC at local greenmarkets, and support efforts to bring them to more communities.
2. If you don't already, give items away on FreeCycle. Sign up for NextDoor.com, a new website that allows neighbors to borrow items from each other. Consult the DonateNYC page or a similar resource on your city's website to find folks who want your stuff.
3. Encourage more local library branches to lend items of interest to local residents, like Sacramento's Library of Things, where residents can borrow sewing machines, musical instruments, and board games, or the four branches of the Queens Public Library that lend job seekers neckties. Also, launch and support local tool libraries like the South Street Seaport Tool Library, where residents of lower Manhattan can borrow a number of tools.
4. Declare Sunday evening as "clear out the fridge night" and invite neighbors and friends to pool still edible leftovers. Get inspired by community refrigerators and little free pantries that are sprouting up all over the world to share food with neighbors and co-workers.
5. Repurpose an Amazon or other carton (which are certainly plentiful these days) into a "Free Stuff" box in your own building or workplace.
It might seem strange that our waste can be a source of connection and a way to build in some economic resilience. But with the potential benefits we all can enjoy as a city and as individuals, it makes sense to try. All it takes is a neighbor or two willing to get the ball rolling in their apartment building, office break room, senior center, or other public space. Will it be you?
Check out more resources on how to share, borrow, donate, and gift your stuff on wehatetowaste.com.
This article was republished from Shareable.
See also:
How To Create An Outdoor Living Room In Your Neighborhood
ZeroLandfill Project Upcycles Free Materials For Artists And Educators