How To Bring Caring For Kids And Elders (And Other Acts Of Love) Into The Economy
It's one of the most concrete representations of love that we have, yet it's extremely undervalued.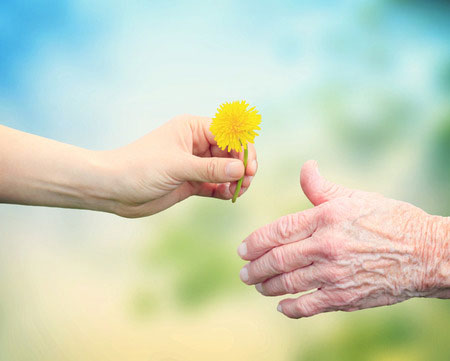 Ask anyone about caregiving, and you'll likely hear a story about personal sacrifice. Heather Boldon, a single mother from Minnesota, gave up her full-time job to care for her mother. She took a more than 50 percent pay cut, spent down her 401k, and lost her health insurance. When she was injured, she couldn't visit a doctor to see whether she needed surgery. In New York, Delores McCrae, a home care worker, was evicted from her home and lived in a women's homeless shelter where she was separated from her 11-year-old son. She made just $10 an hour.
Many say that our care system—the paid and unpaid labor of caring for our families and communities—is broken: Our economy doesn't take care of caregivers. But care comes from love, community, and mutual respect; while we may be far from holistic, sustainable infrastructure that meets our families' needs, some innovations hint at a better way.
On the whole, U.S. policies have little regard for what caregiving takes. In a country where almost everything can be bought and sold, care work, one of the most concrete representations of love that we have, is extremely undervalued and comes at an economic and emotional cost. A 2017 Brookings Institution study revealed that more than one-third of unemployed women in the United States left the workforce because of caregiving responsibilities. These women lose an estimated $324,044 in wages and benefits over their lifetimes, weakening their ability to support their families and themselves in the future and into retirement. Meanwhile, with a median hourly wage of about $10, often without benefits, many professional caregivers in the United States don't make enough money for their own families.
This system isn't working for any of us. Thankfully, other models are out there.
Japan's Fureai Kippu welfare system allows people to earn credits caring for the elderly, which they can save for themselves as they age, transfer to family members, or exchange for services. In the Netherlands, students are able to live in nursing homes, volunteering 30 hours a month in exchange for rent.
In the United States, people are stepping up, creating community-centered care economies and breakthroughs in policy.
Hawai'i was ripe for a policy change. East Asian and Native Hawaiian cultural influences have meant that, in general, Hawaiian families prioritize care for elders. As in many communities of color, the work of caregiving here is seen as a collective, intergenerational effort. But because family-centered caregiving has not been supported by public policy until recently, people experienced widespread burnout. Led by local leaders, community organizations, and our organization, Caring Across Generations, caregivers began telling their representatives that the system was not working for them and they needed support. In July, the state adopted the Kupuna Caregiver Assistance Act, the first legislation of its kind in the nation. It provides a voucher for up to $70 a day to eligible working family members to care for their aging loved ones at home. The program is intended to allow more caregivers—often wives and daughters—to stay in the workforce and receive some relief while they manage family responsibilities. When we use our creativity to pass policies like these, we invest in people on the front lines showing up for those who need it most.
Maria is an undocumented single mother of five and caregiver for her late husband's friend Jose, who is in a wheelchair. In Texas, after Hurricane Harvey hit, she fled her flooded trailer but was unsure of where to go. She feared going to a shelter could lead to deportation, so she waited with Jose and her younger children in an inflatable pool for more than an hour until three men picked them up and took them to a local furniture store that had been turned into a shelter. Instead of meeting agents asking for papers, Maria was greeted with hot dogs, coffee, a place to sleep, and a wheelchair for Jose.
Disasters like these can bring out the worst in our systems, but also the best in our ability to show up for one another. Every day, people in our communities are figuring out how to care for one another against the odds—and to value that vital work. That is what should inspire and inform the larger changes we need. Creating an economy that allows our families to live, care, and age with dignity is the challenge of a generation.
Ai-jen Poo and Sarita Gupta wrote this article for The Solidarity Economies Issue, the Winter 2018 issue of YES! Magazine. Ai-jen is the executive director of the National Domestic Workers Alliance and co-director of Caring Across Generations.
Sarita is the executive director of Jobs With Justice, co-director of Caring Across Generations, and a 2016 Next Avenue Influencer on Aging.
This article was republished from YES! Magazine.
See also:
Why Community-Based Senior Villages Are Growing In The US
Good Nursing Home Feng Shui