How To Minimize Your Chances Of Buying "Organic Imposter" Foods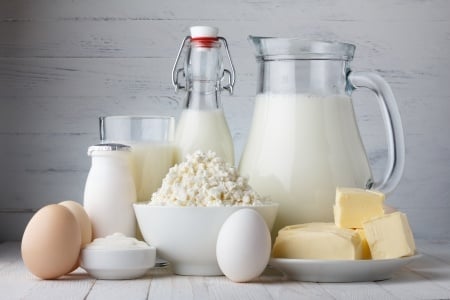 Boycott large, national brands. As demand grows for organics, Big Food is scooping up smaller organic brands. In most cases, nothing good comes this for consumers, as large corporations apply the "economies of scale" theory and ultimately skimp wherever they can on quality and production. As a general rule of thumb, the big players—like Aurora Dairy and Herbruck's Farm (Eggland's Best)—don't play by the rules.
Steer clear of private-label organics. It's easy to identify the bad actors when they market products under their own names. But when it comes to private-label organics (think Safeway's O' Organic, Costco's Kirkland, Walmart's Great Value), it's not readily apparent who is producing those products for big retail chains. We know that Aurora, which doesn't market any milk under its own name, supplies organic milk to Walmart, Costco and Safeway. But in general, lack of transparency in the organic private label arena is a "huge problem," one industry consultant told us. Most big retailers are complicit in organic fraud. The best strategy is avoidance.
Check the codes on your milk carton. In her response to the Post's story on Aurora, Bawden told consumers how to avoid milk produced by Aurora Dairy by checking the code on the carton. If you find the number 08-29, you'll know that the milk comes from a plant that processes milk from Aurora Dairy. You can look up all the milk carton codes on the "Where is my milk from?" website.
Do your homework. It would be great if you could rely entirely on the USDA organic seal. But given what we know about the weak links in that otherwise valuable chain, it pays to research. Googling brand names is one way to find information—but don't rely on company websites, which are often loaded with false claims. Visit the Cornucopia Institute's website, where you'll find organic dairy, eggs and other products "scored" according to various criteria.
Pay attention to who certified your milk or eggs as organic. In addition to the USDA organic seal, certified organic products must list, on package, the name of the independent body that certified the product to organic standards. There's an argument to be made that certifiers should be held accountable for certifying products that don't adhere to organic standards. Until that happens, avoid certifiers like Quality Assurance International and the Colorado Department of Agriculture, which certify Aurora Dairy. Some of the more reliable certifiers include Oregon Tilth, Pennsylvania Certified Organic and California Certified Organic Farmers. For a complete list of organic certifiers, consult this list.
Buy local. There's a lot to be said for getting to know, and for supporting, your local organic farmers. They are more likely to follow organic standards, partly out of dedication, and partly to protect their own reputation within their communities. Here's some advice for identifying local authentic and ethical farmers.
Report suspected fraud. If you think a brand is violating organic standards, or falsely advertising/labeling a product "natural," "all natural" or "100% natural," email us at fraud@organicconsumers.org.
Katherine Paul is associate director of the Organic Consumers Association. Ronnie Cummins is international director of the Organic Consumers Association.
This article was republished from Organic Consumers Association.
See also:
Here's How To Boycott Organic Imposters
The Drug Store In U.S. Meat